---
Jessica Cejnar Andrews / Tuesday, Nov. 7 @ 8:19 a.m. / Environment, Ocean, Our Culture
Groundfish Closure: State Department of Fish and Wildlife Questions Science On Quillback Rockfish Overfishing Status in California, PFMC At Odds Over Rebuilding Analysis
---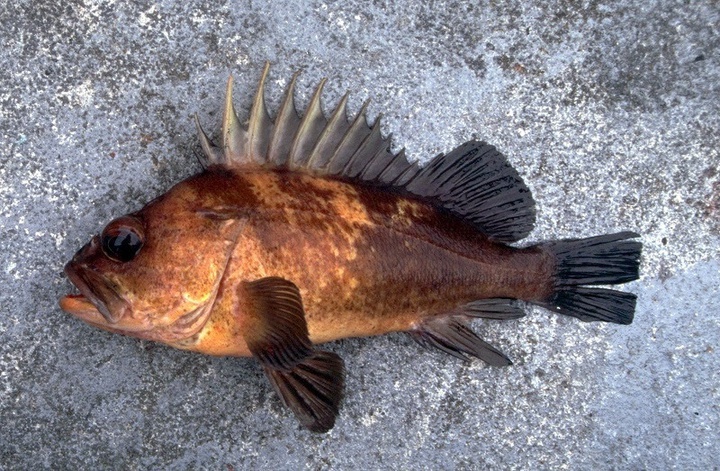 After sitting through three days of Pacific Fisheries Management Council deliberations, Del Norte County Supervisor Chris Howard says he and his colleagues are focusing on the wrong thing.
Howard, who went to the Council's meeting in Garden Grove, urged its members on Saturday to seek better data before making a decision that he compared to the shuttering of the community's public lands to timber harvest in the 1990s.
Howard wasn't alone. At least 35 other Del Norters submitted public testimony, including the local school board and the Crescent City Council — they were tugging on the PFMC's heartstrings, Howard told the Wild Rivers Outpost.
But the PFMC was at odds over whether to conduct a more thorough assessment of the quillback rockfish, the species at the heart of the 2023 groundfish season closure that took place in August.
Howard said he and his colleagues should work with Congressman Jared Huffman on potentially changing the 1976 Magnuson-Stevens Act, the primary law that governs fisheries management in federal waters.
"We need to be focused on a Congressional level with the Department of Commerce to have our congressman figure out how best to change the act so that it allows for the development of stronger data sets," Howard told the Outpost on Monday. "There's no way they could have determined the stock was overfished. No way without this poor data feeding into the system from outside the State of California."
Local fishermen continue to argue that most don't want quillbacks. They throw them back.
"We have never targeted and rarely keep Quillback rockfish and none of my friends that are recreational fishermen do as well," said Craig Newman, a recreational fisherman who fishes out of Eureka, Trinidad and Crescent City. "This is an easy fish for us to have a zero possession of."
The PFMC sets groundfish harvest limits based on assessments of stocks as well as catch-only projections. In 2021, NMFS estimated that quillback rockfish in California were below the overfished threshold and created a draft rebuilding analysis.
However, in June 2023, the PFMC approved a groundfish fisheries management plan that recommended establishing three separate rockfish stocks for Washington, Oregon and California, according to Council staff member Marlene Bellman.
The Council's Scientific and Statistical Committee reviews the data and makes a recommendation based on the "best scientific information available," Bellman said.
As of Aug. 21, the recreational boat-based groundfish fishery in the Northern Management Area — between Cape Mendocino and the Oregon border — was only allowed seaward of the 50-fathom, or 300-foot, Rockfish Conservation Area boundary line. Anglers could take and possess shelf rockfish, slope rockfish and lingcod, but couldn't deploy their gear shoreward of the 50-fathom boundary.
At a California Fish & Game Commission meeting in Fortuna before the Aug. 21 closure, CDFW Marine Region Manager Craig Shuman said the quillback rockfish catch for the season had been nearing 1 metric ton.
At the PFMC's September meeting in Spokane, CDFW environmental scientist Caroline McKnight proposed closing the nearshore groundfish fishery for the rest of 2023. Her motion was seconded by Washington Department of Fish and Wildlife representative Heather Hall, who acknowledged the Groundfish Management Team's findings that the quillback had exceeded the overfishing limit of 1.04 metric tons.
On Saturday, CDFW environmental program manager Marci Yaremko, who was the department's designee on the Council, said in-season actions for 2024 included prohibiting commercial and recreational anglers in California from keeping quillbacks. Trip limits, gear restrictions and "depth-based management" may be in store for commercial fisheries north of Point Conception, she said. While recreational anglers may have limited boat-based opportunities in areas shallower than 20 fathoms, or 120 feet.
It was Yaremko and at-large member Marc Gorelnik who, on Saturday, who proposed conducting a full stock assessment of the quillback before proceeding with rebuilding analyses and catch-only projections and revised projections "for 2025 and beyond."
According to Gorelnik, who's from California, the PFMC adopted a NMFS assessment in 2021 indicating that the quillback rockfish was in severe decline. However, Gorelnik noted that the assessment indicated that the quillback rockfish stock was depleted at "six times the rate of coexisting stocks," which he argued wasn't credible.
"We have many years of stable harvest, which is also inconsistent with a stock that's being depleted," he said. "And, again, as I said before, I don't doubt the model at all. But the model is very sensitive to the assumptions that are plugged in and the data that is used."
Gorelnik proposed holding off on making further decisions regarding a rebuilding analysis since more data is being collected. He noted that NMFS's Scientific and Statistical Committee (SSC) may have more information for the PFMC at its next meeting in March.
Yaremko amended Gorelnik's motion after her colleague, CDFW environmental scientist Caroline McKnight said the department felt that since NMFS hasn't yet informed the PFMC whether the California quillback stock is overfished, adopting a rebuilding analysis was premature. According to McKnight, the Magnuson Stevens Act allows two years from the time the PFMC is notified that a stock is overfished to submit a rebuilding plan for that species.
"The two-year clock has not commenced and there's no certainty when or if it will," McKnight said.
McKnight presented CDFW's report to the Council with fellow department environmental scientist John Budrick. Budrick said that when the 2021 assessment wsa conducted, there was not a defined California stock of quillback rockfish, though "the California portion" of that species was below the minimum stock-size threshold. He pointed out that a Fisheries Management Plan being developed for early 2024 is expected to have quillback stock definitions for California, Oregon and Washington.
"The question as to whether the newly-defined California stock, were it to be assessed in 2024 with data only from this stock, would have the resulting outcome below the minimum stock size threshold," Budrick said. "Further, the question remains, if it is appropriate to construe the 2021 data-moderate assessment off
California is an accurate assessment of the stock's biomass for this newly established stock. The same question is appropriately asked for the newly established stocks of quillback off Oregon and Washington."
Following the motion from Gorelnik and Yaremko, Keely Kent, NMFS Groundfish Branch chief, said the Scientific and Statistical Committee's determination that a rebuilding analysis for quillback should be adopted is based on the best scientific information available. While the Council can seek additional information, it's the SSC's determination that should be informing its decision, Kent said.
The 2021 quillback stock assessment was declared to be the best scientific information available, she said.
"That is the process by which, (if) we have a stock of quillback rockfish off California, that would be used to make the determination it is overfished. That's what sets in motion the Council's need to develop a rebuilding plan," Kent said. "If the Council fails to do that, the secretary (of Commerce) will do that. I'm concerned that this motion makes it seem like the Council has the ability to do something else and that is not possible."
At the suggestion of at-large PFMC member Phil Anderson, who suggested waiting until March to take action on a quillback rebuilding analysis, Gorelnik withdrew his motion. At that point, their colleague Corey Ridings motioned to adopt the rebuilding analysis using the Groundfish Management Team's removal assumption of 10.62 metric tons.
Ridings noted that there will be more options when the Council considers a rebuilding plan for quillback. She said she didn't see a "rationale to deviate from good science advice." While the stock assessment for quillback is "data moderate," she said, the Council regularly sets limits on several species with data-moderate or data-poor analyses.
Ridings echoed Kent's statement that the Scientific and Statistical Committee's 2021 stock assessment for quillback was based on the best scientific information available. She said she also didn't want to set a precedent that NMFS can take action without input from the PFMC or the public.
"I hear the severe and deeply painful impacts this is having and will have on many fishermen and communities," she said. "But I believe that myself and this Council need to take responsibility for getting here. Years of decisions have led to where we are today, including the design of the groundfish FMP, our complex system of grouping species, our Council processes for input and public testimony, our biennial spec cycles, our (terms of reference) and even how these meetings are run."
Ridings' motion died by a 4-8 vote, with one member abstaining.
Howard left the PFMC meeting frustrated, noting that NMFS had threatened to "unilaterally decide the position" even though the data in the 2021 assessment was weak. He also pointed out that while Kent cited one of NOAA Fisheries National Standard Guidelines, which states that conservation and management measures shall be based on the best scientific available, those standards also take communities into account as well.
Howard referred to National Standard 8, which requires management decisions "take into account the importance of fishery resources to fishing communities by utilizing economic and social data and … to the extent practicable, minimize adverse economic impacts."
"There's no weight applied to these standards one over the other. They're treated equally," Howard told the Outpost. "Everybody in that room was there to speak on National Standard 8. That's where we're all coming from."
---
SHARE →