---
Jessica Cejnar Andrews / Tuesday, Aug. 15 @ 4:05 p.m. / Ocean, Wildlife
Del Norte Fishermen Are Pissed About Nearshore Groundfish Fishery Closure
---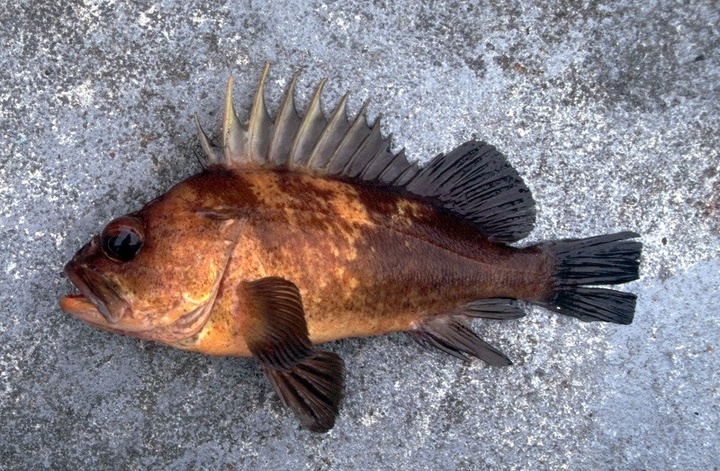 Del Norte County fishermen say a California Department of Fish and Wildlife decision to close the nearshore groundfish fishery in the north part of the state starting next week could economically devastate the community.
At least seven appeared before the local Fish and Game Advisory Commission on Monday, urging commissioners to send a letter to the agency as well as state representatives Mike McGuire and Jim Wood.
"It's not just the fish that we're not going to have in the freezer or the customers are going to have," said Crescent City Harbor Commissioner Harry Adams, who owns the charter boat service Stella's Adventures. "They're here for a week. They're renting Airbnbs, they're going out to dinner, they're going to the cheese factory, they're spending money. It's hurting the whole community and Del Norte needs everything they can get. Fishing comes and goes, logging isn't going to come back, tourism's always going to be there."
Fishermen also accused CDFW of using data collected from outside the area regarding the quillback rockfish fishery to make its decision. This allegation is false, Caroline McKnight, an environmental scientist with CDFW's marine region, told the Wild Rivers Outpost.
The information CDFW scientists used to close the near-shore groundfish fishery comes from the recreational estimated catch of quillback rockfish as well as estimates from the commercial fishery within the Northern Groundfish Management Area, she said Tuesday. The Northern GMA stretches from about Cape Mendocino to the California-Oregon border.
"We attribute catch to a specific geographic location and we sum it up for that area," McKnight said. "The information is suggesting that we have far exceeded our federally established harvest limit and that's directly from data from the area, not from somewhere else."
Starting at 12:01 a.m. Aug. 21, taking and possessing nearshore groundfish species will be illegal in the Northern Groundfish Management Area from Cape Mendocino to the California-Oregon border, CDFW announced late Friday afternoon.
Species affected by this closure include nearshore rockfish, cabezon and greenlings, though fishermen can still go after sablefish and flatfish, according to a department news release.
"This will be the first 'offshore only' fishery in the Northern GMA," CDFW stated in its news release, adding that the 50-fathom Rockfish Conservation Area boundary line for the Northern GMA will take effect. "In the Northern GMA, recreational boat-based groundfish fishing will only be allowed seaward (away from land) of the boundary line."
Shelf rockflish, slope rockfish and lingcod may be taken or possessed. However, a vessel may not deploy gear shoreward of the 50-fathom Rockfish Conservation Area if they possess those species. Fifty fathoms equal 300 feet.
CDFW partners with the National Marine Fisheries Service to co-manage groundfish, McKnight said. NMFS does the population assessments that generate harvest limits, which are vetted through a public process via the Pacific Fisheries Management Council.
Federal regulations have established a series of catch limits for quillback rockfish, McKnight said. The first is an annual catch limit of 0.87 metric tons, "which is very small for the chunk of coast we're talking about," she said. There's an acceptable biological catch of 0.91 metric tons for quillback rockfish and an over-fishing limit of 1.04 metric tons.
"Right now both the recreational and commercial harvest fish together for that area is in excess of that overfishing limit, which is why the change and action to move everybody out is so dramatic," McKnight said. "Now we're at an established fishing limit, which means we are doing damage to the actual stock and to be overfishing it."
The entire nearshore fishery is closed to avoid fishermen interacting with quillback rockfish, McKnight told the Outpost.
Last year, state fish and wildlife officials established a recreational one-fish limit for quillback rockfish after 2021 stock assessments off California indicated severe population declines, according to CDFW.
Quillback rockfish often coexist with other rockfish species, including some whose numbers are healthy, McKnight said. Imposing a geographical limit on where fishermen can catch fish is more effective than targeting the affected species itself because of the small harvest limits, she said.
CDFW also prohibits the take of bronzespotted rockfish, cowcod and yelloweye rockfish at all depths.
Most fishermen who spoke before the Del Norte Fish & Game Advisory Commission on Monday said they couldn't understand why CDFW allowed the recreational fishery to take one quillback only to shut the entire nearshore groundfish season down "out of the blue."
"Why not just down the quillbacks like they did with the yelloweyes? Why not keep better track of the quillback quota and just shut them down?" Crescent City resident Andrea Spahn asked rhetorically. "Also, how do they know the quillback population is declining? Every time we rockfish we catch several quillback, which, by the way, we don't keep as I feel they're not a good fish to eat or clean."
Adams isn't a quillback rockfish enthusiast either. They're a "pain in the ass," he says. But by implementing the 50-fathom Rockfish Conservation Area boundary line, CDFW is only allowing him and other fishermen to ply their craft in water that's 300 feet or deeper. As a result, Adams said he canceled roughly 25 bookings and has lost $25,000.
"There's nothing left to fish, but they're acting like there is," he told Outpost. "There's mid-water fish, but you gotta find them. They're not in the same spot every day like rockfish or ling cod. They hover over rock on the bottom of the ocean. The state is acting like they're giving us something by saying you guys can still (catch) sable fish."
Brad Miller, of Crescent City Fishing Charters, said he's trying to understand where CDFW got its data that led to the decision to close the near-shore groundfish fishery. He also questioned why CDFW let fishermen keep quillback fish in the first place, stating that he too isn't a fan.
"It's almost driving me out of business," he said of CDFW's decision. "I'm losing approximately $40,000. And then the fact they try to say our fishery is still open because you can fish outside 300 feet of water. However, I counted the days last month where you can fish outside 300 feet of water safely in a vessel my size — three days out of the whole month to be able to fish in that depth range. Let alone there are zero rock piles out there."
Repeating the allegation that CDFW was making decisions for Del Norte County and "lumping it down with what goes on in Sonoma or San Francisco," Fish and Game Advisory Commissioner Chair Rob Miller said he and his colleagues could both write a letter to state representatives and bring the issue to the attention of the Del Norte County Board of Supervisors.
Miller also urged fishermen to make their feelings known both to CDFW and to Wood and McGuire.
"If you're going to call McGuire or the other one, Wood, they have a Eureka office, they have a Sacramento office," Miller said, also encouraging fishermen to attend a California Fish and Game Commission meeting in Fortuna on Aug. 22 and 23. "Again, strength in numbers. You can't treat everyone in California equally poorly and that's what they attempt to do. And we're different here, aren't we. This is a totally different place."
McKnight, who has been fielding calls from folks concerned about the closure, said the agency does recognize that fishermen are having a tough season right now in general.
"Salmon is not there, crab is intermittent and now groundfish has again been adjusted," she said. "That combination has been very hard. We do recognize that. Unfortunately we can't ignore the level of catch compared to the harvest limit."
For more information on groundfish, visit the CDFW's Marine Region Groundfish page.
---
SHARE →