---
Jessica Cejnar Andrews / Wednesday, Aug. 23 @ 3:47 p.m.
CDFW Scientist Addresses Nearshore Groundfish Closure, States Department Was Tracking Quillbacks But Landings 'Shot Up'
---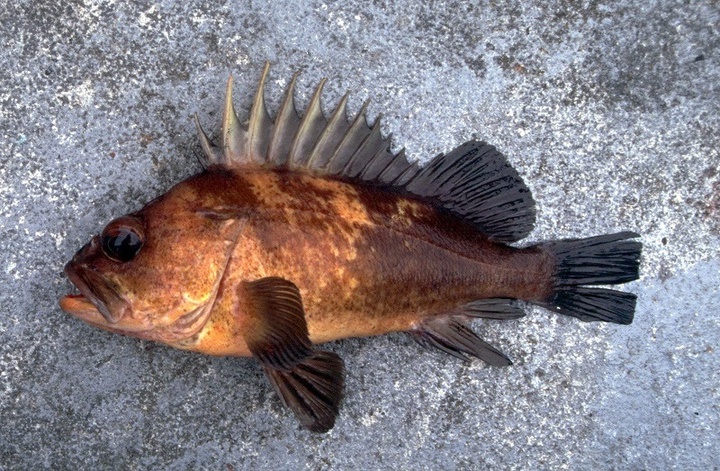 Previously:
• Del Norte Fishermen Are Pissed About Nearshore Groundfish Fishery Closure
###
Craig Shuman assured Del Norte County charter boat captains and two county supervisors that closing the nearshore groundfish fishery wasn't something California Department of Fish and Wildlife scientists "flipped the switch" on.
Scientists had been tracking the quillback rockfish catch since the season opened, Shuman, CDFW's marine region manager, said at a California Fish and Game Commission meeting in Fortuna on Wednesday. Quillback landings had been gradual since the season opened and then "it just shot up," he said.
"Because the catch targets are so low, it shot us up over that limit and there was nothing we could do," Shuman said. "We agree we need more and better data. That's a common trend for most, if not all, of our fisheries."
As of Monday, the recreational boat-based groundfish fishery between Cape Mendocino and the Oregon border is only allowed seaward of the 50-fathom — 300-foot — Rockfish Conservation Area boundary line.
Anglers can take and possess shelf rockfish, slope rockfish and lingcod, but they can't deploy their gear shoreward of that 50-fathom Rockfish Conservation Area boundary, according to an Aug. 11 CDFW news release.
CDFW took this action after realizing that the quillback rockfish catch for the season was nearing 1 metric ton by the end of July, Shuman said.
The overfishing limit for the species is 1.05 metric tons within the Northern Management Area, according to a CDFW briefing issued Monday.
CDFW is also expected to close the nearshore groundfish fishery in the Mendocino, San Francisco and Central management areas starting Sept. 1 due to the quillback rockfish catch exceeding the overfishing limit.
"Offshore only" rules are expected to take effect in the Southern Groundfish Management Area — from Point Conception to the U.S.-Mexico border — starting Sept. 16.
Since learning about the closure, many local anglers have said they don't target quillback rockfish. They argued that the closure should be changed to allow the boat-based anglers to fish to within 10 fathoms, or 60 feet.
"There needs to be a better survey to more accurately assess quillback and copper (rockfish) populations," Brad Miller, owner of Crescent City Fishing Charters, told Fish and Game Commissioners. "This closure should be changed from 0 to 50 fathoms to 10 to 50 fathoms to allow the community of Del Norte to survive."
However, Shuman said, even if the nearshore groundfish fishery was moved to shallower waters, anglers would still encounter quillback rockfish.
"Because of where we're at now, we want to make sure we're not digging the hole deeper so we can make sure we're preserving the season for next year," he said.
CDFW and the National Marine Fisheries Service co-manages the quillback rockfish fishery. NMFS staff conduct stock assessments to determine how healthy the population is and the Pacific Fishery Management Council uses those assessments to recommend harvest limits.
According to CDFW's Monday in-season briefing on the species, based on the species' stock assessment in 2021, scientists determined the population was in severe decline, resulting in low federal harvest limits for the 2023 and 2024 seasons.
Because of the lower harvest limits, CDFW reduced the nearshore groundfish season to last from May 15-Oct. 15, Shuman said. A typical season normally starts May 1 and lasts through the end of December.
Quillback rockfish are among roughly 90 species of groundfish targeted by both recreational and commercial fishermen in California.
"When recreational anglers go fishing for nearshore rockfish, it is impossible to know which species might be caught," CDFW states. "Minimizing catch of one species, like quillback, often requires closing fishing in areas and depths where other groundfish are found."
In Del Norte County, District 3 Supervisor Chris Howard pointed out that the nearshore groundfish closure is one among many challenges the county faces, which includes the closure of the ocean and in-river salmon season and the potential closure of the deer hunting season due to the wildfire the community is currently dealing with.
On Tuesday, Howard and his colleagues on the Board of Supervisors took up the issue after the Crescent City Harbor District voted to send State Sen. Mike McGuire a letter protesting the closure.
Howard urged the Board to take a position on the closure and asked to be allowed to speak on the county's behalf at Wednesday's Fish and Game Commission meeting.
"We're a border town," Howard told commissioners Wednesday. "It doesn't take much for folks to drive 20 minutes north to access the same fishery in Brookings-Harbor. We're unique and we're isolated and we're being impacted from multiple directions right now."
Steve Huber, of Crescent City Fishing, said his customers plan their fishing trips years in advance. Last week, Huber hosted people from Massachusetts, New Jersey, Minnesota, Nevada and Washington State.
"No boat in that Crescent City Harbor can fish at 50 fathoms," he said. "It's not safe and there's no Coast Guard station out of Crescent City anymore."
Though the item wasn't on Wednesday's agenda, CDFW Director Charlton Bonham addressed anglers' concerns regarding the groundfish fishery. CDFW is in the middle of working with recreational, tribal and commercial fishermen in the state to "deliver economic relief to them" quickly due to challenges with the salmon season.
As for rockfish, he reiterated that the catch limits are set "in a federal venue at the Pacific Fisheries Management Council."
"When these metrics hit, the department is required to (act) on it," he said. "We don't do it lightly. We realize the impact that can come from it."
---
SHARE →