---
Jessica Cejnar Andrews / Wednesday, Aug. 23 @ 11:54 a.m. / Community, Fire
CHP Expected to Discuss Status of 199 At Tonight's Smith River Complex Meeting; Evacuation Orders Updated For Residents On Both Sides of State Line
---
California Highway Patrol officials are expected to give Del Norters an update on U.S. 199 at this evening's community meeting, a spokesman for the interagency team battling the Smith River Complex fires said Wednesday.
The meeting will be held at 6 p.m. this evening at the Del Norte County Fairgrounds and will be streamed online at the Six Rivers National Forest Facebook page.
"The Highway 199 corridor is still being worked on, craned and made safe by Caltrans and the CHP so we can get that opened up as soon as possible," Tom Stokesberry, public information officer for California Interagency Incident Management Team 15, told the Wild Rivers Outpost.
Meanwhile, Pacific Power has brought in enough commercial-grade generators bring electricity to roughly 7,200 customers as of Wednesday. The utility aims to bring power back to most of Crescent City and Del Norte County by the end of the week, according to company news release.
The Smith River Complex has been mapped at about 47,140 acres as of Wednesday morning, Stokesberry said. More than 1,200 firefighters are battling the flames with more coming in. On Tuesday, improved weather conditions allowed a DC 10 air tanker to drop 300,000 gallons of retardant on the Kelly Fire.
That stopped movement on the west side of the fire north of the Smith River above Gasquet, Stokesberry told the Outpost.
"There's definitely some good work happening," he said.
The fire did claim two structures as of Wednesday, according to Stokesberry. However he was unable to provide further information until the management team's damage assessment personnel investigates and the Del Norte County Sheriff's Office notifies the owner.
Meanwhile, evacuation notices have been updated, according to Bill Steven, public information officer for the Del Norte Office of Emergency Services.
Gasquet and communities to the Oregon border, including Sunstar and French Hill Road are still under a Level 3 "Go Now" evacuation order.
Low Divide Road between milepost marker 1 to milepost marker 13 is also under a Level 3 "Go Now" evacuation order. The Low Divide evacuation order starts about one mile from its junction with North Bank Road, Steven said, adding that residents received that order about an hour ago.
Residents in Big Flat, Rock Creek and along South Fork Road are at a Level 2 "Be Set" evacuation order, meaning they should be ready to leave at a moment's notice.
Areas along Rowdy Creek Road about three miles from U.S. 101 to its junction at High Divide — milepost marker 6 — were given a Level 2 "Be Set" evacuation order within the last hour as well, Steven said.
Hiouchi is still at a Level 1 "Be Ready" evacuation status, Steven said.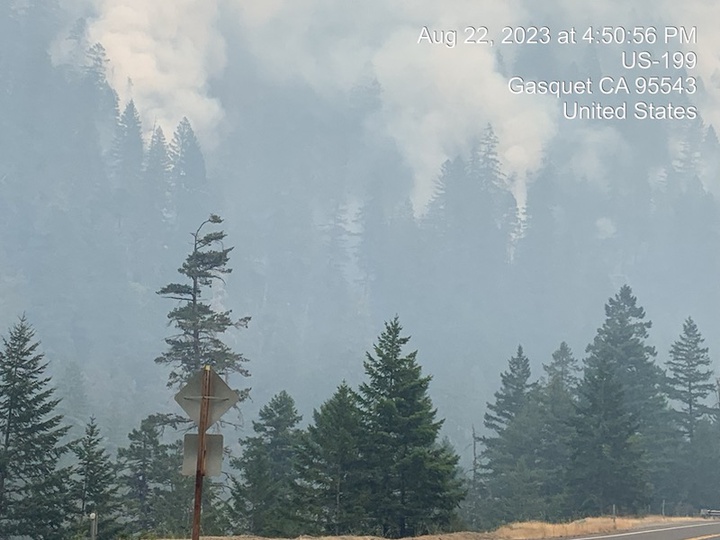 The Smith River Complex has also crossed over into Oregon. Crews from Northwest Interagency Incident Management Team 13 has assumed command from Cave Junction, Stokesberry said.
In Oregon, firefighters are focusing on structure protection in the Dwight Creek and Elk Creek areas.
Residents along U.S. 199 from south of milepost marker 39 to the California state line are at a Level 2 "Be Set" evacuation order, according to Josephine County Emergency Management.
O'Brien residents south of Rough & Ready Creek are under a Level 1 evacuation order, according to Josephine County. For more information, click here.
A community meeting has been scheduled for the Smith River Complex North at 6 p.m. Thursday at the staging area across from 30159 Redwood Highway near Cave Junction.
Though Pacific Power continues to provide electricity to Del Norte via its massive generators, Steven pointed out that some folks had purchased generators of their own from local stores such as Home Depot, Harbor Freight and Ace Hardware.
"I know for a fact that people have been driving even around as far away as Grants Pass and Medford, and maybe even Eureka, to buy generators," he said. "When this whole thing started, at least when the power went out, they had an unbelievable amount of generators purchased throughout this whole region and a commitment by all the stores to resupply."
Steven said he knew of one resident on Vipond Avenue north of Crescent City who installed a generator and got it running only for his electricity to come back on about two hours later.
A home generator is still a smart purchase, he said.
"We've been telling people on the radio it could happen again for whatever reason," Steven said, referring to the power outage. "It's just a handy thing to have around the house. A good investment."
Steven has been providing updates on KCRE 94.3 and KPOD 97.9 at 8 a.m., noon and 5 p.m.


---
SHARE →