---
Jessica Cejnar Andrews / Thursday, Aug. 24 @ 11:08 a.m.
CHP Unveils Plan to Caravan Vehicles Up and Down U.S. 199 Starting Monday, But Only If It's Safe
---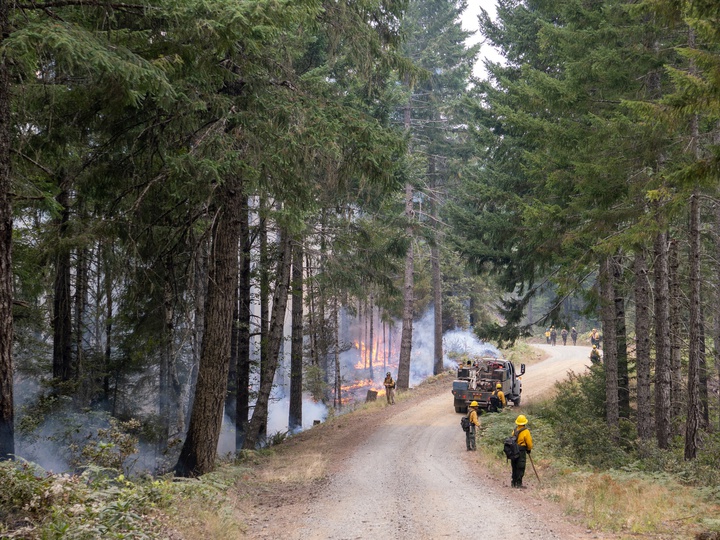 California Highway Patrol Lt. Pete Roach unveiled a plan to allow goods and people into and out of Del Norte County via U.S. 199 possibly starting Monday.
A Caltrans pilot vehicle will lead a train of motorists through that corridor at about 7 a.m. and again at about 5 p.m. A CHP officer would follow ensuring the road is closed behind them. But whether this plan pans out depends on how much progress crews battling the Smith River Complex, in particular the Kelly Fire, make, Roach said.
"This fire is nasty and for some reason it likes 199 way more than I want it to," he said at a community meeting Wednesday. "Incident command is supporting me on this, all my crew is supporting me on this — my chief is here — Caltrans will make it happen some way or another. But it's got to be safe."
As of Wednesday, residents from Slant Bridge to the Oregon border, including those living in Gasquet, were unable to return to their homes. Low Divide one mile inland from North Bank Road to its junction with Rowdy Creek Road was also under a Level 3 "Go Now" evacuation order.
One Gasquet resident, a commercial fisherman, asked if he could get in that caravan of vehicles on Monday to go home and "do things."
"In my line of work, we support ourselves. We don't rely on other people," he said. "I'm down here in town and my guts are just roiling and I can't stand it. It's just something I've built my entire life and it's a beautiful home and I want to go protect it."
Though he couldn't give a definitive answer, noting that the remote areas above Gasquet are burned with trees and debris down, Sheriff Garrett Scott estimated there are about five to 10 structures "that did get hit."
Nothing in Gasquet proper has been burned, Scott said, but he didn't know when residents would be able to return home because he doesn't know "what the fire will do over the next couple of days."
According to a CHP news release Thursday, starting at 7 a.m., Caltrans will escort motorists from the south closure in Gasquet to the Oregon border. At the state line, southbound traffic will be escorted back through the canyon and the highway will then be closed until 5 p.m.
At 5 p.m., Caltrans will again escort northbound traffic from Gasquet to the state line and repeat the process for southbound traffic. Once they have excorted traffic through in both directions, the highway will be closed again until 7 the following morning.
The schedule coincides with the fire crews' daily meetings, Roach said. The hope is the caravan of traffic will be through that corridor once firefighters are getting out to the front lines.
"This is a train going to the Oregon border and back, we need to stay consistent in line, courteous in line and we need to get you there and get you back," he said.
Two incident management teams are tackling the Smith River Complex, which has been mapped at 52,563 acres as of Thursday. A total of 1,419 firefighters are battling the flames, according to Inciweb. Zero percent of the perimeter has been contained.
At Wednesday's meeting, Nick Elmquist, fire behavior analyst for California Interagency Incident Management Team 15, which is managing the Smith River Complex in Del Norte County, said the steep topography and dry fuels make getting a handle on the fires difficult.
Weather is also a challenge, Elmquist said. Firefighters aim to be on the side the fire's burning away from. But in Del Norte County, the wind shifts, flowing up canyon as valleys heat up and down canyon as they cool down at night, he said.
"I'm not going to sugar coat it, we're in for a couple of tough days," Elmquist said. "The National Weather Service has issued a red flag warning (due to) potential thunderstorms in the area with down drafts and erratic winds from about 3 until 2 in the morning. And then we should start to see better weather patterns after we get through tomorrow."
As of Thursday, Six Rivers National Forest officials reported that most of the perimeter growth occurred at the Kelly Fire between the transmission corridor and Elk Camp Ridge Road. Additional fire activity occurred along above Darlingtonia.
The Coon Fire also continues to grow toward the Kelly Fire.
Today's update included information about the NWS's Red Flag Warning with the main risk being thunderstorms bringing gusty and erratic winds.
Another hot topic at Wednesday's meeting was electricity. Pacific Power plugged several large industrial-sized generators into the substations scattered throughout the county, bringing power to about 8,500 customers as of Wednesday, CEO Stevan Bird said. The utility hopes to electrify nearly all its customers in the county by Friday evening.
Pacific Power has also installed 125 residential generators for customers with medical needs. Those generators have used about 18,000 gallons of fuel as of Wednesday, Bird said.
Pacific Power began monitoring the Holiday and Kelly fires starting Aug. 15 as they converged on its transmission line — the only line serving Del Norte County. Once flames got to within a quarter mile of the transmission line last Friday, the utility de-energized the line.
"We were up there today," Bird told residents. "So far, there is good news in terms of limited damage. We've seen a couple poles that need to be replaced and we're prepared to replace those when it's safe to do so."
Pacific Power has also brought semi-trucks with bottled water to the community and has set up two resource centers, on at Del Norte High School and one at the Yurok Tribal Office in Klamath, where people can charge their devices.
So far, 18,000 gallons of drinking water has been distributed since the fire began, said State Sen. Mike McGuire, along with 3,000 bags of ice.
The sheriff's office requested additional law enforcement support, including dispatchers, McGuire said.
As for the first day of classes, both at the K12 and the college level, Del Norte Unified School District will begin welcoming students back on Sept. 5.
At College of the Redwoods' Del Norte campus, in-person classes are expected to begin Monday, said Crescent City Manager Eric Wier, who was relaying the information from DNUSD
Superintendent Jeff Harris and Rory Johnson, dean of CR's Del Norte campus.
CR-Del Norte will be open from 8 a.m.-5 p.m. today and Friday to allow students to access the library, computers and WiFi.
"They've also offered the online portion," Wier said. "They have made all professors aware that they are not to drop any student from Del Norte. If you're in an online class and you're from Del Norte, work with your professors on how to make that up."
For more information about the fires, tune into KCRE 94.3 FM and KPOD 97.9 FM at 8 a.m., noon and 5 p.m. or call (707) 464-0911 or (707) 954-3704.
---
SHARE →