---
Jessica Cejnar Andrews / Thursday, Aug. 24 @ 4:26 p.m.
Crescent City Searches For Options to Continue to Display Val Polyanin's Art
---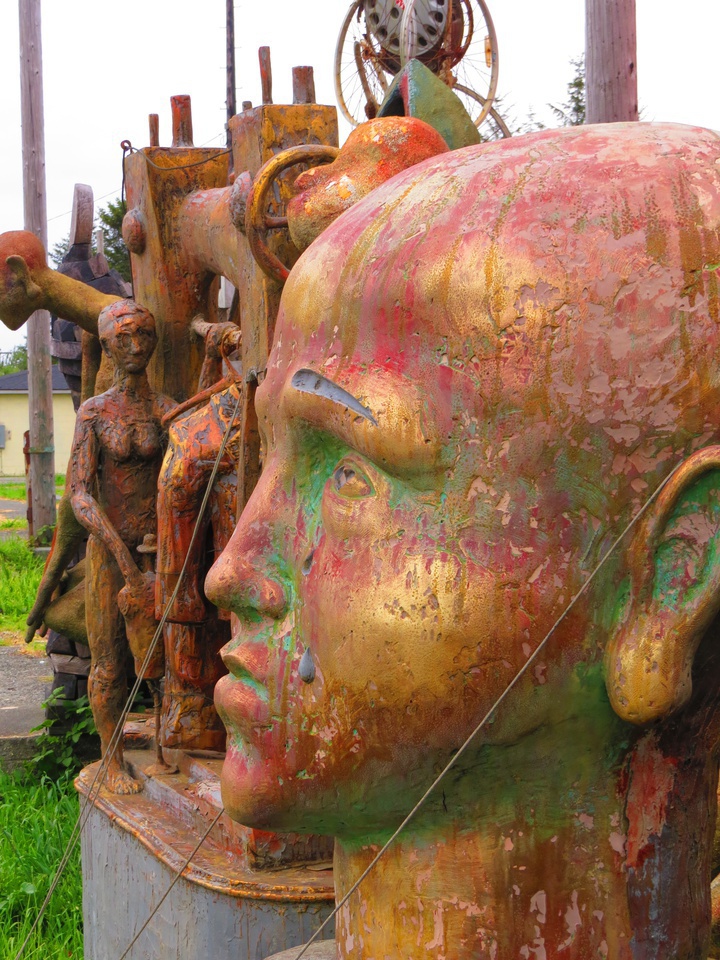 Though the Chamber of Commerce is urging folks to see his art before it's gone, a committee of Crescent City staff and local business and nonprofit representatives is exploring ways to continue to exhibit Val Polyanin's work.
The exhibition "SAFEKEEPING: The Art of Val Polyanin" has been on display at the old Bank of America building, home of the new city hall, since May. It's open to the public for free every month during the Crescent City Downtown Divas' First Friday event. Oct. 6 is the final date of the exhibition.
On Monday, however, Crescent City Councilors authorized staff to seek a $25,000 Coast Central Credit Union Community Investment Grant. The city plans to use those dollars to potentially rent a space in the downtown area for about a year to continue to display Polyanin's paintings, sculptures and mosaics, Economic Development Director Ashley Taylor told the Wild Rivers Outpost on Thursday.
"The request to Council was to extend the showing beyond October, so just to continue to have it open once a month," she said, adding that the exhibit could be open during Santa's Light Parade around the Holidays, for example. "If we do want to see this stay in our community and continue to be an economic driver… if it's not open it's going to lose momentum and we'll have a hard time getting grant funding and finding other ways to use it."

Polyanin is a Ukrainian man who gained asylum in the United States after jumping off a Russian military ship near Guam during the Cold War and swimming to shore. His roadside art gallery was a South Beach fixture for more than 20 years until about a year ago when Polyanin found he could no longer afford his rent.
Polyanin left his landlord, Hambro WSG, a note saying he wanted to donate his work to the city, which moved it to its future city hall. City staff thought the artist had left town, but discovered that he still lived in the downtown area.
Grant Coordinator Bridget Lacey and Jon Olson, the city's former public works director, were moving Polyanin's paintings and sculptures to their new home when the Ukrainian artist rode by on his bicycle.
"He makes art every single day," Lacey told the Outpost in May. "He feels like it's safe with us, and he's so grateful that it can live on somehow, some way."
Polyanin donated a total of 914 pieces to the city. At least 100 pieces are currently on display, Taylor said.
Since its first showing in May, the exhibit has drawn at least 80 to 100 people each month, Taylor said. But she acknowledges people's concerns that the city may not be the best custodian of an art collection.
In June, the city organized an art preservation committee whose members come from various backgrounds, including the business, real estate and nonprofit sectors, Taylor said. In addition to trying to find space to display the art temporarily, they're also communicating with the Kohler Foundation, which could help preserve and find a permanent solution for Polyanin's work.
"They are very interested in helping, however it has to go to their Board," Taylor said. "Once it goes to their board, the sooner they could get to the project would be 2025, so we're still a ways out."
In the meantime, the city is trying to find a nonprofit organization that could operate the temporary exhibition, Taylor said. Committee members thought of the Del Norte Association for Cultural Awareness, she said, though it may not have the resources to take on a big art collection. The committee has also reached out to the Ink People in Eureka, which has a long history of managing art collections and dealing with large projects.
However, according to the city's staff report, KFUG Community Radio, whose founder, Paul Critz, is on the art preservation committee, may be that nonprofit.
Critz said it's an idea he wants to bring before his Board of Directors once the community emergency surrounding the Smith River Complex fires is over.
"I know the debate there was with the city about whether or not it sort of shepherding an artist's work like this is the purview of a city," Critz told the Outpost. "That same discussion applies to a community radio nonprofit. I don't want to speculate on what that final approval would be."
On Monday, county resident Dan Schmidt suggested the city coming up with an employee of the month program with one of the incentives being to take a piece of Polyanin's art home. He suggested dispersing the collection among members of the community.
"I'm fearful we will incur a huge burden in the future months and years to store and to display and care for that art collection when I think it could be better enjoyed among the families of our city," Schmidt told Council members.
Taylor said she thought Schmidt's suggestion was interesting, but a city asset can't be given away or even immediately sold.
For Critz, who worked with local youth media organization Redwood Voice to tell Polyanin's story, he wants KFUG to help in any way it can. Critz went to school and studied art and, to him, Polyanin's work has a place in the history of expression.
"I truly believe his art to be great art," Critz said. "I see Matisse. I see Picasso. I see Khalo. I see all of that in his art, and it happened right here."
---
SHARE →