---
Jessica Cejnar Andrews / Friday, Sept. 15 @ 8:30 a.m.
Despite Impassioned Testimony from Del Norte Anglers and Others, Pacific Fisheries Management Council Lets Groundfish Closure Stand
---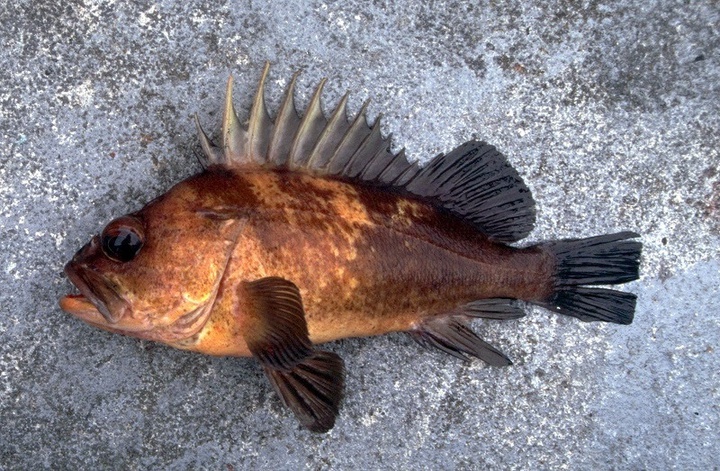 Previously:
• CDFW Scientist Addresses Nearshore Groundfish Closure, States Department Was Tracking Quillbacks But Landings 'Shot Up'
• Del Norte Fishermen Are Pissed About Nearshore Groundfish Fishery Closure
###
Del Norte officials and local anglers aired their concerns before the Pacific Fisheries Management Council this week because of a state decision to close the nearshore groundfish fishery over a species most say they don't want.
Presenting a letter from the Del Norte County Board of Supervisors on Tuesday, District 3 representative Chris Howard called for Council members to require the California Department of Fish and Wildlife do hook and line surveys of quillback rockfish rather than relying on trawling data to make their decision.
Howard pointed out that Del Norte anglers are further impacted by the closure in the salmon season and by the "largest fire in the nation burning in our backyard."
"It is a perfect storm that many of us won't survive," he told council members. "It's difficult to see such decision-making based on pretty outdated models and fed by limited data to no-data. And for us, that's difficult to stomach."
However, the Pacific Fisheries Management Council voted 7-4-2 to let the California Department of Fish and Wildlife's emergency nearshore groundfish season closure stand.
CDFW environmental scientist Caroline McKnight, who represented the department at the Council on Tuesday, made the motion to adopt the Groundfish Management Team's recommendation to close the nearshore groundfish season.
Though she thanked the Groundfish Management Team and the Groundfish Advisory Panel for their work, McKnight acknowledged that her motion would have devastating economic impacts to coastal communities that rely fishing.
"There's no good measure of comfort I can provide in this situation," she said.
Heather Hall, who represents the Washington Department of Fish and Wildlife, seconded McKnight's motion, saying she concurred with the GMT's findings that the recreational and commercial harvest of the quillback rockfish has exceeded the overfishing limit of 1.04 metric tons.
"We find ourselves in a cross-section here that is putting us in this very tough decision that no doubt has the very real and serious impacts that we've heard very well articulated here tonight," Hall said. "That being said… not taking action could jeopardize future rebuilding efforts."
CDFW and the National Marine Fisheries Service co-manages the quillback rockfish fishery. NMFS staff conduct stock assessments to determine how healthy the population is and the Pacific Fishery Management Council uses those assessment sto recommend harvest limits.
At a California Fish & Game Commission meeting in Fortuna last month, scientists determined the population was in severe decline in 2021, resulting in low federal harvest limits for the 2023 and 2024 seasons.
Due to the lower harvest limits, CDFW reduced the nearshore groundfish season by about two and a half months, according to Craig Shuman, CDFW's marine region manager.
This year, scientists had been tracking the quillback rockfish catch since the season opened in May and landings had been gradual until it "just shot up," he said.
As of Aug. 21, the recreational boat-based groundfish fishery in the Northern Management Area — between Cape Mendocino and the Oregon border — was only allowed seaward of the 50-fathom — 300-foot — Rockfish Conservation Area boundary line.
Anglers could take and possess shelf rockfish, slope rockfish and lingcod, but can't deploy their gear shoreward of that 50-fathom RCA boundary. The CDFW took that action after realizing the quillback rockfish catch for the season was nearing 1 metric by the end of July, Shuman said.
CDFW closed the nearshore groundfish fishery in the Mendocino, San Francisco and Central management areas on Sept. 1 due to the quillback rockfish catch exceeding the overfishing limit.
Offshore only rules are expected to take effect in the Southern Groundfish Management Area — from Point Conception to the U.S.-Mexico border — starting Sept. 16.
Since learning about the closure, many local anglers have said they don't target quillback rockfish. They also question the modeling used to collect the data, stating that it is inconsistent with observer data.
In his own testimony before the Pacific Fisheries Management Council, Crescent City Harbor Commissioner Harry Adams, who operates the charter boat business, Stella's Adventures, pointed out that much of the quillback data comes from the Northwest Science Center in Seattle Washington and is based on trawl boats.
"First of all, how can CDFW do a complete nearshore closure using trawl data when trawl boats do not trawl in the rocks where the quillback live?" Adams asked in a letter to the Council. "The models used to assess local quillback populations and impacts are not verified or validated. None of this is accurate data."
Adams further asked why anglers were allowed a daily bag limit of one quillback when the quota was roughly 1 metric ton.
"If CDFW had kept an accurate data on the quillback quota, they could have stopped the quota at 75 percent and allowed for a 25 percent mortality rate," he said. "We could then still be fishing. In the shallower depths, quillback are very resilient when released. Most fishermen that know the quillback don't even keep them. They are spiny and do not have good meat. They are released."
Steve Huber, owner of Crescent City Fishing, concurred with Adams' assessment about the data. Crescent City charter boats haven't harvested quillback rockfish, he said.
"There are 26 species of rock and lingcod on Crescent City rocks and reefs," he said. "A trawler in 300 feet of water is not going to come anywhere close to our rocky reefs. We need up-to-date data on how our stocks are presently performing."
Huber also said every public boat launch should have CDFW staff who can explain the low stock counts and urge anglers to release quillback and copper rockfish.
"We can take you right to the quillback grounds," he said. "It's time for new data and methods of collection."
On Sept. 5, Adams' colleagues on the Crescent City Harbor District Board of Commissioners asked the CDFW to rescind the nearshore groundfish closure for 60 days and to adjust the conservation area boundary to permit fishing in waters up to 10 fathoms.
According to the Harbor District's letter, quillback rockfish are rarely found in waters shallower than 10 fathoms. They said they wre concerned about anglers who had to venture beyond the 50-fathom boundary to pursue their catch.
"A significant number of sport fishermen operate smaller boats, which are not designed or equipped to handle the conditions so far offshore," the Harbor District wrote. "This situation becomes all the more dire when considering the recent decommissioning of the local Coast Guard station. Without this vital resource, the potential response time in emergencies has increased dramatically exacerbating the risk factor for our fishermen."
On Tuesday, the two people that abstained from voting, Phil Anderson and Virgil Moore, also questioned the data. Moore said there appears to be a discrepancy in the data modeling versus what near-shore fishermen are seeing. He and Anderson suggested tabling the decision until the data modeling can be examined.
Marc Gorelnik, an at-large Council member from California, said while he appreciated that the Northwest Science Center provided the best stock assessment it could, "sometimes it doesn't work." He questioned the Science Center's findings that 28.6 percent of quillback rockfish stock were removed in one year when just 4.5 percent of another species that coexists with it — the copper rockfish — was removed.
"It's hard for me to imagine that we can possibly remove that much quillback," Gorelnik said. "I think the truth is probably much closer to 4.5 percent and what that means is our stock assessment is inaccurate. I'm not suggesting the Science Center didn't do its best, but sometimes the best isn't good enough and as a consequence of that assessment we're going to be putting people out of work. We're going to be ruining businesses and it's not as if these businesses have a fallback."
---
SHARE →