---
Jessica Cejnar / Wednesday, Oct. 21, 2020 @ 1:06 p.m.
Klamath Residents, Yurok Tribal Members To Participate in 'Day of Action' Targeting PacifiCorp, Warren Buffett and Gates Foundation Over Dam Removal
---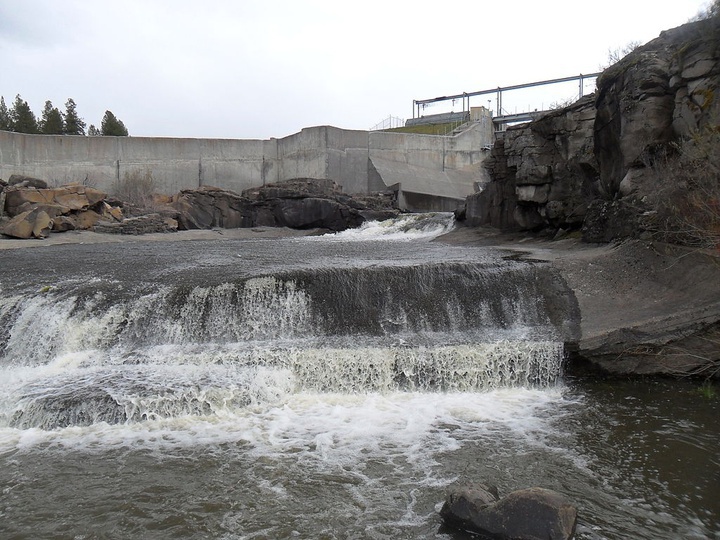 Previously:
• 'Make Noise,' Yurok Tribe Water Analyst Discusses PacifiCorp's New Stance on Klamath Dam Removal
• Legislation Targets Warren Buffett, PacifiCorp For Dams' Impacts to Klamath River Salmon
• Unexpected Decisions By Federal Regulators Sends PacifiCorp Back To Negotiations Over Klamath River Dam Removal
###
Yurok Tribal members and Klamath residents will take part in a series of demonstrations Friday targeting PacifiCorp, Warren Buffett and others over dam removal on the river they and others rely on.
Virtual rallies will be held at the utility's headquarters in Portland and in Buffett's hometown of Omaha, Neb., according to a Save California Salmon news release. A rally will also be held in Seattle, home of the Bill and Melinda Gates Foundation, the top shareholder in Buffett's Berkshire Hathaway conglomerate — Berkshire Hathaway Energy is PacifiCorp's parent company.
Organizers will also join San Diego residents to oppose Berkshire Hathaway Energy's efforts to "take over the Southern California city's power system," according to a Save California Salmon press release.
In Klamath, resident Chrystal Helton has organized a "banner bomb." Anyone can create a banner or a sign to hang on a fence outside the townsite along U.S. 101, she said. So far, Helton said Monday, 15 families are contributing to the local action.
"We want to fill up a whole fence," Helton told the Wild Rivers Outpost. "We want messages to Buffett. Messages to PacifiCorp, to (California Governor Gavin) Newsom, to (Oregon Governor) Kate Brown, 'This is what our families want to tell you about dam removal."
The Klamath River Day of Action comes after the Federal Energy Regulatory Commission on July 16 approved to partially transfer PacifiCorp's license to operate the J.C. Boyle, Copco 1, Copco 2 and Iron Gate dams to the nonprofit Klamath River Renewal Corporation.
KRRC, the entity spearheading the dam removal project, was created through the 2016 Klamath Hydroelectric Settlement Agreement, which PacifiCorp, the states of California and Oregon, the Yurok, Karuk and Hoopa tribes along with fishing and conservation organizations signed onto.
Scientists state that the dams create deadly algae blooms that contribute to disease and parasites infecting Klamath River salmon.
KRRC representatives have stated that the dam removal project is fully funded with a $200 million surcharge from PacifiCorp ratepayers and $250 million in California water bond dollars. The project currently has a start date of January 2022 despite FERC's decision in July.
Since FERC's decision PacifiCorp representative have argued that it makes the utility responsible for project costs and liabilities. Since that decision, the utility has entered into negotiations with other KHSA members.
In response to PacifiCorp's reaction to FERC's decision, Del Norte County's Congressional representative, Jared Huffman, successfully added an amendment to H.R. 4447, the Clean Economy Jobs and Innovation Act in September. The Klamath Hydroelectric Settlement Agreement Tribal Fairness amendment would impose new relicensing conditions for the utility if it backs out of the KHSA.
Those conditions include a requirement that PacifiCorp complies with state and tribal recommendations to reduce harm to Klamath River salmon and other fisheries. The utility would also be required to disclose information related to water pollution, fish recovery, dam safety and the facilities' financial status.
Friday's day of action include individuals and organizations from Seattle, Portland, Washington D.C. and elsewhere. Regina Chichizola, of Save California Salmon, said the nonprofit organization urges participants to "plan actions online and off, and to post video, photos and their messages using the hashtag #UnDamtheKlamath."
Save California Salmon's virtual rallies are also part of its Mobilizing Water Justice Week of Action in partnership with Humboldt State University's Native American Studies Department.
---
SHARE →