---
Jessica Cejnar / Thursday, Aug. 20, 2020 @ 10:54 a.m. / Environment, Tribes, Wildlife
Unexpected Decision By Federal Regulators Sends PacifiCorp Back To Negotiations Over Klamath Dam Removal
---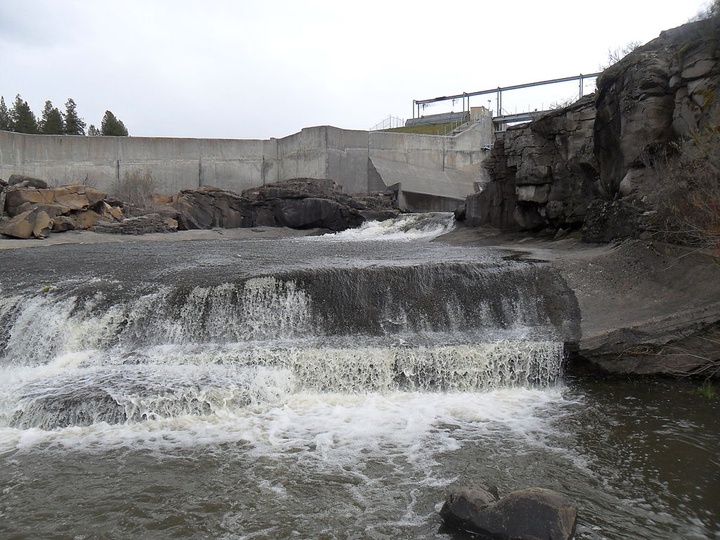 Though proponents of Klamath River dam removal say "the deal is still on" for the 2022 project start-date, a recent decision from federal regulators has sent them back into negotiations with the facilities' owner, PacifiCorp.
At a public hearing Tuesday, utility representative Scott Bolton argued that the Federal Energy Regulatory Commission's July 16 approval of a partial transfer of the dams' licenses from PacifiCorp to the nonprofit tasked with removing the facilities was unexpected.
This decision changed the terms of the 2016 Klamath Hydroelectric Settlement Agreement, he said, and makes PacifiCorp liable for all project costs and liabilities.
Congressman Jared Huffman, who hosted the hearing, challenged Bolton's assertions, stating that while FERC's decision is a technical change, the settlement agreement has cost overrun protections and the project could still happen on time.
"This massive curveball, as it's been described, may not be a curveball at all," Huffman said, adding that if the project is delayed those cost overrun protections cease to exist. "It may just be a technicality that you would remain as a co-licensee as these dams come out."
PacifiCorp's long-term license to operate the dams as a hydroelectric project expired in 2006, utility Public Information Officer Bob Gravely told the Crescent City Harbor District in 2018. As it was in the process of extending its license, conflicts between irrigators and tribes over fish turned into a discussion over removing the dams, Gravely told harbor commissioners.
These discussions eventually led to the 2016 Klamath Hydroelectric Settlement Agreement, which includes local tribes, the states of Oregon and California, PacifiCorp and conservation and fisheries organizations is a renegotiated agreement that created the Klamath River Renewal Corporation. The nonprofit corporation is tasked with removing the J.C. Boyle, Copco No. 1, Copco No. 2 and Iron Gate dams and has been aiming for a drawdown of the reservoirs starting January 2022.
Removing the dams would cost an estimated $434 million. KRRC has a project budget of $450 million with $200 million coming from a PacifiCorp surcharge to its California and Oregon customers and $250 million coming from California water bond dollars.
In 2019, KRRC hired Fairfield-based contractor Kiewit Infrastructure West to spearhead the project's construction.
Removing the dams would alleviate toxic conditions that has decimated the coho and chinook salmon populations integral to the identities of the Karuk and Yurok peoples as well as coastal economies in Northern California and Southern Oregon.
"The Yurok people would not be who we are without salmon and salmon would not be who they are without the Yurok people," Tribal Chairman Joseph L. James said during Tuesday's hearing. "The dams on the Klamath River have caused a fundamental imbalance to the river and it is dying. Our fish are not returning in the natural abundant numbers necessary for the Yurok people to practice the cultural, subsistence and commercial lifeways needed to sustain the Yurok people."
According to James, the agreements tribes reached with PacifiCorp in 2010 and 2016 brought hope to Yurok citizens. While utility representatives argue that FERC's July 16 decision makes them responsible for project costs and liabilities, James argued that no one talks about risks to the tribes or to the Klamath River itself.
James said he hopes the signatories to the KHSA can reach an agreement that "benefits everybody," but if that doesn't happen "that's nothing new for the tribe."
"When PacifiCorp insists on zero liability for removing the dams from which they have profited for decades, (what) they're really saying is they believe the tribes must not bear the risk," he said. "And that is not just."
In Del Norte County, where residents are Pacific Power customers, removing the dams would be one of the best things for its economy, said Glen Spain, northwest regional director of the Pacific Coast Federation of Fishermen's Associations.
Crescent City's salmon catch has declined by 98 percent in the last four decades due to impacts from the four Klamath River dams, Spain told the Wild Rivers Outpost. Very few fishing boats are left in Crescent City and those that are must travel to Oregon or further south in California to find salmon, he said.
"It would be great for Del Norte to bring dollars and those fish and those fisheries back into the county," Spain said. "It would inject an enormous amount of money into an economy that has fallen flat for too long. We're talking about restoring a $100 million-a-year fishery — that's what we've lost and it's primarily driven by the collapse of the Klamath runs."
According to Spain, though salmon from different river systems, including the Sacramento and Columbia rivers, mingle in the ocean, catch limits are capped based on the weakest stock. In Northern California and Southern Oregon, Klamath River salmon have been the weakest stock for years, he said.
This has been the case for fishermen as far north as Florence, Oregon, and as far south as Fort Bragg, Spain said.
"In the last five years we could not meet a minimum threshold to hold a fishery — what it means is no fishery for four out of five years," he said. "There are two competing disaster assistance applications in Congress right now and another one that's just been funded for three years ago related to the Klamath. The tribes are having precisely the same problem."
Tuesday's hearing, Spain said, was a way to pressure PacifiCorp to continue to move forward with dam removal on the January 2022 timeline. But, he said, the utility continues to talk about "keeping its options open," which includes being relicensed to operate the four dams.
Spain argued that the 82 megawatts of electricity the dams generate has been replaced "at least 17 times over" with renewable energy since Berkshire Hathaway purchased PacifiCorp in 2005. He noted that in a 2007 environmental impact statement, FERC concluded that the dams actually produce 26 percent less power than originally thought, which has to be sold at a rate that loses the company $20 million a year.
"The real issue is how is the company going to decommission them," Spain told the Outpost. "Are they going to walk away from the deal and absorb the whole $450 million for the ratepayers? Or are they going to take advantage of the deal, pay the $200 million, which they'e already collected, be done with it and leave gracefully? Our view and the state's view is this is the only good deal in town."
FERC's July 16 decision, however, could potentially spread the project's costs to PacifiCorp customers in states not implicated under the KHSA, Bolton argued Tuesday. PacifiCorp isn't the only entity concerned about this possibility, he said.
"Just this morning our company received a letter from Utah Governor Gary Herbert expressing his concerns over the implications of the FERC order on our Utah customer," Bolton told Huffman. "And, as other states and stakeholders take note, we expect even more expression of concern over the FERC (decision)."
PacifiCorp is trying to determine if those costs outweigh the benefits of the $250 million in California water bond money coming toward the dam removal project, Bolton said.
During the hearing, Huffman asked Bolton if it's fair for PacifiCorp to operate on one-year extensions of its 1954 license while tribes and other downstream stakeholders bear the brunt of the dams' impacts to the river. Numbers have been crashing for the 10 years the dam removal project has been planned for, he said.
Huffman also noted that after more than a decade of one-year extensions, PacifiCorp's temporary license has become the new status quo by default. He asked Bolton to talk about the process of current negotiations between the utility and other signatories of the KHSA "when time is of the essence here."
"The longer we take, every year of delay, is a real hardship to the people I represent, and for all the reasons that we've discussed here today," Huffman told Bolton. "Time is a big deal. When will PacifiCorp commit to moving forward with the revised settlement?"
Bolton told Huffman that PacifiCorp shared his sense of urgency and asked the parties to come back to the negotiating table to discuss how to address the issues FERC's decision raised. The utility wants to fix the inconsistencies between what its customers have contributed toward the agreement, Bolton said, noting that Oregon and California ratepayers have been putting money into dam removal for over the last decade.
Bolton also argued that PacifiCorp continues to operate the dams, he wanted to dispell the notion that "nothing is good for happening for fish on the river." PacifiCorp invests in water quality monitoring, coho habitat restoration programs and are leveraging other grants as interim measures to address fish and water quality issues. These resources, he said, weren't available before the agreement.
Bolton also argued that though the 82 megawatts of electricity the dams generate aren't a lot, it's carbon-free energy that stabilizes PacifiCorp's grid.
"We do have voltage support up into central Oregon that's provided by these facilities," he said. "And, frankly, it's part of how we met California's clean energy standards. There's a customer benefit."
Though Spain said planning and permitting for dam removal continues despite PacifiCorp wanting to resume negotiations with KHSA signatories, Nina Erlich-Williams, a spokeswoman working with the Karuk Tribe, said there is a concern that drawdown of the reservoirs will be pushed into 2023 or beyond.
KRRC still has to go through an environmental review process with FERC before regulators will agree to remove the dams, Erlich-Williams told the Outpost. She noted that FERC's decision last month was in response to KRRC's request to transfer the license to operate the dams from PacifiCorp.
"Once the license is transferred they still have to decide officially that dam removal can move forward," Erlich-Williams said. "The order seems to be leaning in that direction that would support that decision assuming that the environmental review process comes through OK."
Huffman hosted his hearing after California Governor Gavin Newsom sent a letter to Warren Buffett and leaders at Berkshire Hathaway, urging them to stick to dam removal on the Klamath.
"We stand at an unprecedented moment of reckoning about our past and, more importantly, our future," Newsom wrote. "In this moment, we have the opportunity and obligation to see ourselves clearly and decide whether we are living up to the values that I firmly believe all Californians stand for: Equity, inclusion and accountability."
---
SHARE →