---
Jessica Cejnar / Wednesday, April 1 @ 4:54 p.m. / Education
Contract Negotiations for Teachers Continue During COVID-19 Emergency
---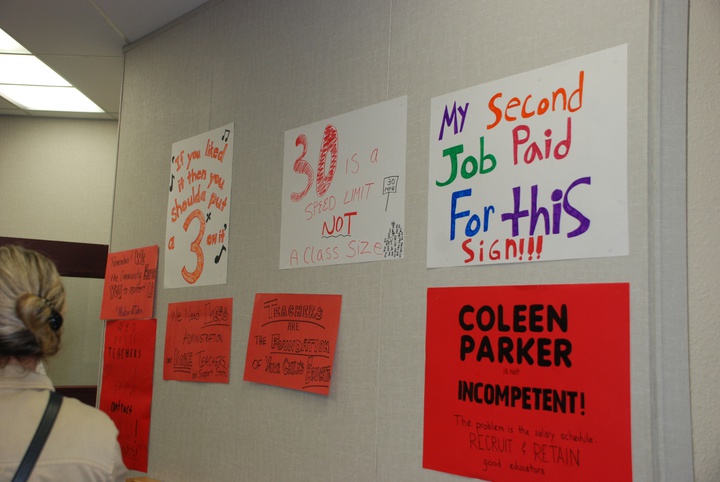 Contract negotiations between the school district and the Del Norte Teachers Association continue despite stay-at-home orders as a result of the COVID-19 pandemic.
Negotiators with the union representing certificated staff and Del Norte Unified School District traded proposals last week continuing to focus on salaries and health benefits for 2019-2020. Contract negotiations for 2019-2020 began Feb. 28, 2019.
DNTA wants to wrap up negotiations for the 2019-2020 contract before entering into discussions regarding certificated staff's 2020-21 contract, lead negotiator Paige Thompson told the Wild Rivers Outpost on Wednesday.
Both parties will continue negotiations via Zoom on Thursday, Thompson said. She noted that since schools are closed due to the pandemic, DNTA is hoping to spend full days discussing its contract with district negotiators.
Teachers are also creating paper and digital lessons by grade level and subject area for their students, Thompson said. With the state superintendent of schools, Tony Thurmond, stating that California schools will be closed for the rest of the year, local teachers have been connecting with students digitally.
"Individual teachers, especially upper elementary and older, are using Google Classroom to connect with our classes," Thompson said "Many of us are also using Zoom, Class Dojo, Remind and Seesaw to connect with students and families."
The work is currently optional for students complete, Thompson said, though she doesn't know if that will change if schools will be closed for the rest of the year.
As for the 2019-2020 contract, Del Norte Unified School District's latest proposal, issued March 23, offered a 2 percent salary increase retroactive to July 1, 2019; a $1,000 increase to the district's annual contribution for health and welfare; and a 2 percent increase to flat stipends.
The proposal also stated that DNUSD would not offer retroactive hourly pay to certificated staff. It argued that processing time sheets, recalculating taxes and retirement contributions for a small raise for each employee would be an unfair burden on its payroll supervisor.
DNTA countered on Friday, pressing for an ongoing 2 percent increase to each cell in the salary schedule and an additional 0.5 percent increase for 2019-2020. DNTA negotiators also demanded a 2 percent increase in stipends, including those that have already been paid.
DNTA agreed accepted that the hourly rate to certificated staff has already been paid. But it demanded that the difference between what its members have already been paid versus what they would have received had a 2.5 percent increase been applied go toward health benefits.
DNTA negotiators are continuing demand that the district's health and welfare benefit be capped at $11,700 for each employee per year, according to the union's proposal.
Two days after DNUSD issued its latest proposal, the Board of Trustees received guidance on the role sunshining a proposal plays in contract negotiations from Nancy Klein, senior associate general counsel of School & College Legal Services of California.
Klein's presentation came after Sarah Mitchell, vice president of the local California School Employees Association (CSEA) chapter, which represents classified staff, questioned a previous Board decision to accept the district's 2020-21 proposal for teachers and other certificated staff.
Citing the Educational Employment Relations Act, Klein said the initial proposals from certificated and classified unions and the school district must be made public.
"After it is made public, members of the public are entitled to comment on it," she said. "That's why it's referred to as sunshining. It gives the public an opportunity to know what the issues are between the parties and to make their views known as well."
The Educational Employment Relations Act does not stipulate how much time must pass between the public presentation of either side's proposals and when they're able to comment, Klein said. She said her recommendation is to put the proposals on an agenda and have a presentation before holding a public hearing at a future meeting. Each party can then begin negotiations, she said.
If a proposal doesn't sufficiently inform the public on its issues, Klein said, it would revert back to the district or union to provide clarification.
The Board of Trustees then votes to adopt its proposal before negotiations begin, Klein said.
Though she said she was glad to receive clarification on what it means for the Board of Trustees to adopt its proposal, Mitchell said it would be helpful if that procedure would be formalized.
"It could just be written out, 'This is how we do our sunshining,'' Mitchell said. "I look back all the way to 2014, it's been done almost a different way every single year. It's confusing."
According to Mitchell, when DNUSD proposals went before the Board of Trustees for adoption in 2014, it was on the agenda as a discussion-planning item with no public comment taken. In 2015, it was an information item that was never brought back before the Board for public comment, she said. It was an information item with no public comment taken again in 2016, according to Mitchell.
"In 2017, during a public hearing, that's when it became an action item," she said.
"The exact action of the board was not stated, but it was passed as though they were approving the proposals. In 2018, it went back to being in a public hearing and nothing was seen about it coming back. In 2019, it was a public hearing and it did come back and the Board took action to approve the proposals."
Agreeing with Mitchell, Charlaine Mazzei, DNUSD's newest trustee, asked administrators for a formalized procedures on accepting new contract proposals and making sure the public has time to view and comment on them..
Superintendent Jeff Harris recommended DNUSD's negotiators work with CSEA and DNTA to bring a proposed process for contract negotiations back to the Board of Trustees by the end of April.
DNTA and DNUSD has been wrangling over salaries and health benefits for 2019-2020 for more than a year. Both parties found themselves in a stalemate last summer and met with a state-appointed arbitrator with the Public Employment Relations Board in December.
A report from PERB was made public in January, recommending, among other things, a 2 percent increase for certificated staff retroactive to July 1, 2019.
On March 9, DNTA President Marshall Jones and Coleen Parker, DNUSD's director of human resources, told the Outpost that the sticking point has to do with how long the proposed changes would be in effect.
DNUSD was arguing for a two-year deal while DNTA was pushing for a single-year agreement.
Documents
---
SHARE →