---
Jessica Cejnar Andrews / Tuesday, Jan. 17 @ 12:11 p.m. / Arts, Community, Education
DNUSD Approves Contracts to get 'Soft Work' on Performing Arts Center Done
---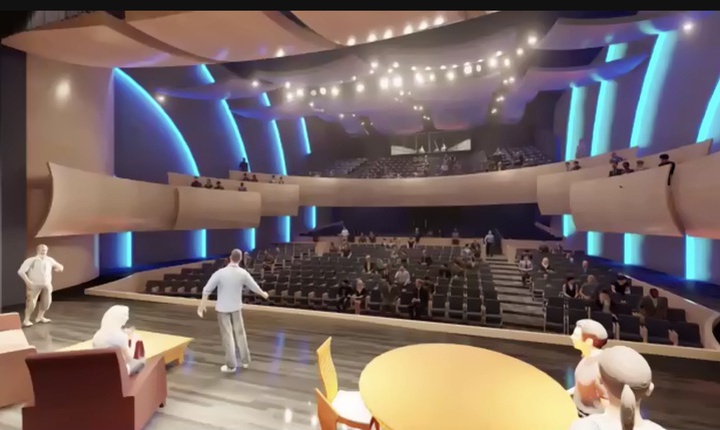 Previously:
• State Injects $2.5 Million in Del Norte Performing Arts Center Project
###
The day after Nick and Lisa Rail presented 50 musical instruments to the Del Norte High School band in the Thunen Gymnasium — a.k.a. the Toilet Bowl — trustees approved contracts on Thursday furthering the Rails' goal of building a 1,000-seat performing arts center.
These contracts, totaling $3.1 million, will get the project through the schematics, topographical mapping and environmental permitting phase, Del Norte County Unified School District Superintendent Jeff Harris told the Wild Rivers Outpost.
They include a $2.9 million agreement with PBK Architects for architectural services through the building's construction; a $109,500 contract with educational architect Gary Gery for project management; and an updated $60,500 work order with Stover Engineering for topographical mapping and CEQA services.
Those dollars come from a $1 million pledge the Nick and Lisa Rail Foundation made toward the project, as well as $2.5 million in state dollars State Sen. Mike McGuire presented to DNUSD in November.
Now, Harris said, the Partnership for the Performing Arts has about $39 million to raise to get the venue built by January 2028.
"People keep saying, 'Once you get this done, it will still cost $42 million,'" Harris told the Outpost. "This is actually $3 million of $42 million."
According to Harris, one concern raised at Thursday's DNUSD Board of Trustees meeting was whether it was wise to move forward with the project instead of waiting until at least 30 percent of it is paid for.
"The conversation was, 'Sometimes you have to get things moving before other people jump on board,'" Harris said. "Knowing we have the funds to get us through the design phase and bidding phase, I think for the Board members and for members of the community, the people on the performing arts partnership, it really did make sense to go ahead and move forward."
Nick Rail, founder of the largest musical instrument retail business in Southern California and who grew up in Del Norte County, introduced trustees to the Partnership for the Performing Arts in August 2021.
The $42 million facility would get Del Norte High's music students out of the gym and would provide a venue for the community as a whole to showcase its talents.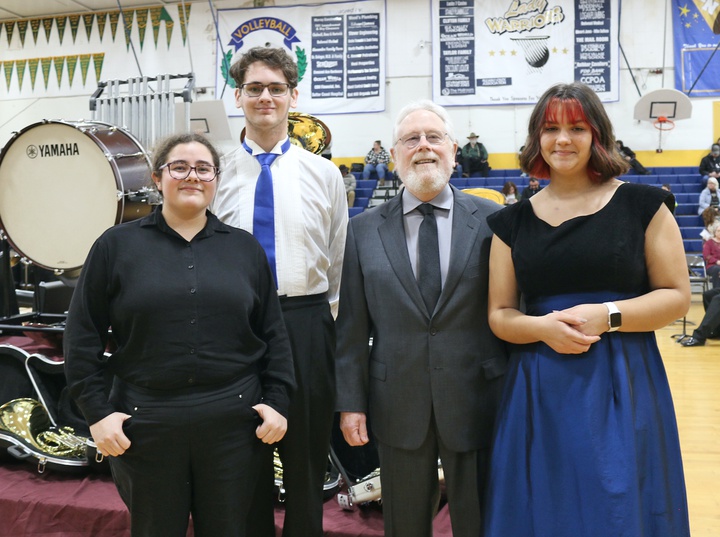 In November, when McGuire presented DNUSD with the $2.5 million check, Harris and Rail touted the Performing Arts Center as a place where Del Norte's tribal, Hmong and Hispanic communities can share their culture and art.
The $2.5 million in state dollars was the largest investment in the project up to that point. McGuire said those dollars came from California's general fund and were secured for the 2022-23 fiscal year.
On Thursday, the DNUSD Board of Trustees also received a detailed timeline of the Performing Arts Center project that has the district seeking bids for its construction in January 2026 and moving into a completed building on Oct. 1, 2027. Harris pointed out the planning phase is more than two years longer than its construction.
Publicly stating that the Performing Arts Center will open its doors in January 2028 takes into account delays due to the weather, Harris said.
"There's no requirement that we do it, however. If you look at that timeline where it talks about 50 percent completion and 100 percent completion, our intention is to come back and report to the Board that this is where we should be and this is where we are," he said, "and if we have anything to show, or if there's an artistic rendering available, or if somebody's done a 3D model or something like that, we'll present those."
On Wednesday, the Rails donated $70,000 worth of new musical instruments including tubas, trumpets, saxophones, French horns and bassoons. The Rails have donated nearly 300 musical instruments with a total value of roughly $350,000, according to a Wild Rivers Community Foundation news release.
According to Harris, Nick Rail chose his "ta-da moment" on purpose.
"No. 1, it was great. There was a pyramid of instruments in the middle of the gym floor," Harris said. "But it also really highlighted the difference, I think, of performing in the middle of a basketball court and the potential of performing in a 1,000 seat state-of-the-art performing arts center."
Documents
• Performing Arts Center schedule
---
SHARE →