---
Jessica Cejnar Andrews / Friday, Jan. 13 @ 5:06 p.m.
Rails Donate More Musical Instruments to Del Norte Students
---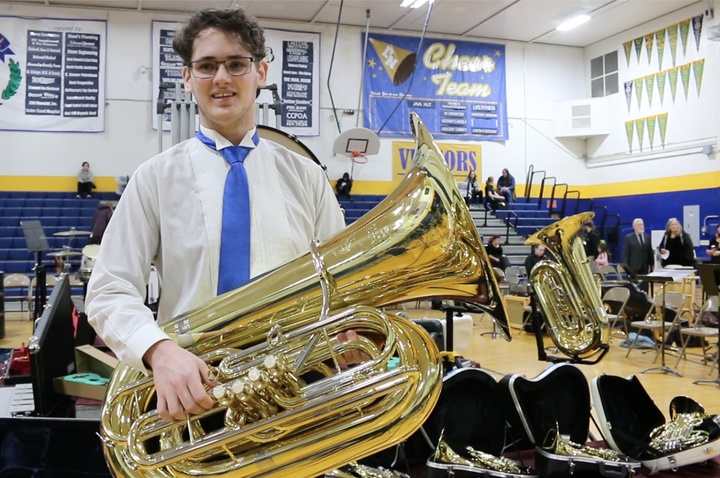 From the Wild Rivers Community Foundation:
The gifts for Del Norte County's music students keep on coming as local philanthropists Nick and Lisa Rail donated an additional 50 new, quality band instruments unveiled during Wednesday's Winter Concert at Del Norte High School.

The new instruments, valued at approximately $70,000, were mostly brass instruments such as tuba, trumpets, saxophones, French horns and bassoons. The latest batch of instruments brings the total number donated by the Rails to nearly 300, with a total value of approximately $350,000. Many of those new instruments were being played by K-12 grade students performing during the winter concert.

"Lisa and I are honored once to again to show our dedication to the performing arts and music education in Del Norte County with a third presentation of new band instruments to the district," Nick said to a crowd of nearly 300 parents, students and school staff at the school gym.

With his wife standing by his side, the retired, former music store owner told Wednesday's audience, "My parents could barely afford to buy me a trumpet when I was asked to join the band at Redwood School back in 1959, but thank goodness they found a way and now, I'm happy to say, there are enough instruments to guarantee that any child who wants to play will not miss out due to a lack of an instrument."

Money for the new instruments comes from the Nick and Lisa Rail Fund established at the Wild Rivers Community Foundation. The fund is focused on improving the scope and quality of band instruments for all elementary, middle and high school music programs. Rail also established an instrument repair shop for students at Del Norte High School to ensure the instruments stay in good condition.

During the winter concert, Rail shared his latest vision: a proposed $46 million performing arts center at the Del Norte High School campus, which he recently launched with a pledge of $1 million. The Rails and others have established the nonprofit Partnership for the Performing Arts to oversee fundraising and building of the 1,000-seat multi-purpose performing arts, education and civic gathering center. The center, Rail said, will serve students first, the community second, and touring acts third, Nick said.

"It's time to get the kids out of this gym," he said, getting a loud round of applause from the crowd. He was referring to the high school gymnasium, which has lousy acoustics and is often referred to by students as the "toilet bowl." Nick hopes to open the center by 2028.

"A performing arts center is exactly what this community needs. A place were music will sound good, unlike the gym," said Del Norte High School senior James Appel, who received one of the new tubas.

Learn more about the Partnership for the Performing Arts at www.ppadelnorte.org and more about Wild River Community Foundation at www.wildriverscf.org.
---
SHARE →