---
Jessica Cejnar Andrews / Tuesday, Feb. 7 @ 4:29 p.m.
Council Weighs Return on Investment When Deciding Whether to Use Public Dollars to Display Ukrainian Artist's Life's Work
---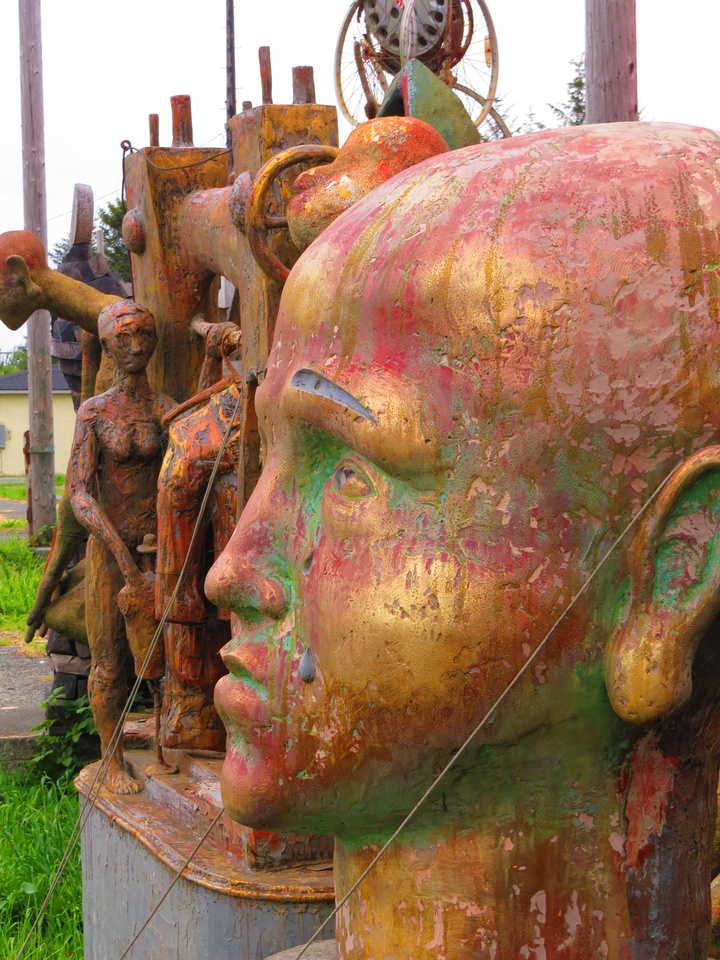 Previously:
• Artist Who Fled Soviet Union Donates Life's Work to Crescent City, Leaves Town; Val Polyanin Operated 'Iconic' Roadside Gallery Near South Beach
###
Crescent City Councilors on Monday grappled with the future of Val Polyanin's legacy.
Upon learning that the Ukrainian artist left 900 sculptures, paintings and mosaics in the city's care, Councilors weighed whether exhibiting the art would be worth the public dollars spent preserving, organizing and curating the work.
In the end, Councilors allocated a total of $10,000 toward the project, which includes trying to get Polyanin to tell his story. It wasn't the $28,000 option that had the city hiring a videographer, but the decision put Councilors Kelly Schellong and Ray Altman at odds with their colleagues.
Altman said he regretted his decision in July to accept the art.
"I always thought this particular project should run almost completely on grants or some donations, volunteers and this and that," he said. "I'm really opposed to spending anymore money on it at all."
Polyanin gained asylum in the United States during the Cold War after jumping off a Russian military ship near Guam and swimming to shore. His roadside art gallery has been a South Beach fixture for more than 20 years, Ashley Taylor, the city's economic development and recreation director, told Councilors in July.
Over the summer, Polyanin found he could no longer pay the rent his landlord Hambro WSG charged, so he left the company a note saying he wanted to donate his art to the city. Following the Council's decision in July, the city moved the art to the old Bank of America building on H Street, the future home of city hall.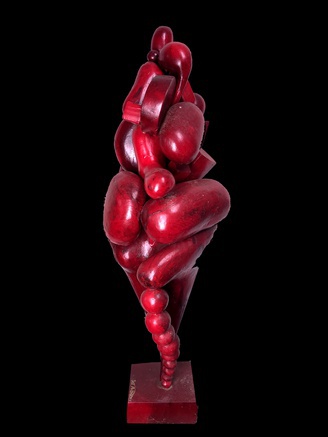 On Monday, Taylor introduced councilors to Annalise Flynn, an art historian and curator who works with the Kohler Foundation, and oral historian Jillian Morrison, who has worked with the Chicago History Museum. Both said their goal was to help Crescent City figure out how best honor Polyanin's work with Morrison bringing up the current conflict between Ukraine and Russia.
One option Taylor presented included hiring a videographer to create a long-form video featuring an interview with Polyanin, who is still alive, as well as some historical components to the story. The city would also work with Lynette Braillard of LuLish Design, who already works with the Del Norte County Visitors Bureau, to figure out how to market the exhibit to a larger audience.
The $28,000 option would include a 10-month marketing campaign and staff to operate a temporary exhibit three days a week from May to December, Taylor said. Crescent City already has $6,500 left in its economic development budget for the 2022-23 fiscal year and has received $1,500 in donations toward the project.
There's also an existing staff budget that wasn't used for the first half of this fiscal year, though it would pay for manning the exhibit through May and June, Taylor said.
A second option had Crescent City using the money that was already in its economic development budget to display the art during the Downtown Divas' First Friday events for the 2023 season.
A third option would be to continue to use the Bank of America building to store the art and to pursue options for the work's permanent home.
Taylor estimated that it would cost at least $900 per month to store the art. Crescent City has already spent about $8,000 to move the art from cargo containers alongside U.S. 101 to the Bank of America building, she said.
Though he was initially hesitant, Taylor said, Polyanin did share his story with her and Bridget Lacey, the city's grant coordinator.
"It was not filmed professionally and there are probably some quality issues, we at least have a documented verbal account of much of his history leading up to his time in Crescent City," Taylor said. "If we are not able to get Val to sit down again, we have something to work off of."
Taylor said she and Lacey would also volunteer to man any exhibition of Polyanin's art.
Mayor Pro Tem Blake Inscore proposed using the funding Crescent City already has set aside for the project, about $8,000, and an additional $2,000 buffer to chronicle Polyanin's story and display his work. But there has to be a return on investment, he said.
Though he brought up the possibility of displaying some of the sculptures at Beachfront Park and the smaller pieces in various places, Inscore doubted that its potential as a long-term economic driver was worth $28,000.
Flynn brought up a project she worked with through the Kohler Foundation in Kosciusko, Mississippi, which was gifted an art collection from L.V. Hull when she died in 2008 and spent a decade figuring out what to do with it. In 2019, they worked with the Kohler Foundation to preserve the collection and create a public-private partnership that showcases Hull's work.
"Local business leaders, teachers, artists, they have come together to create a new art center in Kosciusko with this collection of art work by L.V. Hull as the foundational collection," Flynn said. "It will offer programming, they're planning on having a creative residency, they can do other rotating exhibitions and so they're taking this local artist's work and using it to create a wider hub. To me, there seems like there are some similarities in what this project could be."
Crescent City Manager Eric Wier said Lacey also had communications with Nick Rail, who is spearheading a performing arts center project near Del Norte High School. That potential facility could be a space to display some of Polyanin's art, Wier told the City Council.
Councilor Jason Greenough floated the idea of offering some of the art to Del Norte Unified School District for them to use in the classroom. But, he said, the city would still need help from an organization like the Kohler Foundation.
Greenough also argued that even though 900 pieces is a lot of art, it's still an asset.
"I hate to say this, but in the end we could end up contacting an auction house and seeing what we could get from them," he said, adding that wasn't his first choice. "If everything else falls through, we pick a few pieces that I think are central to Val and his life and the works he's produced and we place those in important places or places where we desire and then we auction off the rest."
Though he said he was taking his press hat off and was speaking as a city resident, Roger Gitlin, a former county supervisor and current Triplicate staff writer, said he was troubled to hear the City Council consider spending $28,000 to display Polyanin's work.
Gitlin said he had attended Measure S Oversight Committee meeting where "each of you was telling us that $600,000 was not going to cut it to fix our streets."
Gitlin also questioned the value of Polyanin's work given that the artist is still alive.
"I don't mean him anything but good health, but sometimes artists, when they pass away, their value existentially grows tremendously," Gitlin said. "Now you have all this work, and I think all of you are probably in the same category as me, I have passed that location hundreds if not thousands of times. I don't mean any disrespect when I said this, never once have I stopped to gaze at what was there. It looked strange, it looked different. I say this to you because we've had plenty of time to see it."
That said, Gitlin donned his press hat again, asking Taylor if he could see Polyanin's work on Tuesday.
"I'd like to write a story on this," he said. "If I can get this before Tuesday at 5 p.m., you'll see this put on the paper for Friday. So that's your first feeling of what the folks are going to see."
Gitlin added that the community is full of artists who would likely love to display at the Bank of America building until it becomes city hall. He urged Councilors to place a priority on fixing streets.
Gitlin's successor on the Board of Supervisors, District 1 representative Darrin Short, also urged the Council to forego spending a significant chunk of money without determining if there's a potential return on investment.
"You're talking about 900 pieces of art," he said. "If you were to put it up for auction, what kind of return would you get? I doubt we would get the kind of return we should be seeing by using public funds for this project."
---
SHARE →