---
Jessica Cejnar Andrews / Wednesday, July 6, 2022 @ 3:36 p.m. / Arts, Community
Artist Who Fled Soviet Union Donates Life's Work to Crescent City, Leaves Town; Val Polyanin Operated 'Iconic' Roadside Gallery Near South Beach
---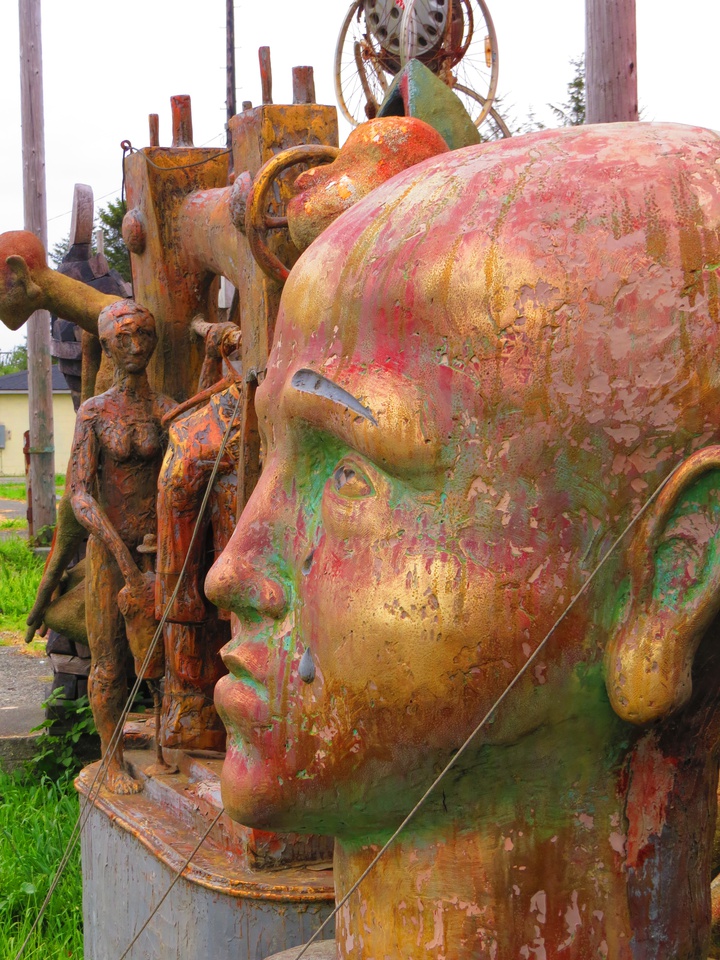 ###
Crescent City will soon receive more than 500 pieces of art representing the life's work of a Ukrainian man who fled the Soviet Union during the Cold War and opened a roadside attraction across the street from South Beach.
Val Polyanin's drawings, sculptures, paintings and mosaics are currently housed in four cargo containers on Hambro WSG property alongside U.S. 101. 
The artist was unable to keep up with the rent Hambro charged and left the company a note saying he wanted to donate his art to the city, according to Ashley Taylor, the city's economic development and recreation director.
Hambro was going to throw the art away if the city refused to accept it, she told the Wild Rivers Outpost on Wednesday.
"We're hoping we can find a good use for it that benefits the community and honors Val," Taylor said. "That's one of the bigger parts of it is ensuring all the work he put into his art is promoted in the community in a way that respects and honors what he put into it."
Polyanin gained asylum in the United States after jumping off a Russian military ship near Guam and swimming to shore. He immigrated to Crescent City and spent his life making art in the community. For many motorists, Polyanin's humanoid sculptures were among the first things that greeted them when making their way into town from the south.
At a special meeting last Thursday, Crescent City Councilors agreed to accept the art after Taylor told them what she knew of Polyanin. Taylor said she even asked her mother if she was familiar with Polyanin's art, which is how she learned that his roadside art gallery had been a South Beach-area fixture for more than 20 years.
"She felt the roadside attraction was an iconic piece of Crescent City history," Taylor said. "It's easily recognizable and its presence is indeed iconic."
With Hambro WSG giving the city a September deadline for taking possession of the art and Taylor pitching the idea of displaying it publicly, Councilors agreed to allocate $10,000 out of its economic development fund toward obtaining it.
The city will temporarily store the art in its new city hall, the former Bank of America building on H Street. Crescent City Manager Eric Wier said he and staff will likely come back to the Council to discuss the logistics of moving the art, suggesting they recruit a team of volunteers who could help.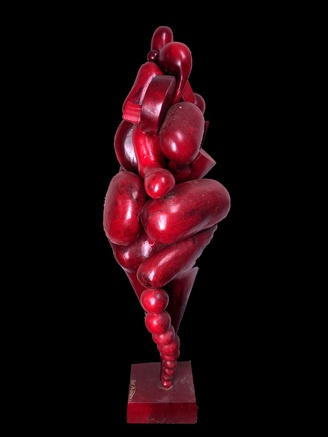 Taylor said she, Bridget Lacey, the city's grant coordinator, and Lynnette Braillard, its marketing consultant, would brainstorm ways Polyanin's art could be used to engage the public, particularly culturally-minded visitors.
On Thursday, when she presented Councilors with options for using Polyanin's art, Taylor said she, Lacey and Public Works Director Jon Olson spoke with representatives of the Kohler Foundation, who stated they were interested in the pieces and could help the city preserve it and find homes for it. But that process would take about a year.
Taylor also suggested the city retain a portion of the art as an asset, showing Councilors photoshopped images of the paintings professionally hung from the walls inside the former Bank of America building. She also shared statistics Braillard researched, stating, among other things, that about 130 million American leisure travelers participate in cultural activities and spend 60 percent more on average than other travelers.
Braillard also came up with ideas of ways she could tell Polyanin's story and present it to different tourism publication and magazines to draw attention to Crescent City, Taylor told Councilors.
"I think it's a good time for staff to start thinking in terms of one-, three- and five-year plans in regards to addressing our economic strategic action plan," Taylor said. "In that plan we identified many priorities for the city, including economic development priorities such as Crescent City being a music and arts capital. This would go a long way in laying that foundation toward supporting that effort and, in general, supporting the development of a strategic arts plan."
An essential aspect of this plan is Polyanin's story itself and how he wound up in Crescent City, Councilor Blake Inscore told the Outpost. But no one knows where he is.
On Thursday, City Attorney Martha Rice told Inscore and his colleagues that the only evidence the city has of Polyanin's intent with his art is the note he gave to Hambro. If the city doesn't accept the work, there's a good chance Hambro might throw it in the trash, Rice said.
"The only way to keep it alive is to accept it by official action of the Council and then by taking possession of it," she said.
Inscore told the Outpost that getting a foundation involved in preserving and finding other homes for the artwork would be a huge mistake to the city. Polyanin's story is fascinating, he said, but the question is do his colleagues and staff want to take that investment risk.
"If we really want to leverage this like I think it could be, we need an interview with this man. We need him on video. We need him talking about his life," Inscore said. "He made the decision that he was going to move on and he wanted to leave his stuff to the city. We're still trying to find him."
Polyanin's art gallery has been featured on several websites, including RoadsideAmerica.com, Only In Your State and Spaces.
---
SHARE →