---
John Ross Ferrara / Tuesday, July 5 @ 5:15 p.m. / Emergencies
No Arrests Made After Van Collided Into Pedestrians on Fourth of July, Killing One; Driver Hospitalized With Possible Head Injury, CCSO Says
---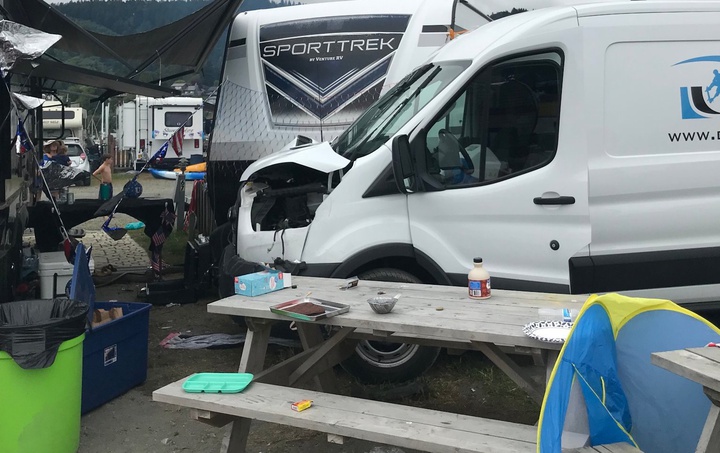 PREVIOUSLY: One Dead, Several Injured After Van Drives Into Fourth of July Crowd at Beachfront RV Park in Harbor, CCSO Says
###
The 66-year-old Brookings man who plowed a van into a Fourth of July crowd at Beachfront RV Park in Harbor yesterday, causing numerous injuries and killing a 38-year-old mother from White City, Oregon, has not been arrested, Curry County Sheriff John Ward said.
Ward told the Outpost that the driver, Paul Armenta, was admitted to Curry General Hospital after the crash for 24-hour observation due to a possible head injury.
It's unclear if Armenta's head injury was sustained before or after the crash. Questions about Armenta's sobriety also went unanswered by Ward, who said that he would not speculate on the investigation.
"We won't speculate if he was suffering from a medical emergency at the time or not," Ward said. "That may be determined through our investigation, which is not complete."
A witness told authorities that the driver appeared to be unconscious moments before the crash. However, that report remains unconfirmed.
It's also unclear what Armenta was doing at the RV park prior to the crash. Ward said that Armenta was not camping at the beach and that he has no connection to the victims.
"We do not believe this [crash] was intentional, but we are investigating the incident to find out what caused him to crash into people," he said.
The injured pedestrians who were hospitalized due to the crash include 79-year-old Doris Dianne Bever from Discovery Bay, California and 46-year-old Rebecca Williams from White City.
The deceased woman from White City has been identified as Hiedei Bailey. Bailey was taken to the Brookings Emergency Room, where she was pronounced dead.
---
SHARE →