---
Jessica Cejnar Andrews / Monday, Feb. 6 @ 8:30 p.m. / Emergencies
Missing Woman's Family Assists With Search, Sheriff Says
---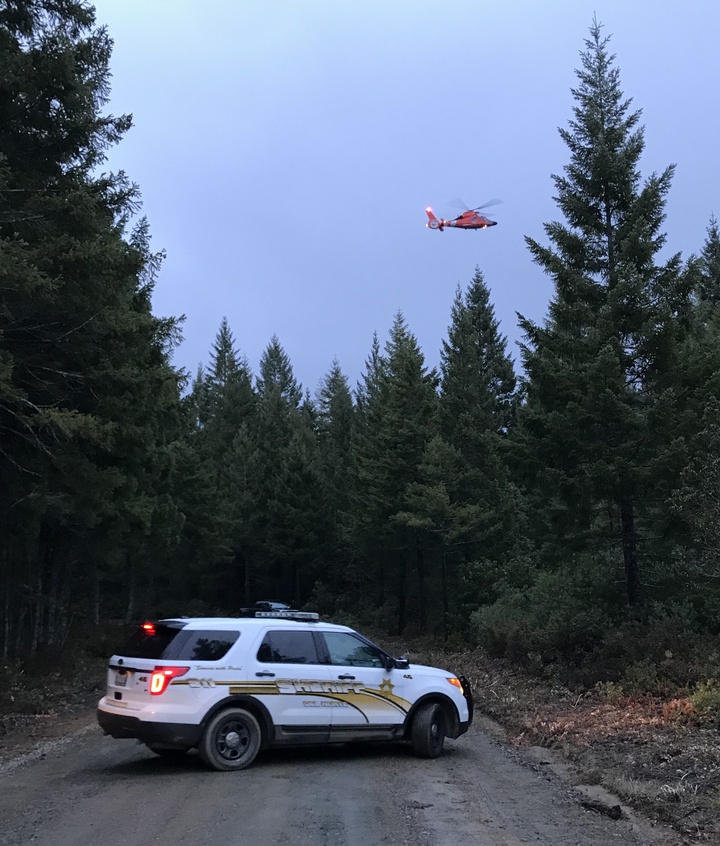 At least 100 people from a multitude of agencies continued the search Monday for a 74-year-old Washington woman who has been missing in the rugged area near Gasquet since Friday evening.
Her family has also flown in from Korea to do their own searching, Del Norte County Sheriff Garrett Scott told the Wild Rivers Outpost.
"They've looked at our maps and have been involved in the search today," he said at about 8:15 p.m. Monday. "If anybody does see the family on French Hill Road, just be aware that's the family of the missing person."
Emergency responders have been combing the densely wooded area between milepost marker 5 on French Hill Road and milepost marker 15 on U.S. 199 since Friday. The woman, who was separated from her husband and 44-year-old daughter, is of Asian descent and is about 5 feet 5 inches tall and weighs about 160 pounds, according to Scott. She was wearing a green rain jacket and pink pants and had a black medium-sized dog with her.
In addition to the difficult terrain, nighttime temperatures have dipped below freezing, Scott said. If the woman is seen, he said, it will be fairly obvious.
"She's definitely going to be extremely fatigued and at this point, if she was seen, she would not be very mobile at all because of the elements she's been in," Scott said.
According to Scott, searchers on the ground have had assistance from a U.S. Coast Guard helicopter and from the Smith River Forest Service Hot Shots. He said they'll probably be assisting in the search on Tuesday.
The woman's husband reported her and their daughter missing at about 8 p.m. Friday. Search and rescue personnel found the daughter on Saturday and transported her to Sutter Coast Hospital where she was treated for mild hypothermia. The daughter was released from the hospital on Monday, Scott said.
---
SHARE →