---
Jessica Cejnar Andrews / Friday, Oct. 28 @ 11:53 a.m. / Jail, Local Government, Youth
Proposed Shuttering of Del Norte's Juvenile Hall Dredges Up Concerns Stemming From Bar-O Closure; Supes Table Decision to Delve Into Staffing Problems
---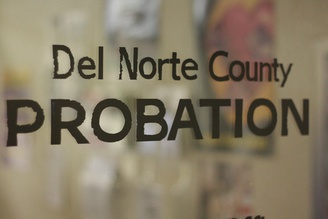 Previously:
• DN Chief Probation Officer Will Recommend Closing Juvenile Detention Facility 'No Later Than March 30'
• Del Norte Chief Probation Officer Recommends Closing Juvenile Detention Facility Due to Staffing Shortages
###
(Updated at 3:14 p.m. to clarify that four staff members had left juvenile hall, not Bar-O Boys Ranch.)
A Juvenile Justice and Delinquency Prevention Commission letter to Del Norte County's presiding judge and the Board of Supervisors alleging that probation officers are complaining of a hostile work environment has prompted three on the Board to question the proposed juvenile hall closure.
Supervisors Valerie Starkey, Susan Masten and Darrin Short on Tuesday asked for an "interim solution" and possibly closed session meetings so they and their colleagues could delve into current staffing issues in the juvenile justice division and how they relate to the 2017 closure of Bar-O Boys Ranch.
Instead of agreeing with Chief Probation Officer Lonnie Reyman to close the detention center no later than March 30, Starkey suggested temporarily suspending operations. Masten recommended a day release program to take some pressure off current juvenile hall staff.
Short, however, said he wanted to talk to Judge Darren McElfresh about the concerns the Juvenile Justice Commission raised in its Oct. 24 letter.
"I'm not sure I have direction for you," Short told Reyman. "Right now what I see is we possibly would be having a closed session discussion or two and we can bring this back at a later time."
During their board reports at the beginning of Tuesday's meeting, Starkey, Masten and Short said they met with Del Norte County's presiding judge.
Later in the meeting, Short recommended tabling the juvenile hall decision.
"I think we need to have some closed session discussions regarding personnel issues," he said. "I don't want to say keep on trucking, but another discussion needs to be had."
At the Board's Oct. 11 meeting, Reyman said shuttering Del Norte County's juvenile detention facility was inevitable due to the inability to meet state staffing requirements.
On Tuesday, Reyman said he had met with county human resources manager Cathy Hafterson and Crescent City Police Chief Richard Griffin, both of whom didn't have any suggestions on how to recruit more staff that would be "different than what we tried."
Reyman said he also sent a survey to eight Northern California counties who shuttered their juvenile halls due to cost and low population. In Lassen County the closure of their juvenile detention facility stemmed from an inability to recruit and retain staff, Reyman told supervisors.
"One of the final questions I did ask them specifically — the four counties that closed their halls — was whether they would reconsider their actions in that case," Reyman said. "And out of that four, none would reconsider that decision at this juncture."
In its letter to McElfresh and the Board of Supervisors, the Juvenile Justice and Delinquency Prevention Commission mentions a confidential July 2017 report they wrote protesting the Bar-O Boys Ranch closure.
According to the commission's letter, the report states when Reyman was appointed Chief Probation Officer, there were four employees working in juvenile hall. Meanwhile, Bar-O — a juvenile detention facility north of Gasquet that took in offenders from other parts of the state, primarily Contra Costa County — was "in the black."
A year later, according to the letter, all of those employees had left their job at juvenile hall and Bar-O's budget was "in the red."
On Tuesday, Paul Dillard, Juvenile Justice Commission chairman, told supervisors that he and other commissioners had asked them to do a "close introspection" of the probation department's operation before they closed Bar-O. He said that he had learned the three newest members of the Board — Starkey, Masten and Short — didn't know about the July 2017 report.
"We created vacancies in juvenile hall, so then we started looking at Bar-O," Dillard told supervisors on Tuesday, echoing a statement in the commission's Oct. 24 letter. "Now, we're closing juvenile hall to staff probation vacancies. We're running out of places to close down and that is a concern."
According to the Oct. 24 letter, former employees claimed they liked working at the Probation Department, but it was "not worth their health."
"The numbers are sufficient to believe it is just a matter of time before someone files a Federal Title VII-Hostile Work Environment claim," the letter states. "And there is a significant number of disgruntled former employees to be subpoenaed to substantiate the claim."
The Juvenile Justice and Delinquency Prevention Commission is a state-mandated body that inquires into how juvenile facilities are administered. According to Dillard, they were once two separate bodies, however in 1967 the Del Norte County Board of Supervisors chose to merge them. Dillard said he's been on the commission for about 20 years.
On Tuesday, Norma Williams, president of the Del Norte Employees Association, repeated a statement that any decision the Board of Supervisors makes with regard to juvenile hall will significantly impact probation department staff. She said she's aware of problems on both the juvenile and adult probation sides of the department.
"It is true, they did not sign on when they became employed with the county to be going over to the hall to look after the juveniles, but given the fact that both sides are severely understaffed, necessity was the reason," Williams said.
Under Article 10 of the Del Norte Employees Association's contract with the county, if a staff's job were terminated because the juvenile detention facility closed, it would be considered a layoff. That employee would receive a list of vacancies within the county and would have to reapply for any of those positions, Williams said.
Williams, adding that "we've been through this with Bar-O," said the association is urging staff to apply for any vacancies within the county even if it takes them outside the Del Norte Employee Association's bargaining unit.
Williams also spoke to the recruitment and retention issues, though she couldn't say much.
"The union is well aware of retention problems and the reasons why," she said. "But as a union leader, the only thing I can tell you is my hands as a union leader are tied to enforce the contract for both grievance and disciplinary articles if employees cannot or will not stand up and defend themselves. I cannot do it for them."
Juvenile hall facility manager, Jordan Anderson, said probation is trying to be flexible to accommodate staff. The job, he said, is 24-7 and requires employees to work holidays, weekends and nights. Twelve-hour shifts are often extended to 16 hours, and low morale is a problem, he said.
"I can count on two hands how many months we've been fully staffed — seven months in 17 years," Anderson told supervisors. "That's the reality of Del Norte County in my experience with Bar-O Ranch and juvenile hall. It's a very limited time we've been able to be fully staffed and fully operational and be able to meet all the requirements of BSCC."
Under BSCC, the Board of State and Community Correction's Title 15 Minimum Standards for Juvenile Facilities, detention centers must have a male and female staff member on duty during each shift as well as a supervisor.
On Oct. 11, Reyman said Del Norte's facility isn't meeting that requirement.
"I fully expect at some point, if we continue on the way we are, I'll be speaking to a board of about 14 people in Sacramento to explain why we're not able to meet regulatory requirements and they'll expect a mitigation plan from me," he told supervisors.
On Tuesday, Starkey pointing out that both the Board of Supervisors and Del Norte County's presiding judge provides direction to the Chief Probation Officer, said she couldn't ignore the contents of the confidential July 2017 report while making the decision about whether to shutter the juvenile detention facility.
Reyman, speaking about the 2017 closure of Bar-O said the number of youth in custody had been declining for years.
"All those facts were laid out and on the table when that decision was made and whatever character assassination was attempted, it doesn't change any of those facts," Reyman said. "We didn't have youth in the facility to support (its) operation."
Starkey, however, asked about current behaviors.
"I'm talking about the behaviors that needed to change and didn't change," she said.
Reyman said he wasn't aware of the behaviors that needed to change.
"That would be helpful in a frank conversation I wish I had with someone prior to the meeting," he said Tuesday.
District 3 Supervisor Chris Howard, who asked whether the judges had recommendations about closing the hall.
Starkey said she feels those recommendations should come straight from them.
"They're not in favor of closing the hall," she said.
Dillard brought up a recommendation from 2017 to create an oversight committee to conduct exit interviews of employees leaving Bar-O. In the five years since that facility closed, Dillard said he and his fellow Juvenile Justice commissioners have "tried to rehabilitate our reputation" with Reyman, to rebuild their trust. Dillard said he was sorry that Reyman was blindsided on Tuesday.
"The first thing I said to you in the last two weeks, was let's fix this together," Dillard told supervisors. "I want to work with you to fix this, and it's just unfortunate that we're here."
Documents:
• Juvenile Justice Commission Oct. 24 Letter to Judge McElfresh
• Oct. 25 Juvenile Hall Staff Report
---
SHARE →