---
Jessica Cejnar Andrews / Wednesday, Nov. 2 @ 2:36 p.m. / Infrastructure, Local Government, Roads
Del Norte Transportation Officials Delay Funding Requests for City, County Projects
---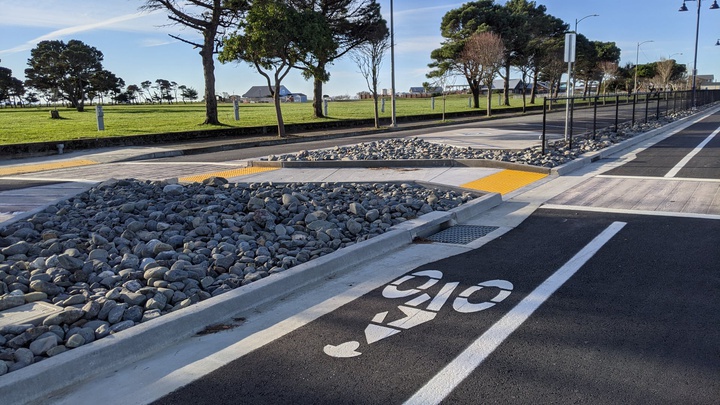 Previously:
• Front Street or Washington Boulevard Culvert? Crescent City, County Submits Competing Funding Requests to Transportation Commission
###
Competing projects from the city and county had Del Norte Local Transportation commissioners on Tuesday arguing over which posed the greatest risk to public safety if it was denied an additional $515,000
Crescent City officials advocated for Front Street, pointing out that for pedestrians, particularly senior citizens and those with disabilities, crossing 80 feet is "a long ways to go." Del Norte County officials stood up for the design of a culvert replacement project on Washington Boulevard, arguing if it fails and the road caves in, access to Sutter Coast Hospital is severed.
After Crescent City Manager Eric Wier offered the use of the city's sewer camera to inspect the failed culvert, the Del Norte Local Transportation Commission chose to table the decision until its Dec. 6 meeting.
Commissioners also discussed other pots of money available for both projects, including the Coronavirus Response and Relief Supplemental Appropriations Act (CRRSAA) dollars the city and county requested. DNLTC Executive Director Tamera Leighton pointed out that the county has Regional Surface Transportation Program and Highway Infrastructure Program moneys for the culvert replacement project
Meanwhile, Crescent City is hoping for a $750,000 in federal Community Project Funding dollars to extend the Front Street reconstruction three blocks to Play Street. Leighton said the DNLTC could ask the city to return the $515,000 CRRSAA dollars they receive if that federal allocation doesn't pan out.
"We're all regional thinkers. Everybody here goes to Front Street and everybody here drives Washington Boulevard. I know a failure of these facilities is a big deal," Leighton said. "I'm in as much of a quandary as you are."
The failed culvert on Washington Boulevard east of Harrold Street sits about 25 feet below the roadway and is 24 to 36 inches wide, Assistant County Engineer Rosanna Bower told commissioners. The bottom has rotted out, and about 10 years ago a blockage in the culvert caused water to pool behind the road. Staff were worried about the road failing back then, Bower said.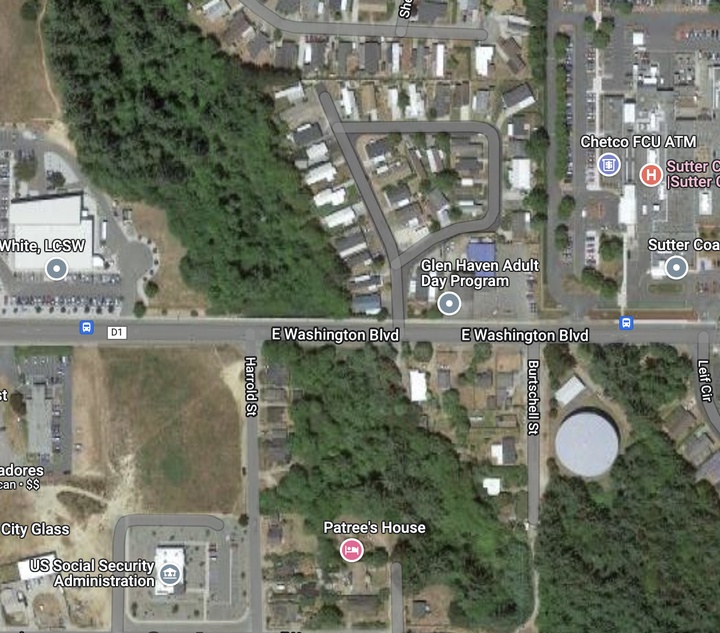 As part of the design phase of the project, the county will conduct a hydrological evaluation to look at the potential for another debris blockage, Bower said. The replacement culvert may be larger to eliminate that potential and there may also be another culvert installed to provide high water relief, she said.
Del Norte County has allocated a total of $530,358 in HIP and RSTP dollars for the culvert replacement project's design phase, according to a Sept. 27 letter to the DNTLC signed by commissioner and Board of Supervisors chairman, Gerry Hemmingsen.
The estimated cost for the design and right-of-way acquisition is $610,000, according to Bower. The right-of-way acquisition is to enable the county to get equipment below the road, she said.
According to Bower, the county will be submitting a $550,000 contract for the design of the project to the Board of Supervisors for their consideration on Tuesday. However, additional work may be needed, which would bring the design costs to $610,000.
"We have less than $600,000 right now on the books and there is no (cost) estimate at this time for construction," Bower told commissioners. "Our request is for all of the funding because we know that construction is going to cost more than the design and we know if we get this funding, we can offset the RSTP funding we have presently from the commission and push that out further. We're hoping, with time, not to use it because we'd like to find other funding sources."
According to Bower, the county is pushing for construction on the Washington Boulevard culvert replacement project in 2025. Project design is expected to be complete by winter 2024, she said.
Though Front Street doesn't provide access to the hospital, Wier argued that the deteriorated condition of the road on the east side will be a barrier for those who want to access the new amenities the redesigned Beachfront Park will provide.
Crescent City already used more than $5 million in Community Development Block Grant dollars to finish a storm drain project last year that included reconstructing Front Street from B to G streets.
In the spring, the city received about $400,000 from the Local Transportation Commission and is combining those dollars with $1.8 million in American Rescue Plan Act, general fund and Measure S moneys to reconstruct the G-I street portion of Front Street.
The plan, according to Wier, is to pair the $750,000 in Community Project Funding dollars with the $515,000 CRRSAA allocation to add a third block, extending the Front Street reconstruction to Play Street.
Construction is expected to begin in 2023, he said, and once that's done only two more blocks of Front Street will be left.
However, Wier said, Congress has yet to make a decision on its appropriations bill.
"We were hoping that we would have approval by now, but we received an email last week saying it's still in Congress," he told transportation commissioners. "It's not kicked out one way or the other, but it's not officially approved yet."
If Crescent City doesn't receive those federal appropriations dollars, Wier said, it could still use CRRSAA money to complete "another piece" of the Front Street project.
Both Crescent City Mayor Jason Greenough and Councilor Blake Inscore argued that the Front Street project should take priority when it comes to allocating CRRSAA dollars. Though he acknowledged that a culvert failure on Washington Boulevard would be catastrophic, Inscore said a present risk exists every day for those who are crossing Front Street.
Inscore also argued that if Del Norte County has already allocated $530,000 in RSTP dollars to the culvert replacement project design and it needs $610,000 to complete that phase, it's only $80,000 short. Splitting the $515,000 in available CRRSAA dollars so the county could complete the Washington Boulevard culvert replacement project design and allocating the rest to the city's Front Street project would address an actual need, Inscore said.
"The county's known that the road has been in that condition for 10 years," he said. "It's unfortunate that we're competing for something that I think any of us, we all want this done because we are community-minded. I still think splitting this to make sure the design gets done for the county and the money gets leveraged to Front Street makes sense to me."
District 3 Supervisor Chris Howard said figuring out how to leverage funding for the Washington Boulevard culvert replacement project is a discussion that the Board of Supervisors could have after a risk assessment is conducted. He noted that in addition to RSTP and CRRSAA moneys, there is also Measure R, the county's 1 percent sales tax increase that voters approved in 2020.
"I guess the level of urgency with Washington Boulevard hasn't been brought to as high a profile with the Board until now," Howard said. "The impact hasn't hit me as hard as it has just now, identifying and talking this through is extremely important."
---
SHARE →