---
Jessica Cejnar Andrews / Friday, Nov. 11, 2022 @ 7:15 p.m. / Animals
Founder of Klamath Poodle Service Dog Nonprofit Says Oct. 29 Attack on Corgi Was An Accident; Mallatt Says He Will Limit Public Appearances
---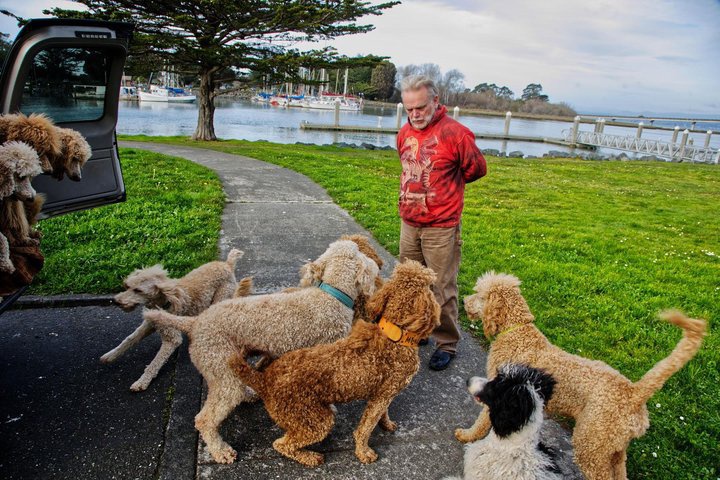 Previously: (Updated) Del Norte, Humboldt Animal Control Officials Investigating Alleged Poodle Pack Attack on Corgi At Trinidad State Beach
###
While he acknowledges that one of his poodles attacked Kathrin Burleson's corgi at Trinidad State Beach two weeks ago, Frank Mallatt says he didn't bite anyone.
Mallatt, who says he's on the autism spectrum, is the founder of the Klamath-based nonprofit Critters4Service and owns 19 dogs, 17 of which are poodles. He says he's training most of them to be "baseline" service dogs, though the poodle that attacked Burleson's corgi is not cut out to be one.
Mallatt told the Wild Rivers Outpost that during the Oct. 29 incident Burleson's corgi bit both him and her owner while both were trying to break up the conflict.
"I work with animals for a living and it was a heat of the moment thing. We were trying to break the dogs up," Mallatt said Thursday. "It was taken very much out of context."
Mallatt has been working with service dogs for about 20 years, saying they helped him care for his mother who had a 90-second memory due to a traumatic brain injury when he was a child, according to an article in the June 2022 issue of Ability Magazine.
In the article, Mallatt says he was diagnosed with autism at 35.
With help from others, he started Critters4Service as a 501c3 nonprofit about a year ago.
In addition to his 17 poodles, Mallatt has a chiweenie, his mother's service dog, and a labradoodle. He said he provides baseline service dog training, getting them ready for additional training with a person who is disabled.
Mallat trains his dogs to work with people who are on the autism spectrum as well as those with post-traumatic stress.
Critters4Service currently has a board of directors, the membership of which includes long-time Humboldt County broadcaster Dave Silverbrand, Mallatt said.
On Oct. 29, Mallatt had just been to the Myrtle Avenue Veterinary Clinic in Eureka to update his dogs' vaccines. He had about 10 dogs with him in the car and was parked in the Trinidad State Beach parking lot closest to the ocean. Mallatt said he thought he was as far away from other people and dogs as he could get.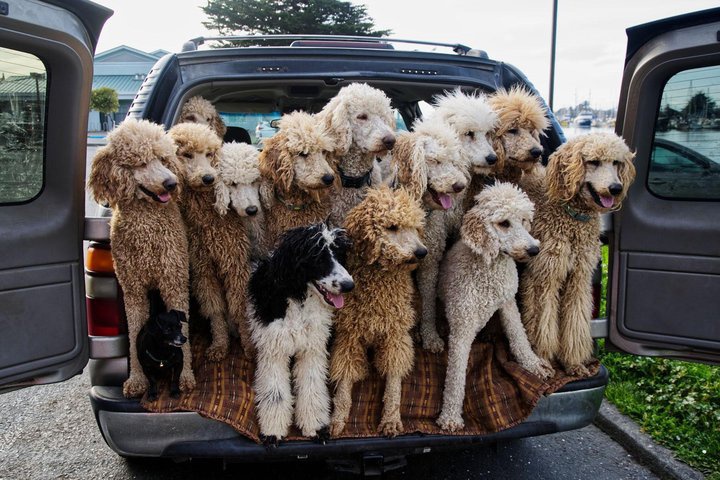 Most of his dogs are "leash-less and fenceless trained," responding to verbal directions and hand signals, though most of the poodles he'd taken to the vet are young and "haven't matured enough to take on responsibility."
"There was more than one that jumped out of the car at the moment, but the attack was just the one dog and he is still under quarantine," Mallatt said. "He will be heading out to another home as soon as his quarantine is over. I think the corgi also had to be quarantined because of my bite on my hand and her bite too."
Burleson's dog, a 13-year-old corgi named Emma, is a therapy dog at Mad River Community Hospital. She sustained lacerations and puncture wounds from the attack and had her second surgery on Tuesday.
Mallatt said he refused to leave the area after the incident even though both Burleson and her friend were screaming at him to do so. He gave Burleson his business card, including his organization's insurance information, and spoke with the Humboldt County Sheriff's deputy who responded to Burleson's 911 call.
"I just thank God we had insurance and all of our business cards in correct order and I did the right thing by staying there and waiting for Officer Patten to arrive," he said. "I've been harassed ever since that incident. I feel really bad and I did the best I could do."
Deputies determined no actual crime took place on Oct. 29, Humboldt County Sheriff's Office spokeswoman Samantha Karges told the Lost Coast Outpost on Thursday. An animal control officer is conducting a bite investigation between both the corgi and Mallatt's dogs, Karges said.
According to Mallatt, he does have conflicts with the Del Norte County Animal Services Division. He said Animal Control claims he's letting his dogs go hungry, though he says he makes his food from scratch, using the catch from local fish captains.
On Oct. 30, Mallatt started a GoFundMe account to raise money for a new kennel. He states that Animal Control is "planning to seize his dogs."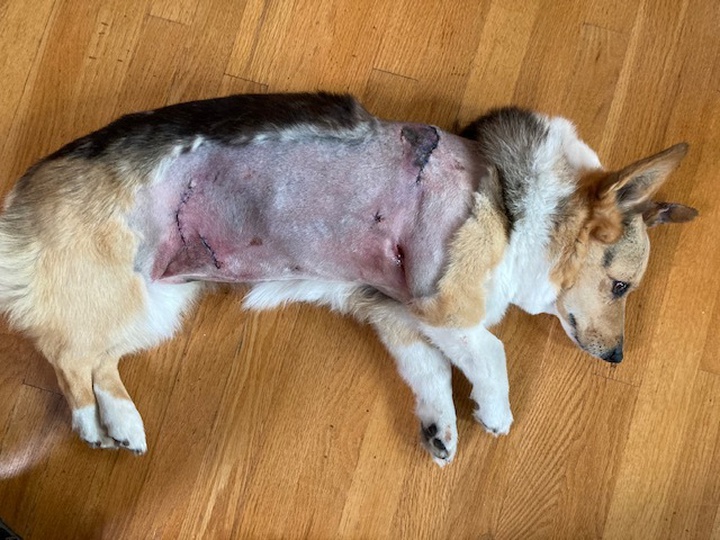 Del Norte County Animal Services Director Justin Riggs told the Outpost on Tuesday that his officers have been investigating neglect and public nuisance allegations against Mallatt "for some time."
Animal Control officers have also heard anecdotally that Mallatt's dogs can be aggressive, Riggs said, but the attack on Burleson's corgi is the first evidence he's been provided of it.
"This is a very new aspect of the case and we will be reviewing the complaints we have received in the coming days," Riggs said. "As the attack was in Humboldt County, they would be the ones to take enforcement action based on the incident. We will certainly use the information we are being provided as part of a larger assessment of the situation."
Mallatt said his GoFundMe account and the issues he has with the Del Norte County Animal Services Division are separate from the attack on Burleson's corgi. He said his organization has secured a five-to-10 acre property in Klamath Glen that has enough room to separate the younger dogs from the older ones and isolate females that are in heat.
"There's nobody else around and that's the way we're doing it in the future," he said. "We're not doing nearly any public stuff other than training one-on-one with the dog. Out in public like that is not working for us nor do we want to put anybody in jeopardy ever again."
Since the incident, Mallatt said he feels he and his dogs have been vilified. People have left negative comments on his Facebook page and he feels he has to hide.
Since the Oct. 29 attack, Mallatt said he has had no further communication with Humboldt County Animal Control regarding the incident.
"My understanding at that point is everything was copacetic, for the most part," he said. "It was nothing but an accident. A dog-on-dog accident and two people got bit because we intervened trying to take the dogs apart."
---
SHARE →