---
Jessica Cejnar Andrews / Wednesday, Nov. 9, 2022 @ 4:47 p.m. / Animals
(Updated) Del Norte, Humboldt Animal Control Officials Investigating Alleged Poodle Pack Attack on Corgi At Trinidad State Beach
---
UPDATE at 12:18 p.m: According to Samantha Karges, public information specialist for the Humboldt County Sheriff's Office, deputies determined no actual crime occurred. However, an animal control officer is conducting a bite investigation between both the corgi and the other dogs, Karges told the Lost Coast Outpost on Thursday.
###
ORIGINAL POST:
An attack on a beloved corgi and her owner at Trinidad State Beach on Oct. 29 has Humboldt and Del Norte county animal control officials investigating a Klamath man and the poodles he says he's training to be service dogs.
Kathrin Burleson said she was walking back from a bench above the beach with her 13-year-old corgi, Emma, and a friend when they were jumped by 10 standard poodles belonging to Frank Mallatt.
Burleson said she had noticed Mallatt's van with eight to 10 dogs inside before the alleged attack occurred, decided to cross the street and was at least 50 feet away when the poodles ganged up on her and Emma.
"I said, 'Get your dogs,' and I turned around to pick up Emma," Burleson told the Wild Rivers Outpost. "She was terrified. She started backing up and pulled out of her collar. I was reaching down to get her and they jumped us. There were 10 dogs and they were attacking. It was absolute chaos."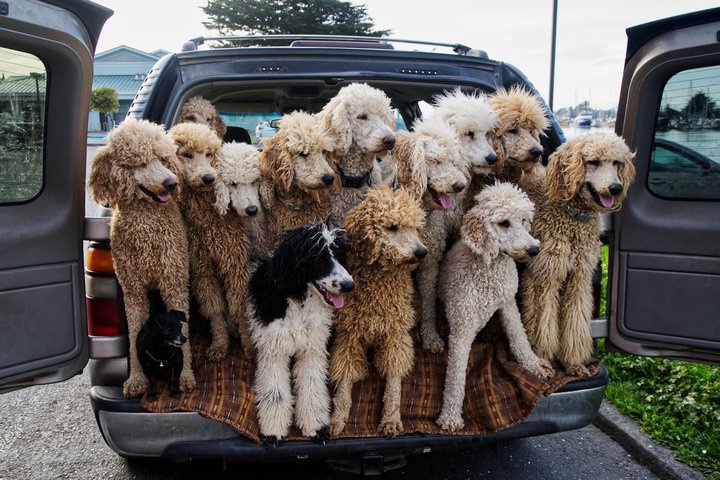 Burleson, who was hunched over Emma trying to protect her, was knocked to the ground, while her friend was screaming and hitting the poodles with her walking stick. Burleson said she then felt her hand being bitten. According to her, it was Mallatt, the poodles' owner, biting her finger.
Burleson's friend, Nina Groth, lifted Emma out of the melee. After they got in the car, Burleson said Mallatt came to the driver's side and gave her his business card. At that point, she said, she didn't want to see him.
"I said, 'You bit my finger.' I hold up my hand, blood's pouring out of it," Burleson said. "He said, 'I meant to bite my dog.'"
Together, they rushed the corgi to a veterinary clinic. The corgi, who is a therapy dog at Mad River Community Hospital, sustained lacerations and puncture wounds from the attack.
Burleson said she dialed 911 and spoke with the Humboldt County Sheriff's Office. Law enforcement hasn't been very responsive, she told the Outpost, so she reached out to the Del Norte County Animal Services Division.
Burleson told the Outpost that her dog was scheduled for a second surgery on Tuesday.
Mallett is the founder of the nonprofit organization Critters4Service. According to his website, he trains service dogs to work with autistic children and adults. Mallatt and his poodles are frequently seen at grocery stores in Humboldt and Del Norte counties.
"Our dogs help teach self responsibility, help them gain independence and act as a source of calm and a social bridge to their peers," Mallatt says on his website.
On Oct. 30, the day after the attack on Burleson's corgi, Mallatt posted a GoFundMe page, saying animal control is planning to seize his dogs. He says he needs help building a kennel in the Klamath Glen area and is seeking $2,500.
"We have secured a beautiful spot but now we need the kennel to finish up our project," Mallatt's GoFundMe page states. Mallatt could not be reached for comment.
Del Norte County Animal Services Director Justin Riggs said Tuesday that his officers have been investigating neglect and public nuisance allegations against Mallatt "for some time."
Del Norte Animal Control officers have also heard anecdotally that Mallatt's dogs can be aggressive, but the attack on Burleson's corgi is "the first evidence we've been provided of it," Riggs said.
"This is a very new aspect of the case and we will be reviewing the complaints we have received in the coming days," Riggs told the Outpost. "As the attack was in Humboldt County, they would be the ones to take enforcement action based on the incident. We will certainly use the information we are being provided as part of a larger assessment of the situation."
Samantha Karges, public information specialist at the Humboldt County Sheriff's Office, said an Animal Control officer and a deputy responded to Burleson's 911 call and is investigating a case. However, no notes were written in the case yet, Karges told the Lost Coast Outpost on Tuesday.
Since the attack, Burleson said she's been gratified and encouraged by the support she and Emma have received. She said four dog trainers have written letters to Animal Controls about Mallatt and his poodles.
Meanwhile Emma is recovering. Since her surgery on Tuesday, Burleson said energy has increased and she's in good spirits.
"It's a miracle and we're really grateful about that," Burleson said.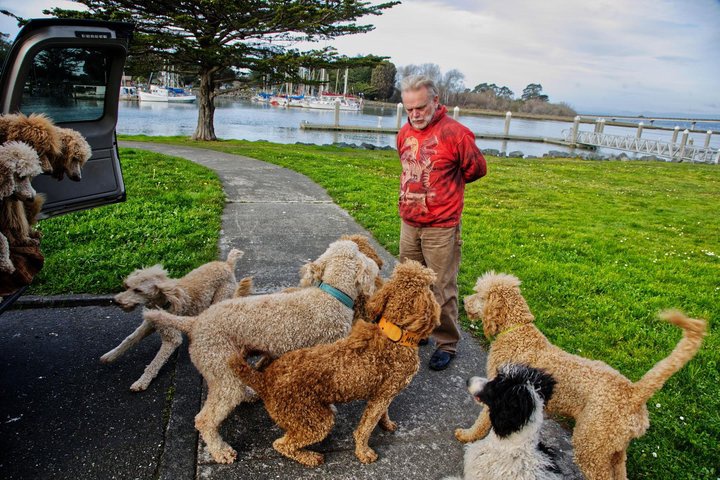 ---
SHARE →