---
Jessica Cejnar Andrews / Wednesday, June 1 @ 11:54 a.m. / Environment, Tribal Affairs
Klamath River Renewal Corporation Seeks Tribal-Affiliated Businesses, Individuals for Dam Removal Project
---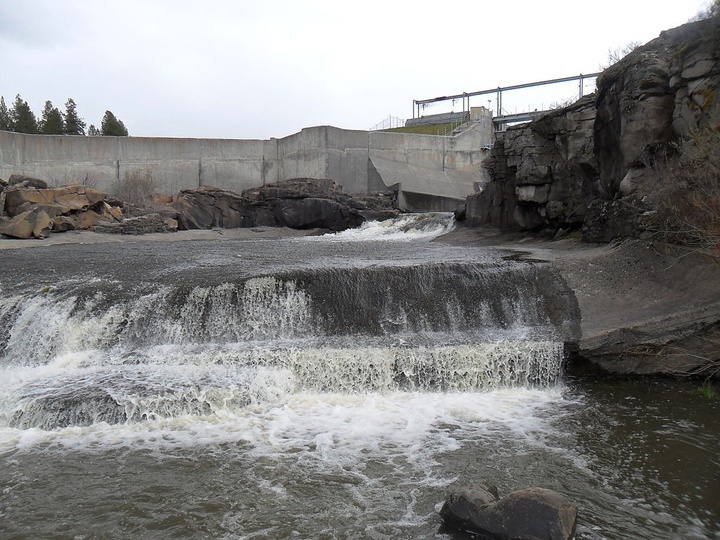 Previously:
• Curry County Board of Commissioners Express Interest in Supporting Jackson County's Request for 'No Action' in Klamath Dam Removal Project
• Federal Environmental Impact Statement Recommends Klamath Dam Removal to Proceed
###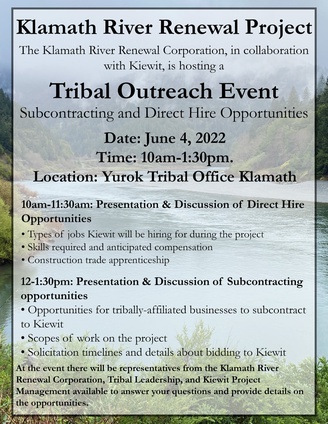 The Klamath River Renewal Corporation and Kiewit, the contractor it hired to spearhead the removal of four hydroelectric dams on the river, is holding a hiring outreach at Yurok Tribal Office in Klamath on Saturday.
Coming as the nonprofit organization continues to work on obtaining the final permits needed to start the project, the event is aimed at any tribal-affiliated business and individual, not exclusively Yurok, KRRC CEO Mark Bransom told the Wild Rivers Outpost on Tuesday.
"The idea here is we're getting close enough to be getting underway and Kiewit identified additional work they believe they will need to subcontract for," he said. "We also want to make individuals aware of direct employee hiring opportunities. Kiewit is anticipating likely hiring over 200 people (craftsmen) and laborers and water truck drivers, aside from the businesses they're likely to hire."
Saturday's event will be held from 10- a.m.-1:30 p.m. and will include a presentation of the project and a discussion of the types of jobs Kiewit will be hiring for during the project. There will also be a presentation and discussion of subcontracting opportunities and information about submitting bids to Kiewit.
Both Kiewit and Resource Environmental Solutions, the contractor heading up habitat restoration in conjunction with dam removal, have conducted previous outreach and hiring events, including one at the Karuk Tribal Office in Yreka in March, Bransom said.
These hiring efforts come after the Federal Energy Regulatory Commission released a draft environmental impact statement in February recommending removal of the J.C. Boyle, Copco No. 1, Copco No. 2 and Iron Gate dams. Removing the dams is expected to improve water quality and temperature conditions on the Klamath River, allowing declining fish populations to recover.
Those salmon runs are integral to the way of life of the Yurok and Karuk peoples as well as the coastal economies of Northern California and Southern Oregon. Bransom noted that it's because of the works the tribes have done that dam removal is moving forward.
"It's vitally important the tribes continue to be directly involved in dam decommissioning and restoration work," he said. "That's why these outreach events are so important."
FERC's draft EIS is related to KRRC's application to surrender the license to operate the dams as a hydroelectric project, a necessary step before decommissioning them.
Bransom noted that FERC's 2021 order transferring the license to operate the dams from Pacific Power to KRRC was an administrative procedures that didn't require an environmental impact statement.
Though reservoir drawdown is scheduled to begin in early January 2024, Kiewit will need eight-nine months to prepare, Bransom told the Outpost. This work includes improvements to roads and bridges in the area, relocating a waterline for Yreka as well as relocating fish hatchery operations from the Iron Gate Hatchery to the Fall Creek hatchery, he said.
Bransom said he anticipates KRRC obtaining all of the necessary permits by December. In addition to the surrender order from FERC, KRRC needs a Clean Water Act permit from the U.S. Army Corps of Engineers as well as updated Clean Water Act Section 401 permits from Oregon and California, he said.
KRRC will also need a National Historic Preservation Act permit, Bransom said.
"Section 106 of the NHPA is where FERC looks at the potential impacts to tribal cultural resources as well as the so-called built environment — any historic structures or anything that could be eligible for the registry of historic places," Bransom said. "FERC needs to consult with tribes and they need to consult with state historic preservation offices in Oregon and California to complete the work."
Bransom said the dams themselves are unlikely to be eligible for inclusion on the registry of historic properties, but structures like power houses or the old conveyance facilities for wood may be.
Meanwhile, KRRC is also addressing concerns the Jackson County Board of Commissioners raised in March. Arguing that the the reservoirs are necessary to suppress catastrophic wildfire in the region, Jackson County commissioners urged FERC to "take no action that would allow the removal of the four dams."
The nonprofit, in consultation with CalFire and the Oregon Department of Forestry, has put together a fire management plan, Bransom said. This includes installing infrastructure on the Klamath River that would allow access for water tenders and pump trucks and identifying deep pools within the river for helicopters.
KRRC will also purchase a chipper and a pickup truck for local Fire Safe Councils to loan to private citizens so they can reduce the amount of fuel on their properties, Bransom said.
"On the technology front, the renewal corporation will make a significant financial investment in installing cameras and other early detection and warning equipment," he said. "Firefighting agencies have real interests in doing more to spot fires shortly after ignition so they can mobilize and deploy resources with a goal of putting them out before they have the opportunity to grow. So they're making a huge shift from traditional methods of fighting large fires to do early detection and monitoring."
Removing the dams is expected to cost about $434 million. KRRC has a project budget of $450 million with $200 million coming from a PacifiCorp surcharge to its California and Oregon customers and $250 million coming from California water bond dollars.
---
SHARE →