---
Jessica Cejnar Andrews / Tuesday, May 31 @ 4:32 p.m. / Community, Education
Del Norte High to Auction Off Its Tiny House
---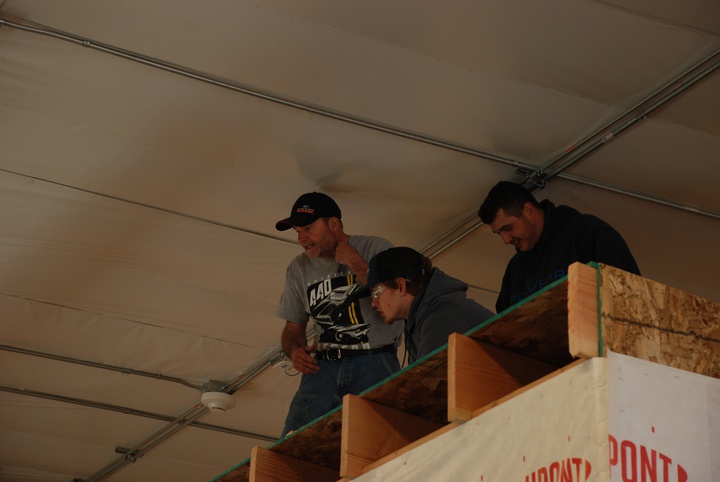 R.J. Loftin fiddled with key before unlocking the tiny house Del Norte High School is slated to auction off on Monday.
Though it was finished before he joined the program, Loftin expertly showed the home off — pointing out its wooden counter tops, the bed that could be raised or lowered electronically and the bathroom toward the rear.
The high school junior said the home he and his classmates are in the process of building will have a similar layout with a few small tweaks.
"Everybody made a floor plan and voted on the best one," he told the Wild Rivers Outpost on Tuesday. "The bed's in the same spot and the bathroom's in the back, and we put all the plumbing in back."
Monday's auction will be open to the public starting at 2 p.m. at the high school. The starting bid will be $40,000, allowing the program to break even, program instructor Jeff Van Pelt told the Outpost.
"It's a good deal," he said, watching his students frame and side a second tiny home. "A generic-bland one goes for $65,000-70,000."
According to DNHS Principal Alison Eckart, the starting bid is expected to cover the cost of the materials needed to build the home. The proceeds will go back into the tiny house program.
She said the program's goal is to be self sustaining as well as to offer a chance for the community to visit the new tiny house workshop, which was built using a $693,000 California Career Technical Education Facility Grant.
The Del Norte Unified School District Board of Trustees in 2020 kicked $152,698 in voter-approved bond dollars for the workshop's construction.
"It's huge, not working in the weather," Van Pelt told the Outpost.
DNHS's building and construction trades instructor, Don Hartley, began the tiny house program in the 2018-19 school year. Previous classes had built a single-family home at Glenn Street and Reddy Avenue, but Hartley wanted his students to learn "all the skills" in a single year, Eckart said
With it taking two years to build a full-size home, some kids learned how to construct a frame, but didn't get to work with dry wall, while others installed windows and missed out on the electrical side of things, Eckart said. Now, her goal is to get one tiny house built in a year, though soon they may be finishing two in a year, she said.
"Kids work on it every day for 90 minutes and we have a crew of 13 kids or more," Eckart told the Outpost.
According to Eckart, Del Norte High School's Career Technical Education classes offer industry-standard instruction to students so they can master skills necessary for a career right out of high school.
In addition to a building and construction pathway, there's an agricultural pathway, a transportation pathway and a manufacturing pathway. Sunset High School has a culinary Career Technical Education pathway, Eckart said.
"We want skilled laborers and tradesmen and women to be able to walk onto a job site," Eckart said. "I have a kid who's a millwright up at Brookings at the mill — that's from welding experience. I have a kid at Robertsons Automotive who had skills walking into the job."
The workshop is also a game-changer for Del Norte High's Career Technical Education students, Eckart said.
"This is state of the art," she said. "You feel like you're in a shop that doesn't belong on a high school campus. There's scaffolding. (Students) are on roofs doing framing. It's a game changer when all of a sudden someone invests in something nice for you."
Like most things at Del Norte High School, COVID-19 forced the tiny house program to hit pause, according to Van Pelt. Though it began in 2019 the first tiny house program was finished just this year, he said.
Van Pelt said his students have been working on the second home for about five to six weeks. He pointed out that the framing and siding is constructed like a regular full-sized home, though it doesn't have a foundation.
Van Pelt's students will work on the home's interior when the 2022-23 school year resumes in the fall. However, they'll still start the year learning about safety and equipment — basic stuff — he said.
Van Pelt said he wanted to get as much done on the second tiny home as he can before school gets out for the summer.
"I got these guys trained up I want to take advantage of it," he said.
For more information about the tiny house program and the auction, visit Del Norte High School's Facebook page or dnhigh.org.


---
SHARE →