---
Jessica Cejnar Andrews / Thursday, July 7 @ 1:34 p.m.
Fentanyl Listed as Cause of Death For Oregon Man Whose Body Was Found Near Rite Aid in March; Synthetic Opioid Contributed to 10 Deaths in Del Norte Since January
---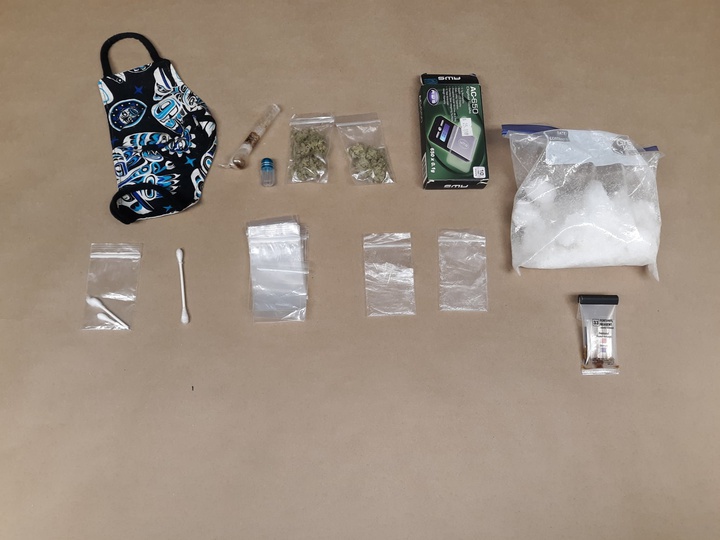 Previously:
• Crescent City Police Investigating Dead Body Found Near Rite Aid
• Fentanyl-Related Deaths On The Rise in Del Norte County; Local Opioid Abuse Prevention Group Seeks to Track Overdoses In Real Time
###
An autopsy determined that traces of fentanyl and high levels of alcohol led to the death of a 44-year-old Oregon man whose body was discovered near Rite Aid in Crescent City on March 5, according to the Del Norte County Sheriff.
Scott Matthew Laine had been living in the Crescent City area as a transient for about a month prior to his death, Sheriff Garrett Scott told the Wild Rivers Outpost. Two "unhoused" people discovered Laine's body wrapped in a sleeping bag near the store, according to police reports.
Laine's death is among a continuing increase in drug-related fatalities in Del Norte County involving the synthetic opioid. Scott said dispatch has been answering a lot of calls from users who have overdosed and are aware of what they're taking.
Crescent City Police Chief Richard Griffin said his officers respond to overdoses on a daily basis.
"I can't attribute them all to fentanyl. We're not testing everyone of them," he told the Outpost. "At this point it's an assumption that that's what's causing the spike."
Michelle Greene, the county's coroner assistant, can attest to Griffin's assessment that fentanyl-related overdoses are continuing to increase. Greene keeps a spreadsheet of the deaths that come across her desk, marking any that are drug related, even cases involving alcohol or tobacco.
This year, Fentanyl has contributed to 10 deaths in Del Norte County since January, according to Greene. In 2021, fentanyl was a factor in nine deaths for the entire year, she said.
"We're only halfway through the year," Greene told the Outpost on Thursday. "That's a large explosion of fentanyl use in the area. I still have a few cases that I'm still waiting for toxicology to come back on, so that might be a greater number. And it is very concerning to me."
According to Greene, the Del Norte County Sheriff's Office is working with two companies for toxicology analysis. One company has a wait of up to three months, while the other has a wait of about one month, she said.
Greene has been keeping track of drug-related deaths involving fentanyl for her own information and for anyone else who is interested.
But keeping an official record of fentanyl overdoses isn't easy, said Jermaine Brubaker, founder of the Rx Safe Del Norte Coalition. All local law enforcement and first responders should inform North Coast Emergency Medical Services each time they reverse an overdose using Narcan, she said. North Coast EMS should then input that data into OD Maps, but Brubaker said she hasn't seen updated information for the past two months.
One reason for that delay could be related to the amount of time it takes to get a suspected overdose confirmed through a toxicology report, Brubaker said. She pointed out that the autopsy on Laine's death was only just complete roughly four months later. By that time, a fentanyl hot spot could have moved or a lot more people could have died in the interim, Brubaker said.
"The likelihood of individuals reporting an overdose is low so we're relying on agencies to use the tracking tools they already have and report it so we can get information at a higher level and know where to respond and how to respond," she told the Outpost. "We know there's been fentanyl deaths in our community, but because we're not getting reports it's hard to talk about the numbers and the impact."
In October 2021, Greene told the Outpost that she had recorded seven deaths fentanyl-related deaths since January of that year. At that time, she said she had recorded one fentanyl-related death in 2020 and one in 2019.
Greene told the Outpost that she began seeing fentanyl become more prevalent on Del Norte County death certificates around December 2020.
Del Norte County is not alone in seeing an increase in overdose primarily caused by synthetic opioids like fentanyl, which is 80-100 times stronger than morphine. According to the U.S. Drug Enforcement Administration, overdose deaths involving opioids rose 38.1 percent. And overdose deaths involving synthetic opioids, primarily fentanyl, rose 55.6 percent between Jan. 31, 2020 and Jan. 31, 2021.
The DEA also issued a warning that fentanyl was being mixed with other drugs such as methamphetamine, heroin and cocaine, "increasing the likelihood of a fatal interaction."
In Del Norte County last year, Greene said overdoses from a combination of methamphetamine and fentanyl contributed to four cases out of the seven that she noted through October. On Thursday, she said methamphetamine is still a major factor, but alcohol plays a large role as well.
"It's kind of a mix," she said. "We're seeing a few of those folks are ingesting Kratom. People don't realize that's not a good thing to take. Ultimately, the fentanyl-meth mixture is still a pretty active component."
Since she founded the Rx Safe Del Norte Coalition in 2019, Brubaker has been instrumental in distributing Narcan, the drug that reverses an opioid overdose. She provides training to law enforcement and first responders, medical clinics and, just recently Lucky 7 Casino staff.
Brubaker said she also has handed out Narcan to individuals, but said an organization doing harm reduction services could really build the trust necessary to get users to open up about their experiences with opioids.
"Harm reduction services offers a whole menu of things — everything from (needle) disposal to clean needles to smoking instead of injection kits, Narcan and fentanyl test strips, wound care and referrals," Brubaker said. "All of that falls under harm reduction services, but we don't have anyone focused on harm reduction here. The syringe exchange programs aren't happening anymore. We're trying to get stuff to the people who use drugs so we can keep them safe."
In addition to Narcan, that stuff also includes fentanyl test strips, which are available at Open Door Clinic at Washington Boulevard and Northcrest Drive in Crescent City. Fentanyl test strips and Narcan kits are also available through United Indian Health Services, Brubaker said.
Scott said Narcan kits are in the DNSO's patrol vehicles and all of his deputies are trained in using it.
It was Crescent City Police Officer Tyler Balch's quick use of Narcan that helped a Yurok Tribal Police officer recover from a possible fentanyl exposure while assisting with an arrest on May 14. At a June 20 Crescent City Council meeting, Yurok Tribal Police Chief Greg O'Rourke said Balch's actions allowed his officer to get to Sutter Coast Hospital where he was treated and released a few hours later.
"I will have a letter of commendation ready and sent up to be able to be put into Officer Balch's file," O'Rourke told Councilors. "But I wanted to take this time to allow me to express my gratitude for the allied agencies we are working with, for Officer Balch's quick assessment and for his preparedness for having proper equipment on hand to be able to respond accurately to a need from a fellow officer."
Griffin, who presented a certificate of commendation to Balch, said he viewed the body camera footage of the incident and saw the Yurok Tribal Police officer on the ground with labored breathing. Balch made sure to keep his colleague alert and helped him through the incident until he was transported to the hospital.
Both Griffin and Scott said fentanyl has been working its way up California. Griffin said Humboldt County law enforcement agencies began seeing it in their community a month or two before it showed up in Crescent City. It's more potent than heroine and often people aren't aware they're taking it.
"The big thing is it just takes more than one dose of Narcan to bring them back," Griffin told the Outpost. "Right now we have 4 milligrams and we have at least a couple doses in each vehicle."
Scott said his officers are "making arrests and doing everything we can to curtail the fentanyl problem." He urged the public to let the Del Norte County Sheriff's Office know if they are aware of a dealer who is distributing fentanyl.


---
SHARE →