---
Jessica Cejnar Andrews / Tuesday, Oct. 19 @ 5:07 p.m. / Community, Health
Fentanyl-Related Deaths On The Rise in Del Norte County; Local Opioid Abuse Prevention Group Seeks to Track Overdoses In Real Time
---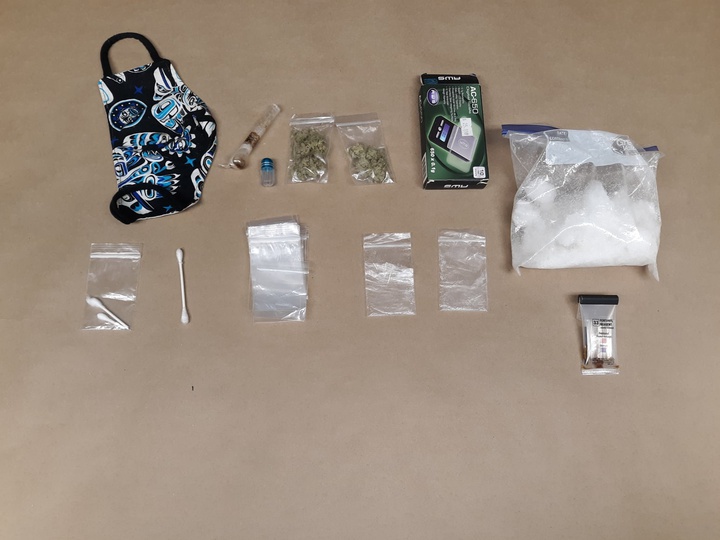 Previously:
• Abandoned Makeup Bag Filled With Half-Pound of Meth, Fentanyl Found Roadside Near Crescent City
###
Seven people have died of fentanyl-related overdoses in Del Norte County so far this year.
This may not seem like a lot, but Michelle Greene, the county's coroner assistant who keeps a spreadsheet of the deaths that come across her desk, says she recorded a single fentanyl-related death in 2020 and just one in 2019.
Of those seven deaths, four were due to a combination of fentanyl and heroin or fentanyl and methamphetamine, she says.
"I can almost tell you that most of these people were die hard meth users," Greene said. "Somebody is basically cutting their meth with fentanyl, and it takes very little fentanyl to kill somebody."
Greene spoke with the Wild Rivers Outpost nearly a week after a citizen reported finding an abandoned makeup bag in an undisclosed part of the county that contained drugs and drug paraphernalia.
Inside was a half-pound baggie of methamphetamine and fentanyl, according to the Del Norte County Sheriff's Office.
In addition to keeping a spreadsheet of the deaths that come across her desk, Greene says she marks any that are drug related, even if it's alcohol or tobacco. She said she began seeing fentanyl become more prevalent on local death certificates around December 2020.
In 2021, the first fentanyl-related death occurred Jan. 5, according to Greene. In that case the substance was mixed with Xanax, she said.
Del Norte County is not alone in seeing an increase in overdose primarily caused by synthetic opioids like fentanyl, which is 80-100 times stronger than morphine. According to the U.S. Drug Enforcement Administration, overdose deaths involving opioids rose 38.1 percent. And overdose deaths involving synthetic opioids, primarily fentanyl, rose 55.6 percent between Jan. 31, 2020 and Jan. 31, 2021.
The DEA also issued a warning that fentanyl was being mixed with other drugs such as methamphetamine, heroin and cocaine, "increasing the likelihood of a fatal interaction."
In Crescent City, law enforcement has responded to an "alarming rate of overdoses lately," according to Police Chief Richard Griffin. His agency partners with Rx Safe Del Norte, a local organization combatting the local opioid abuse epidemic, to obtain Narcan, the brand name for Naloxone.
Griffin said his officers have had to use Narcan more often to revive a patient following an overdose. However, there's currently no way to track the number of overdoses or Narcan deployments in real time.
Most of the fentanyl comes through the same supply line as the local heroin stream, Griffin said, from the south. He said, based on DEA information, it tracks all the way back down to the southern border of the U.S.
"(Overdoses) are happening so often that we're responding and doing our job and moving on and just waiting for the next one to happen," Griffin told the Outpost.
The most recent Narcan deployment occurred Oct. 13 and involved a woman who overdosed near the 700 block of L Street. According to a CCPD Facebook post, it took several rounds of Narcan before officers could stabilize her.
"We had to get another resupply of Narcan from Rx Safe Del Norte; that's how many times we've been deploying it," Griffin said.
Griffin has been working with Rx Safe Del Norte founder Jermaine Brubaker to sign onto OD Map, an online database enabling first responders to track overdose patterns using real-time data. With this free platform, those working in public health and substance abuse prevention workers can get services and harm reduction supplies to the communities that need it, Brubaker said.
Public health, substance abuse prevention workers and law enforcement can also be prepared for a new batch coming into the community, Brubaker said. OD Map also offers the time and location of an overdose; if it's fatal or non-fatal and if Naloxone was used, she said.
"Often times you can watch overdoses and fentanyl come up highway corridors," Brubaker said. "I can't write a grant off OD Map, but what I can do is be able to talk about where the hot pockets are, how often we use Naloxone and how many doses of Naloxone (is used). We could use it and check it against CDC data and find out what part of the story we are missing."

Rx Safe Del Norte has distributed more than 800 Naloxone kits in the past two years, according to Brubaker. She has dropped kits off at the Del Norte County Sheriff's Office and CCPD as well as the fire department and facilitates training to the general public.
Greene, who works with Central Point forensic pathologist Dr. James Olson, can attest to fentanyl and other more dangerous substances making their way up highway corridors into Del Norte County.
According to Greene, when she and Olson, who performs Del Norte's autopsies, were working on the Jan. 5 overdose, he said that fentanyl mixes had been seen in the Medford area a few months prior.
"We're the last stop," Greene told the Outpost. "It moves from the big cities, then out and out and out until finally it stops here at the end of the line."
For Brubaker, the prevalence of fentanyl in other substances is worrying. She noted that those who use methamphetamine might not be used to having opioids in their system and would be at greater risk of overdosing.
Brubaker also pointed out that fentanyl is being pressed into pills that look like prescription drugs.
"You should never really assume the substance you're going to use is not cut with something, but we don't have harm reduction services up here," she told the Outpost. "We do have a few places where you can get a fentanyl test strip. We've given them to Our Daily Bread and we dropped them off at Open Door Clinic for people to test what they're going to be using."
As for the baggie of fentanyl-laced methamphetamine deputies retrieved on Oct. 11, even if DNA evidence was discovered on the bag, it wouldn't be enough for someone to be prosecuted, according to Del Norte County Sheriff Randy Waltz.
Waltz said his deputies have found no further information as to who left that baggie of drugs behind.
Those interested in being trained how to use Naloxone to stop an overdose can go to a free training session from 11 a.m.-2 p.m. at Our Daily Bread Ministries, 1135 Harrold Street in Crescent City.
---
SHARE →