---
Jessica Cejnar Andrews / Thursday, July 14 @ 6:02 p.m. / Environment, Tribal Affairs
Reservation Ranch Owner Agrees to Land Easements, Smith River Estuary Restoration Project Following Coastal Act Violations
---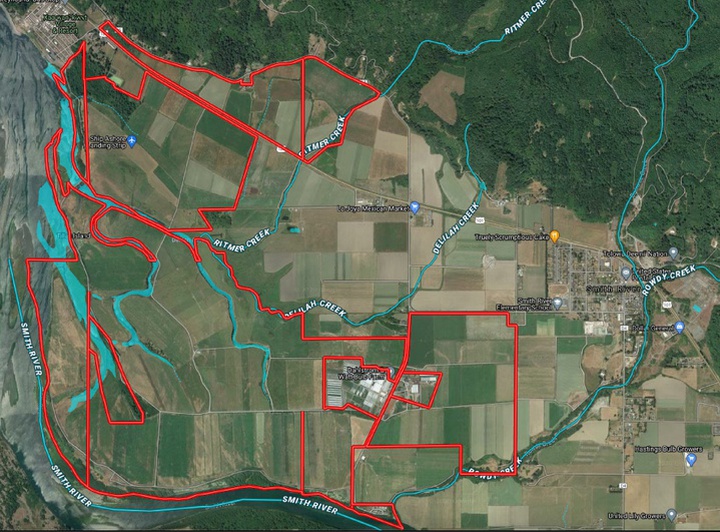 Previously:
• Tolowa Dee-ni' Nation Seeks to Repatriate Reservation Ranch; 1600-acre Smith River Property Listed For $12.95 Million Despite Coastal Act Violations
###
Though they acknowledged their decision doesn't make up for the atrocities the Tolowa people have suffered historically, California Coastal Commissioners on Thursday signed off on a restoration effort to be undertaken by the owners of Smith River's Reservation Ranch.
Coastal Commissioners unanimously approved a modified consent decree against Reservation Ranch owner Steven Westbrook and his lessee, Alexandre Dairy, as part of reparations for California Coastal Act violations dating back to 2016.
In addition to the original consent agreement, Westbrook agreed to allow a cultural survey of the 75-acre Tillas Island — a Tolowa Dee-ni' Nation sacred site — as long as he can still farm it. Westbrook also agreed to dedicate 17 acres of land in trust as a conservation easement as well as removing eroding tires at Islas Slough.
Despite the concessions Westbrook was willing to make, Coastal Commissioners were unanimous in stating that though it was the best they could do, their decision wouldn't make the Tolowa people whole.
"We're totally squeezed in terms of the degradation of one of the most important estuaries that were your homelands from time immemorial," Chairwoman Donne Brownsey told tribal representatives after nearly eight hours of testimony and discussion. "We know that you care about the quality of those lands and the restoration of the wildlife there. And you would like to be able to reclaim those lands. We all agree we would want you to do that if we had the capacity. But the law that regulates us, that gives us our authority, is limited."
In addition to agreeing to undertake what Coastal Commission staff are calling the largest estuary restoration in Northern California, Reservation Ranch and Alexandre Dairy, which began leasing the ranch in 2021, will remove several levees that were constructed out of train cars and installed in 1964 — before the California Coastal Act.
Westbrook also agreed to dedicate more than 10 acres of land on Tillas Island as a public easement; to reforest 14 acres of land adjoining the Tolowa Dee-ni' Nation's Howonquet Village; and to dedicate a 2-acre bluff top near Clifford Kamph Memorial Park to a government entity.
Westbrook said his hope was that Del Norte County would take control of that bluff top property and incorporate it into the nearby park.
The land dedications and easements are valued at more than $1 million and are provided as a penalty for the violations, Rob Moddelmog, the California Coastal Commission's statewide enforcement analyst.
"The lands are of great ecological and public access value and are not currently on the open market by themselves," Moddelmog told commissioners.
According to Lisa Haage, the commission's chief of enforcement, would have assessed Reservation Ranch a total of $1.25 million in administrative penalties, which is roughly the value of the land that is to be set aside as an easement or in fee trust.
Reservation Ranch has a year to submit a restoration plan to Coastal Commission staff, Haage said.
The Coastal Commission issued its original Notice of Intent to Commence Cease and Desist Order and Restoration Order Proceedings to Westbrook in September 2017. They stated that Coastal Commission staff discovered that the ranch made the following developments without obtaining a Coastal Development Permit:
Grading; placement of fill including construction waste, trash, cow carcasses and other debris in or near wetlands, tidal sloughs and streams; the building of roads and stream crossings; placing pumps in and diverting water from tidal sloughs and streams including Smith River, Tillas Slough and Ritmer Creek; and the dredging of tidal sloughs and streams.
According to the Coastal Commission's staff report, an estimated 40 percent of the Smith River's original wetland habitat has been lost due to diking and draining of wetlands. The river's tidal sloughs and wetlands serve as critical habitat for chinook and coho salmon, steelhead, coastal cutthroat trout and the federally endangered tidewater goby, according to Moddelmog.
Coastal Commission staff discovered more violations in 2020, including the seasonal damming of a tidal slough and removal of driftwood trees, a necessary component of fish habitat, Moddelmog said.
After issuing an amended Notice of Intent to issue a cease and desist order, Coastal Commission staff found that Westbrook listed Reservation Ranch for sale.
The ranch is currently listed on Farm & Ranch at $12.95 million and is touted as a sportsman's paradise with elk, waterfowl and a "vibrant estuary ecosystem."
According to the Coastal Commission's staff report, right after Alexandre Dairy began leasing Reservation Ranch — operating it as Smith River Ranch — Reservation Ranch agreed to negotiate with the Coastal Commission.
On Thursday, Westbrook told Coastal Commissioners that he still intends to sell Reservation Ranch.
Reservation Ranch's name reflects the Smith River Reservation, which was created in 1862 and encompassed the area the farm is at now. In 1908 Del Norte County recorded that Reservation Ranch was deeded to Henry Westbrook. The Westbrook family has used that property, which includes a network of tidal sloughs, for dairy farming since then.
Reservation Ranch is across the Smith River from Yontocket, the Tolowa Dee-ni' Nation's place of genesis, the tribe's vice chair, Scott Sullivan said. It's near the site of the 1853 Yontocket Massacre, the second-largest mass killing of Native Americans in United States history, Sullivan said.
Sullivan's colleague, Amanda O'Connell said her grandparents, John and Etta Lopez, lived on Srdvn-das-'a~, or Tillas Island. They also buried family members there.
"This item is very personal to me," she said.
The tribe's cultural heritage preservation officer, Cynthia Ford, called for a cultural resources survey of the entire 1,668 acre dairy ranch. Ford said the Tolowa Dee-ni' Nation requests to turn Tillas Island into a cemetery and that it be nominated to the National Register of Historic Places.
As for the bluff-top property near Clifford Kamph park, Ford said she and her husband left the area to attend Thursday's meeting in Fort Bragg.
"Tolowa to this day continue to practice traditional and cultural activities on its coastline including the annual migration to fish camps for food procurement and generational transmission of knowledge," Ford said. "The access and ability to allow us to practice this tradition has been slowly choked out due to the historic actions of Reservation Ranch, who at one time owned the entire coastline. This has long been protested by the Tolowa people."
Alexandre Dairy owner, Blake Alexandre, told Commissioners that he hopes to eventually be the land owner, but as the lessee, he's representing both seller and buyer.
He also expressed a willingness to work with the Tolowa Dee-ni' Nation, though an easement incorporating all 75 acres of Tillas Island — something Coastal Commissioners urged Westbrook to consider — wasn't within his power.
"There's a lot more I believe we can do and I would like people to come to me in the future," he said. "Today I'd like to see us get resolution here and an agreement so we can move forward and get out of the bureaucracy that we've been in, which has been extremely confusing for us farmer types."
Right after Reservation Ranch received the amended cease and desist order, the Tolowa Dee-ni' Nation published a story map to illustrate their connection and vested interest in the property.
At that time, the tribe also organized a "land back" petition to generate support from the community, according to Tolowa Dee-ni' Nation's public relations manager, Emily Reed. The Tolowa Dee-ni' Nation's petition garnered about 1,600 signatures, she told the Outpost in an email Tuesday.
The Tolowa Dee-ni' Nation also sent a letter of support template to supporters as Coastal Commission staff was finalizing the details of their consent decree and restoration order, Reed said.
Documents:
• Coastal Commission Staff Report
• Exhibits
---
SHARE →