---
Jessica Cejnar Andrews / Monday, July 11, 2022 @ 3 p.m. / Local Government
Del Norte Supes to Revisit Youth Vaping, Tobacco Retail License Discussion
---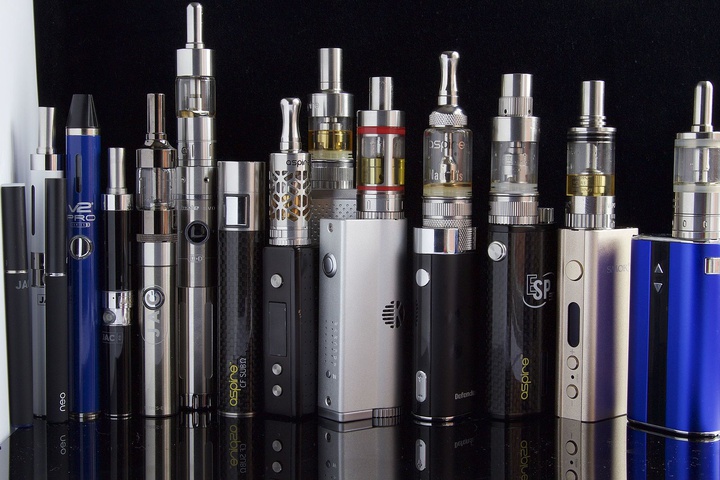 Previously:
• Crescent City, Del Norte Electeds Tell Youth They're Proud, But Shoot Down Their Proposed Tobacco Retail License Targeting Flavored Vapes
###
Del Norte County supervisors will revisit a proposal to institute a tobacco retail license in an effort to curtail youth vaping.
District 2 Supervisor Valerie Starkey said she requested a presentation and a discussion on the proposed ordinance be placed on Tuesday's agenda.
This request comes more than three months after Starkey and her colleagues Gerry Hemmingsen and Darrin Short, along with the entire Crescent City Council, failed to reach a consensus on a tobacco retail license that included a ban on flavored e-cigarettes. On Monday, Starkey noted that District 3 Supervisor Chris Howard and District 5 Supervisor Susan Masten missed out on that March 29 discussion.
"I think we now will have a full board to have this discussion," Starkey told the Outpost. "The city, they're set in their minds minus one person, they do not want that government overreach. I see that and respect it, but it doesn't mean the county can't do something."
At Tuesday's meeting, supervisors will view Born to Breathe, a mini documentary created from a Youth Media Festival in June of the same name, according to Amber Wier, program director for NorCal4Health.
The Youth Media Festival featured work created by North Coast youth on topics ranging from tobacco's environmental harms to how flavored nicotine products target children, Wier said via email. This video was shared at NorCal4Health's awards ceremony. In addition to Starkey, attendees included State Sen. Mike McGuire, Mendocino County Supervisor John Haschak, Lake County Supervisor Bruce Sabatier and Crescent City Councilor Blake Inscore.
"Since NorCal 4 Health has already given a presentation on this subject and the Board will be viewing our new youth documentary and hear a parent testimony, we will not do another presentation," Wier told the Outpost. "However, we will be in the audience tomorrow and available if the supervisors have any questions."
Del Norte Public Health Director Melody Cannon-Cutts and members of the Tobacco Free Coalition will also be at Tuesday's meeting.
At that March 29 meeting, students with Del Norte High School's Standing Together Overcoming Addiction with a Radical Movement (STORM) coalition told county supervisors and City Councilors that flavors such as bubblegum, strawberry kiwi and butterscotch get their peers hooked on e-cigarettes.
City and county elected officials spent more than three hours debating if a tobacco retail license would be expensive to implement, if it would mean more fees and taxes on local businesses and if restricting where e-cigarettes could be sold and who could sell them constituted government overreach.
In the end, both sides asked staff to draft ordinances that would regulate and enforce existing state and federal laws. But County Counsel Joel Campbell-Blair told them that without a flavor ban and an ordinance regulating the density of tobacco retailers, a local law would be ineffective.
"People are buying it legally," Campbell-Blair said. "It's not a problem of selling it to minors, it's a problem of the availability of flavors."
The sale of flavored tobacco, including vaping devices, had been banned as a result of State Senate Bill 93, which California lawmakers approved in August 2020. However, a referendum will go before California voters in November asking them to veto or uphold SB 793.
There referendum is spearheaded by the California Coalition for Fairness and argues that banning the sale of flavored tobacco would hurt local businesses and jobs and create an underground market that could lead to "increased youth access," according to Ballotpedia.
On March 29, Starkey and City Councilor Blake Inscore were the only two local elected officials who supported a local tobacco retail license. Starkey, who worked as a probation officer, said she felt it was her responsibility to minimize teens' access to harmful products like flavored tobacco and nicotine.
On Monday, Starkey said she knows where her colleagues Darrin Short and Gerry Hemmingsen stand on the proposed TRL, but Howard and Masten should be given the chance to weigh in on the topic.
Starkey told the Outpost she'd also like to see the county adopt a smoke-free multi-unit housing ordinance similar to the one Crescent City adopted in 2020.
The Del Norte County Board of Supervisors will meet at 10 a.m. Tuesday in the Flynn Center, 981 H Street in Crescent City.
To view a live broadcast of the meeting via Zoom, click here.
---
SHARE →