---
Jessica Cejnar Andrews / Tuesday, July 12, 2022 @ 3:36 p.m.
Del Norte County Looks to Restructure Its Animal Services Department
---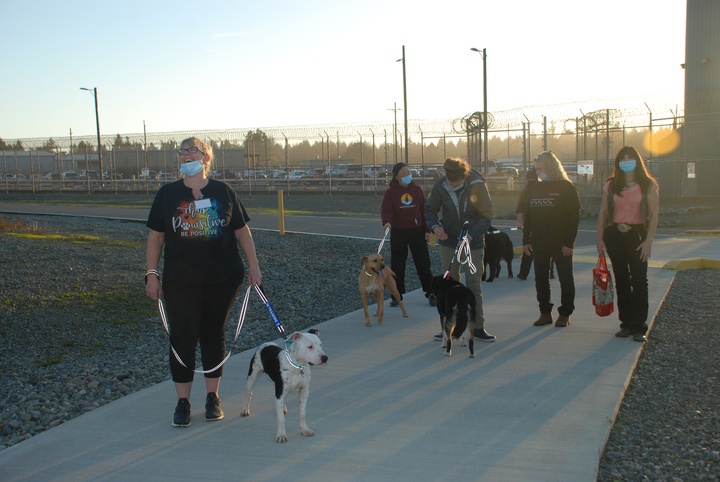 Del Norte County supervisors on Tuesday directed staff to move forward with a restructuring of the Animal Services Department — something one volunteer said was sorely needed.
Volunteers take on much of the work at the Del Norte County Animal Shelter, according to Laureen Yamakido. With 40 dogs at the pound, one supervisor and one animal control officer, it's the volunteers who care for the animals, facilitate transfers to rescue shelters as well as adoptions, she said.
Volunteers are putting together a site plan for new kennels at the shelter, Yamakido told supervisors. And because of the "outdated way they keep records at the pound," she has taken on that task herself.
"So far, this year, 189 dogs have come into this county, three horses, four goats, two pigs and one rabbit," Yamakido told supervisors.
The Humane Society of Del Norte has spayed or neutered 59 animals this year. Volunteers have transferred 77 dogs into rescue shelters so far this year and have adopted 25. But the Animal Services Department needs to be reassessed, reorganized and properly staffed, she said.
"The volunteers are exhausted," she said. "The staff is exhausted."
The Animal Services Department's current structure, which has it falling under the umbrella of the Del Norte Agricultural Commission, is uncommon, according to County Administrative Officer Neal Lopez. There are only three other counties in California with a similar configuration, he said.
County staff has identified through its preliminary research at least two or three potential solutions, Lopez said, but he wanted the Board of Supervisors to give direction for staff to look into the issue further.
Lopez said he plans to have at least two alternative department structures to the Board of Supervisors by August 23.
Justin Riggs, the current animal services director, is also the county's agricultural commissioner and its sealer of weights and measures. According to Lopez, Riggs is supportive of the county removing animal services from his direct supervision.
District 2 Supervisor Valerie Starkey brought up Yamakido's unofficial role as record keeper for the animal shelter and asked how restructuring Animal Services will take into consideration the work she and other volunteers do.
"If we're looking to put (Animal Services) into another department are we also looking at how all of the work the volunteers are doing should be done by county paid employees?" Starkey asked. "Are we going to include all of that in this restructuring?"
The county has been trying to procure a case management system for the Animal Services Department for about a year, according to Lopez. This system will keep track of much of what Yamakido is currently tracking, Lopez said. He said the county has identified two case management systems and are soliciting a third quote as per its rules of procurement.
"If we can only find two we'll work with the information we have," Lopez said.
Recruiting and keeping staff has also been challenging, Lopez said. Part-time positions have been "impossible to fill," he said. The county has added an animal services supervisor position for the first time in about 20 years.
"We do have three animal service positions, but we're still able to only fill two of them even though we've recruited constantly since then," Lopez said.
Over the past year, the Animal Services Department's staffing shortage slowed response to complaints by Fort Dick residents that nuisance dogs were roaming at large and killing their pet cats.
A lack of staffing also made it difficult for the department to respond to cases involving livestock, Riggs told the Wild Rivers Outpost, following the seizure of five horses, a foal, five goats and a pig from Smith River in April. At that time, the department had no staff with large livestock experience and had limited capacity for housing large livestock.
---
SHARE →