---
Jessica Cejnar Andrews / Friday, March 25 @ 12:27 p.m.
Animal Control Seizes Horses, Goats Housed in 'Highly Concerning' Conditions On Smith River Property, Will 'Almost Certainly' Recommend Animal Cruelty Charges
---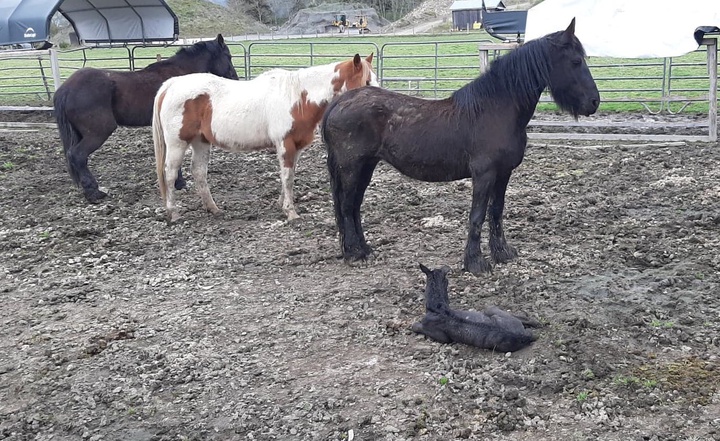 Del Norte County Animal Control officers on Thursday seized several animals, including five horses and a foal and five goats that they say were being housed in pens full of feces without access to fresh water.
Animal Control officers are still trying to capture a pig from the property at the 500 block of S. Fred Haight Drive, Animal Control Director Justin Riggs told the Wild Rivers Outpost on Friday. Riggs said his office will "almost certainly be recommending charges under California Penal Code 597 (animal cruelty)."
"Thankfully the pig is free from its enclosure and now has access to a much larger area," Riggs told the Outpost via email. "The situation has been going on for months. We've received a number of calls."
Joni Forsht, whose home is adjacent to and in front of the property in Smith River, said she and a neighbor, Darryl, have been concerned about the animals for some time. Forsht said she made several phone calls to Animal Control and law enforcement about the conditions the animals were in.
Forsht said her neighbor called 911 after finding a newborn foal encased in mud. She said she and Darryl were able to remove it from the mud and tried to get it to nurse, but were unsuccessful.
"I went to the feed store and bought formula and a bottle," she said. "Darryl got milk from the mom, but the baby wouldn't take it."
The foal died, Riggs said.
That 911 came in to the Del Norte County Sheriff's Office at 9:55 a.m. Wednesday. Animal Control arrived on Thursday morning and stayed into the afternoon, Forsht said. She said she also saw two Del Norte County Sheriff's deputies remove "bag after bag after bag" from the barn to their patrol unit.
According to DNSO Lt. Daniel Schneck, the black bags contained an estimated 50 pounds of marijuana shake — the leaves and stems left behind when the bud is removed. No arrests were made, though a report is being submitted to the District Attorney's Office for possible charging. The person presumed responsible was not on scene, Schneck said.
"There was no house on the property, but there is an outbuilding," he told the Outpost. "The door was open and in plain view there were seven big black trash bags full of marijuana shake."
According to Schneck, marijuana shake is used to make hash butane oil, though the material seized in Smith River was unprocessed.
The Del Norte County District Attorney's Office also assisted with the animal seizure. District Attorney Katherine Micks said she's expecting a report and would evaluate the case for potential criminal charges.
According to District 3 Supervisor Chris Howard, the person who owned the animals had been leasing the property from owners who now live in Oregon.
Forsht said the person that owned the animals moved horses onto the property about two years ago. At the time, the horses had the field and pasture to themselves — "there wasn't really any problem," she said.
Then they started bringing cows to that field and pasture, Forsht said.
"That's when I noticed things were getting really really bad was when he brought the cows in," she said. "It smelled. They were walking in their own feces and I kept calling Animal Control and telling them and they said there's really not a whole lot they can do."
According to Forsht, the cows were having babies. She said she thinks there were more than 23 cows on that 5-acre property.
"It was very disheartening to get up in the morning and open my curtains and walk out onto the deck with my coffee," she said. "These cows were penned up in these small areas and they didn't have enough room to even hardly walk around and when it would rain it was just gross."
Some of the animals are being housed at the Del Norte County Animal Shelter while others are being housed with volunteers, Riggs said. The animals can't be adopted out until the owner has "been given an opportunity for due process," he said.
Riggs said Animal Control has conducted a completely unprecedented number of humane actions in Del Norte over the past year. But there are more cases than the department has the resources to pursue.
"Livestock cases are especially challenging as we have lost all of our staff with large livestock experience and we have limited livestock housing capacity," he said. "It will take time to hire new staff and get them large animal handling training. I will be submitting budget proposals to expand our livestock infrastructure at the shelter."
Two of the three Animal Control positions in the county are vacant, Riggs said, though interviews for an animal control officer and an animal services supervisor are ongoing.
---
SHARE →