---
Jessica Cejnar Andrews / Wednesday, Nov. 24, 2021 @ 3:20 p.m. / Elections, Local Government
Del Norte Unified Trustee Follows County Redistricting Process As She and Her Colleagues Explore Changing Election Models
---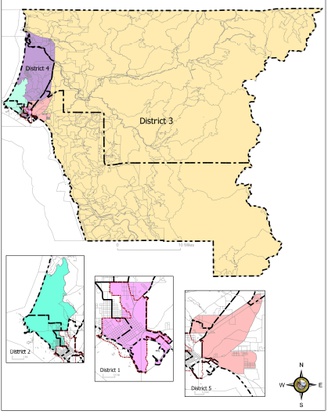 Previously:
• Del Norte Supervisors Give Public Second Crack To Discuss New District Boundaries
• Del Norte Unified, County Office of Education Seeks Public Input On Transition To Area-Based Elections
###
A handful of Del Norte County residents urged the Board of Supervisors to adopt the first of four draft maps containing new district boundaries.
At a special meeting Wednesday, one speaker, Del Norte Unified School District Board President Angela Greenough, said county supervisors should reject a third alternative, which would redraw boundary lines in such a way that Supervisorial District 3 would include Klamath, Hiouchi, Gasquet and parts of Smith River.
"They're four very distinct communities with three different schools that are very distinct and different," Greenough told the Wild Rivers Outpost, referring to Margaret Keating Elementary School in Klamath, Smith River School and Mountain School in Gasquet. "Smith River's needs and community are completely different from Klamath's when it comes to the communities and looking at it through the purview of schools."
Though they heard from the public a second time regarding options for new district boundaries, county supervisors will not make a final decision until Dec. 14. According to Deputy County Counsel Autumn Luna, the drop-dead deadline in the redistricting process for the Board of Supervisors is Dec. 15.
Greenough said she has been following Del Norte County's redistricting process since she and her colleagues on the DNUSD Board of Trustees and the County Office of Education, which share jurisdictional boundaries and policymakers, work on transitioning from an "hybrid at-large" election model to Trustee Area-based elections.
Currently, Trustee Area boundaries coincide with Del Norte County Supervisorial District lines. But while a candidate running for School Board must live in the Trustee Area they seek to represent, all Del Norte County voters can vote for that seat.
County supervisors, meanwhile, are elected by voters living in the district they reside in.
In August, the DNUSD Board of Trustees learned that at-large election models open public agencies up to litigation under the California Voting Rights Act. The CVRA prohibits at-large elections that result in racially-polarized voting, Walnut Creek attorney Jonathan Berry-Smith told DNUSD trustees.
Following Berry-Smith's presentation, the Board of Trustees approved resolutions of intent to transition election models on Aug. 12 and held two public hearings in September to gather input on how the Trustee Area boundaries should be configured.
The Board of Trustees will receive new maps in December or January, according to Greenough. Three more public hearings are required before the DNUSD Board makes a final adoption in February.
"We're not on as strict a timeline as the county because our elections are not until November, so we have a little more time to play with our (maps)," Greenough said. "We're expecting them next month, if not, by January and then we could move forward."
Greenough noted that with a Del Norte County Board of Supervisors election in the June 2022 Primary Election, they had a tighter timeline.
In addition to hiring Berry-Smith, DNUSD has partnered with PlanWest Partners to re-draw Trustee Area boundaries ensuring there's an equal distribution of population within the areas and that they adhere to the Voting Rights Act.
On Wednesday, five members of the public urged supervisors to select Draft Area Map 1. Ricardo and Autumn DeSolenni said they liked the idea of leaving the district boundaries as they are "with a few exceptions."
"Living on Malone Road and being in a different district from your neighbors on the west end makes no sense," the DeSolennis told in a letter to supervisors.
Karen Sanders, who was on the county's Advisory Redistricting Commission, which worked with county staff to create the four draft maps for the Board of Supervisors to consider, said the first option is the best while the third is the worst.
"I think with Map 3, the poor supervisor would have to be every place all the time," she said. "It would be just too much."
At the Board's Nov. 9 meeting, most supervisors agreed that Map 3 wouldn't work for the community.
Documents:
---
SHARE →