---
Jessica Cejnar Andrews / Wednesday, Nov. 24, 2021 @ 5:29 p.m.
Task Force Battling Hunger in Del Norte Aims To Distribute 900 Food Boxes This Holiday Season
---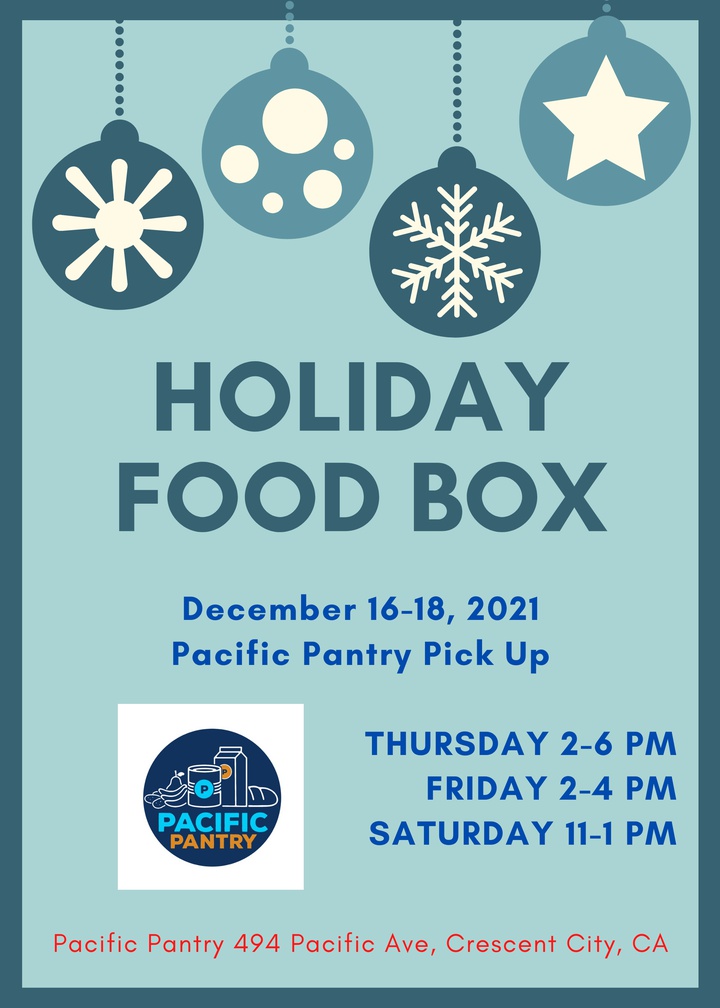 Organizations battling hunger in Del Norte County plan to distribute 900 food boxes to their clients this holiday season.
A program with the Del Norte Food Security Task Force, the Holiday Food Boxes will be available regardless of an individual's ability to access a kitchen, according to Amanda Hixson, program director for the Community Food Council of Del Norte and Adjacent Tribal Lands. The boxes can also be low sodium and sugar free, she said.
"Last year it was one box type — everybody got the same thing and some people ended up with items they couldn't use," Hixson said. "We had full frozen whole chickens in there and so that was definitely not usable by people that don't have a kitchen or who only have a microwave. We feel like we are going to be better tailored to what people will be able to use based on what they have access to."
Those who have access to a full kitchen will receive fresh onions and potatoes as well as fresh eggs while clients who only have access to a microwave will receive items that just need to be re-heated.
Clients who don't have access to a kitchen or even a microwave will receive shelf stable items or items that just need hot water to warm up, Hixson said.
The organizations taking part in the Food Security Task Force include Rural Human Services, Pacific Pantry, Open Door Clinic, the Seventh Day Adventist church, United Methodist Church of Crescent City, the Del Norte Senior Center, Our Daily Bread Ministries, Del Norte Mission Possible and the College of the Redwoods pantry.
According to Hixson, the Del Norte Senior Center will be distributing food boxes to its clients living in Redwood Senior Apartments or who take part in its Meals on Wheels program. The two churches will be distributing food boxes to the needy among their congregation and the CR pantry will be distributing boxes to college students in need.
Pacific Pantry will have about 215 boxes and will distribute them on a first-come first-served basis to anyone that comes to during its operating hours from Dec. 16 through Dec. 18, Hixson said.
Volunteers will be assembling boxes between Dec. 6-15 at Rural Human Services. Anyone wanting to help is welcome, Hixson said.
The Del Norte Food Security Task Force is in the middle of sourcing box contents, but for the low sodium and sugar free boxes, most items come from any regular grocery store, such as low-sodium canned beans. Other items come from Redwood Empire Food Bank, which is based in Santa Rosa and serves Northern California.
Eggs are coming from Alexandre Dairy, Hixson said. Cheese is coming from Rumiano Cheese Company. The Food Security Task Force is also taking special orders at Walmart, Fred Meyer and Grocery Outlet, Hixson said.
"All boxes are getting canned ham, which is high in sodium, so there will be a substitution for boxes that are low sodium and also for the Seventh Day Adventist church. They're going to have chicken thighs as protein," she said. "If it's a no-kitchen box then it's going to have canned salmon or something like that that doesn't have as much salt as canned ham."
The Task Force is also slated to receive donations of food from the Del Norte County Fairgrounds Holiday Fair the first week of December. Other organizations to hold food drives include Home Depot, Open Door Clinic and various local schools.
"If people can specifically reach out to us and ask what items we need, that's always helpful," Hixson said.
Pacific Pantry will be open for food box distribution from 2 p.m.-6 p.m. Dec. 16, from 2 p.m.-4 p.m. Dec. 17 and from 11 a.m.-1 p.m. Dec. 18.
Rural Human Services will distribute its holiday food boxes from 9 a.m.-2 p.m. Dec. 16.
For more information about volunteering, call Amanda Hixson at (707) 464-0955 extension 2116 or email her at ahixson@frcredwoods.org.
---
SHARE →