---
Jessica Cejnar / Thursday, Sept. 16, 2021 @ 5:20 p.m. / Education, Elections
Del Norte Unified, County Office of Education Seeks Public Input In Transition to Area-Based Elections
---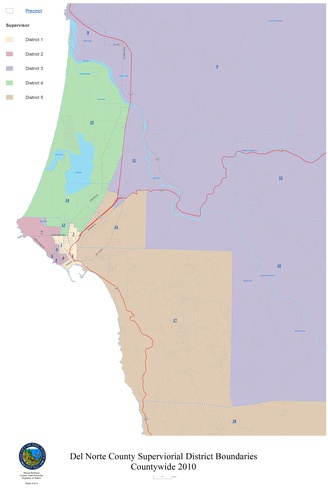 Del Norte County education officials have begun a process that could lead to changes in the way voters choose who they want to represent them on the local school board.
In August, the Del Norte County Board of Education and the Del Norte County Unified School District Board of Trustees approved resolutions of intent to move from a "hybrid at-large" election model spanning the entire county to area-based elections.
Starting in the 2022 general election, instead of being able to vote for any candidate running for school board in Del Norte County, voters may only be able to choose among the candidates running to represent the Trustee Area in which they reside.
The idea is for the DNUSD and the County Office of Education, which share the same jurisdictional boundaries and policymakers, to avoid a lawsuit for potential violations of the California Voting Rights Act, according to DNUSD Board President Angela Greenough. However, the district's election model has long been a topic of conversation, she said.
"When Judy Smith was on it and even Roger Daley, the discussion was, 'We should talk about what it would look like to be voted on by district,'" Greenough told the Wild Rivers Outpost on Thursday, mentioning previous School Board colleagues. "But the hangup was we needed Census data."
In an Aug. 12 presentation to DNUSD trustees, Jonathan Berry-Smith, an attorney with Walnut Creek law firm Lozano Smith, said at-large voting is an election model subject to litigation under the California Voting Rights Act, or CVRA.
Approved in 2001, the CVRA prohibits at-large elections that result in "racially-polarized voting." According to Berry-Smith, a district-based or by-trustee area voting model is immune from liability under the CVRA.
Several public agencies around California have transitioned to area-based voting models as a result of a plaintiff issuing a demand letter threatening legal action, Berry-Smith said. Under the CVRA, jurisdictions have a safe harbor period of about 45 days after receiving a demand letter to adopt resolutions of intent and about 90 days to transition from an at large-based election model to by-area elections, he said.
"There's an extremely high cost of litigation and attorneys fees in trying to defend against an at-large method of election or hybrid method of election," Berry-Smith said. "No public agency to date has successfully defended a CVRA challenge. There is one case pending, but it's currently going before the California Supreme Court. I don't think any public agency should rely on that at the moment."
Resolutions of intent let the public know the School Board is starting the process of transitioning election models. However, a series of public hearings is necessary before that process is concluded, Berry-Smith told trustees in August.
The first two public hearings allow the public to weigh in on what they think potential district boundaries should look like, Berry-Smith said, referring to these as "pre-map hearings." These occur before maps are developed and must be held within 30 days of each other.
After the agency enlists the services of a demographer to draw those maps they go before the public for another set of hearings, Berry-Smith said.
The public gets yet another chance to weigh in on final Trustee Area maps before the Board of Trustees approves it, according to Berry-Smith.
Finally, the County Committee on School District Organizational Approval has the ability to approve the adoption of by-Trustee Area elections for both DNUSD and the Del Norte County Office of Education, Berry-Smith said. The public gets a chance to provide input at this stage in the process as well, he said.
"This Board also sits as a County Committee," Berry-Smith said. "The County Committee would open after the district and county boards close in order to conduct this hearing and take this final vote. And one thing to note is the County Committee would need a two-thirds vote to approve a transition or a change in election."
With data from the 2020 U.S. Census is set to be released, the Del Norte County Office of Education and the DNUSD Board of Trustees held its first "pre-map hearing" on Sept. 9. The second hearing is scheduled for Sept. 23.
At that hearing, PlanWest Partners Senior Planner Colette Santsche and her colleague, Spatial Analyst Jason Barnes, introduced trustees to the process they go through to re-draw district boundaries. According to Barnes, the goal is to ensure there's an equal distribution of population within trustee areas and to adhere to the Voting Rights Act, "which in a sense strengthens minority voters within those districts."
According to Santche, traditional redistricting principles also dictate that "identifiable communities of interest" be preserved.
"We think a lot about what defines a community — the geographical area or shared interests or characteristics; social and economic ties," she said. "It is a balancing act with regard to looking at should a community be included within a single trustee area for the purposes of effective and fair representation or would it benefit from being in multiple districts or trustee areas?"
Santsche said demographers look at the number of residents within a neighborhood when making that determination, including at the percentage of people of color, income levels and other demographic information.
Noting that the Del Norte County Board of Supervisors has also begun a redistricting process, Santsche said she and Barnes would be following their progress.
"They're going to be looking at the same hearing process and pre-mapping and second map hearings," she said. "We'll be coordinating with them as well on what the various options are."
The DNUSD and Del Norte County Office of Education trustee areas are contiguous with the current Del Norte County Supervisorial Districts, though those elections are held by district.
Though they were unwilling at having the school district be open to a lawsuit, some trustees were reluctant to let go of the current election model. On Aug. 12, though he didn't know exactly when it happened, Trustee Area 1 representative Don McArthur said it was Del Norte County voters who chose the hybrid at-large election model DNUSD operates under.
McArthur said while in some areas of California it may be impossible for minority groups to elect members that represent them, he wasn't sure that was an issue for Del Norte County.
"We have two problems. One is a legal problem — we could be sued for not accommodating ourselves to the law in this way," he said. "And the second, we may or may not have a racial imbalance. My concern is we're trying to address the first without figuring out whether we have the second — whether it exists at all in this community. And in doing that, are we abandoning the equity of everybody in the county being served by all members of the board?"
At that Aug. 12 meeting, McArthur's colleague, Trustee Area 4 representative Charlaine Mazzei said the idea that the Board of Trustees represents all Del Norte County students regardless of what trustee area they live in is a culture the Board adopted.
Noting that Redwood School is within her trustee area boundaries, Mazzei admitted she may feel an obligation to speak for Redwood than another school outside her district, but she said she's still considering the good of all students.
On Thursday, Mazzei also pointed out that though Redwood is in her trustee area, a lot of families that live in other parts of the county — outside Trustee Area 4 — send their kids to Redwood through the inter-district transfer program.
"Their kids go to Redwood, but they wouldn't necessarily get to vote," Mazzei told the Outpost. "I still represent all schools. I feel like I have a responsibility to raise up the needs of schools that are in my area and so, that's another question — if we do this by-trustee area then those families who have done inter-district transfers may not have representation from the person who is in the district their kid goes to school in."
Noting that she and her colleagues have yet to see an analysis of the Census data, Greenough said she's interested to see what redistricting does to the makeup of the district as a whole and the Board of Trustees in particular.
"What will the make up of the board be like for Klamath and Smith River?" Greenough said, using the two communities north and south of Crescent City as an example. "We do have a large Native American population that lives in Crescent City versus Klamath and more people are moving closer into town than in the outlying communities. It will be interesting how it could possibly change (the) makeup."
---
SHARE →