---
Jessica Cejnar / Monday, March 1, 2021 @ 3:53 p.m. / Education
DNUSD Offering No Salary Increase To Teachers, Citing the Need of a Loan to Pay Its Bills
---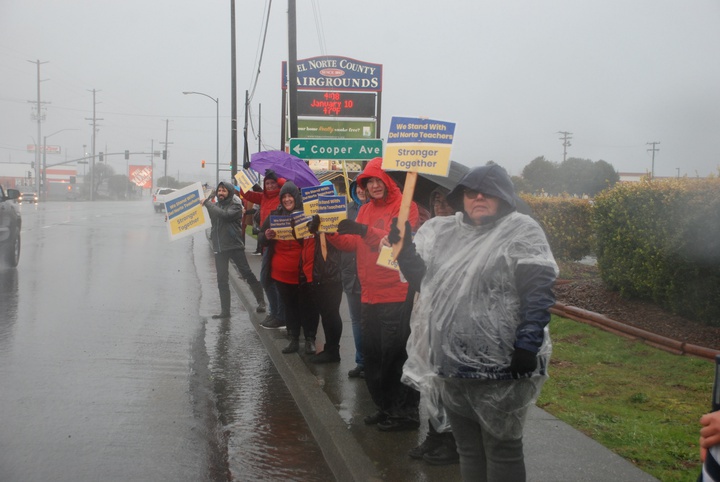 Previously:
• DNUSD, Teachers Union to Start Negotiating New Contract; DNTA Calls For 5 Percent Increase To Salary Schedule
###
With Del Norte Unified School District having to take out a loan to meet its financial obligations this year, officials aren't offering a salary increase to teachers this year, according to its human resources director.
DNUSD HR Director Coleen Parker presented the district's proposed changes to certificated staff's three-year contract to trustees on Thursday. Parker said the district isn't proposing any changes to the salary schedule. In her staff report, she noted that the district has taken out a tax revenue anticipatory note, or TRAN, this year.
"Borrowing money is not a good thing," she said. "And we need to make sure that we are fiscally solvent."
Parker's presentation of the district's initial 2021-22 proposal for the Del Norte Teachers Association comes after the union that represents certificated staff presented its proposal.
Among DNTA's asks were a 5 percent increase to the salary schedule and an increase in health and welfare benefits, according to DNTA lead negotiator Paige Thompson.
DNTA also asked to clarify Article 4 in the contract regarding the ability to strike. DNTA called for either allowing a strike or eliminating the provision entirely.
On Thursday, following Parker's presentation, the DNUSD Board of Trustees held a public hearing on DNTA's proposed changes to the contract, though no one commented.
During her presentation, Parker addressed a variety of clarifications and tweaks DNUSD proposes to make to the contract.
When it comes to the ability to strike, Parker said DNUSD proposed language requiring teachers to "minimize the disruption to the educational environment."
"To ensure the wellbeing of students is protected and to make sure we're taking care of them while we're going through things like negotiations," Parker said. "We're working with DNTA on that."
When it came to teacher salaries, Parker addressed those who teach career technical education classes. Those instructors undergo a variety of different examinations based on their content area, but don't receive recognition on the salary schedule.
"We want to address that," she said.
Parker also noted that DNTA may make changes to its healthcare insurance, noting that the union will also be able to vote on whether to stay with composite or go with tiered rates. Parker said if DNTA leaves its current provider, North Coast Schools Medical Insurance Group, the health and welfare component of the contract will need "significant revision."
According to DNTA President Marshall Jones, union members voted to leave North Coast Schools Medical Insurance and will choose one of three insurance options available in the area. This comes after a health committee comprised of district management, classified and certificated staff have been meeting since October to determine the advantages and disadvantages of each plan.
Webinars will be held next week before DNTA narrows down a choice.
At the tail end of a report on California Governor Gavin Newsom's 2021-22 budget proposal, Assistant Superintendent of Business Jeff Napier said Thursday that DNUSD will take out a TRAN of $2.25 million instead of the $6.2 million he asked the Board of Trustees to authorize in January.
The TRAN was necessary for the district to meet its payroll and other financial obligations due to the state deferring up to $7.76 million to the 2021-22 fiscal year.
According to Napier, DNUSD's deferrals began in February and is expected to last through June. However, Newsom is proposing to pay down all the new deferrals with the exception of June's deferral, Napier said.
Last year DNTA and DNUSD finally agreed on a contract revision that included a 2 percent increase to the salary schedule and a 2 percent increase to flat dollar stipends more than a year after those negotiations began.
Negotiations for DNTA's entire three-year contract should have begun when it ended on Aug. 31, 2020, but due to COVID-19 both parties agreed to postpone those discussions.
Documents:
• DNUSD Initial Proposal to DNTA
• DNTA Sunshine Proposal 2021-22
---
SHARE →