---
Jessica Cejnar / Tuesday, June 22, 2021 @ 3:05 p.m.
Supervisors Acknowledge Klamath Residents' Struggles With Last Chance Grade, Air Concerns About Proposed Permanent Fixes
---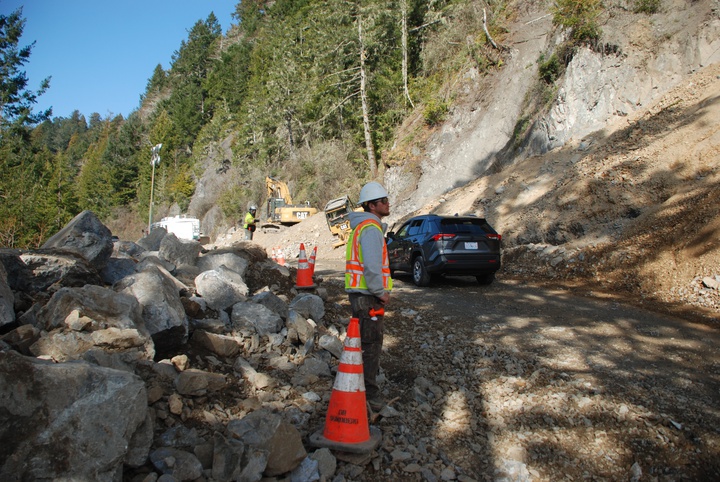 Previously:
• For Klamath Residents, Getting to McKinleyville, Arcata, Eureka is Easier Than Traveling to Crescent City
• Del Norte Supervisors Lukewarm on Proposed Last Chance Grade Options
• Permanent Fix for Last Chance Grade Narrowed Down to Two Options
###
Complaints from Klamath residents struggling to get to Crescent City prompted a lengthy off-agenda discussion amongst county supervisors about the current emergency project at Last Chance Grade and two proposed fixes.
Del Norte County District 2 Supervisor Valerie Starkey told her colleagues Tuesday that she spoke with Caltrans District 1 Director Matt Brady, who assured her that the department was looking into alternatives to the current closure. However, she said, none of the alternatives will satisfy "100 percent of the people."
"My concern and focus is on the residents of Klamath," Starkey said during Board reports. "They've lost jobs because they're chronically tardy to work. They're not getting medical attention in a timely fashion and some of the other things that come along with that. I'm going to be in close contact with Caltrans to make sure we come up with some solution to make sure we mitigate that."
The complaints Starkey mentioned were aired during a Facebook post June 15 started by Klamath Glen resident Chrystal Helton, who said she wanted to get the Board of Supervisors' attention.
During that discussion, people described being separated from elderly family members, having to stay the night in Crescent City to access needed medical treatments and arriving home from work too late to see their children.
Many said traveling to McKinleyville was faster than braving Last Chance Grade.
On Tuesday, Klamath's representative on the Board of Supervisors, Bob Berkowitz — who has missed six meetings since the beginning of January due to health issues he said are resolved — steered the conversation to the two permanent alternatives Caltrans announced in April.
Narrowed down from seven, the two proposals include an inland tunnel costing an estimated $1.1 billion to $2 billion that allows U.S. 101 to bypass the landslide entirely.
The second alternative leaves the highway where it is currently, but uses a large influx of money — an estimated $300 million, according to Caltrans' Last Chance Grade website — to permanently stabilize the hillside.
On Tuesday, Berkowitz called the two proposed alternatives "unconscionable."
"They rejected all of the other alternatives but these two — the most expensive and the least expensive alternative," he said, adding that the state likely wouldn't spend $1 billion on Del Norte County. "They had committee meetings for months trying to come up with alternatives and I think it's time we took a position, probably at the next meeting or another meeting to say what our feelings really are and what we as a board want to have as far as an alternative route."
Berkowitz's comments come about two months after his colleagues expressed their skepticism about the two proposed fixes at Last Chance Grade.
On Tuesday, District 4 Supervisor Gerry Hemmingsen said of the seven proposed choices, most in a stakeholder committee focusing on the project agreed that keeping the road where it currently is wasn't acceptable.
An alternative the committee did like would have moved the highway onto a ridge above its current alignment, Hemmingsen said. But the stakeholder committee felt the other alternatives "were not any better than the route that we're on now," he said Tuesday.
"They were unstable and the resource impacts were huge," Hemmingsen said. "Things change. Now the thinking is they can keep the road on the alignment, and it does have some drawbacks, but they think they can be overcome with doing some dewatering. They're still working on this. This is not set in stone, but these are the alternatives they're working on."
Though he acknowledged that the alternative that includes the tunnel is expensive, Hemmingsen said he didn't think it was realistic to say that Caltrans wouldn't spend the $1 billion to $1.5 billion on that project.
"If that is the alternative we have to go with, we have to get the federal government to help," Hemmingsen said. "This is the best information we have at this time and that's where the effort is going to be placed at this time, on these two alternatives, right now. It may come to a point that these are not going to work and they'll do something different."
District 1 Supervisor Darrin Short also chimed in, stating that one of the reasons Caltrans decided a tunnel would be a viable option for a permanent fix to Last Chance Grade is because of potential environmental litigation. The other proposed alternatives carried the possibility of other landslides as well as the need to remove old growth redwoods "that were going to be a litigation nightmare," Short said.
"We didn't want to stall the effort to bypass the grade anymore than it already has been," he said. "Look at Richardson Grove's litigation. It's been 13-15 years and they've made no headway and they're not cutting down a single old growth tree."
Hemmingsen also praised Caltrans and the contractor the department is working with for continuing to keep the road open even if it is open to one-way traffic right now.
"They're risking life and limb, and I mean that literally, to keep that road open," Hemmingsen said, referring to a March 16 incident in which a fallen tree injured two contracted workers and a Caltrans employee. "A lot of thanks has to be done to them and they're not taking this lightly."
Hemmingsen said he's hoping Caltrans will choose one of the two proposed alternatives within six months to a year.
Motorists on U.S. 101 have experienced two-hour delays during the week since Feb. 13 when rain brought debris down onto the road. Though crews were able to reopen the road a few days later, slide activity continued prompting Caltrans to bring heavy equipment into the area.
The closure at Last Chance Grade prompted the Board of Supervisors to declare a state of emergency Feb. 23. Caltrans staff and crews with contractor GR Sundberg have worked since then to stabilize the hillside.
On Tuesday, Caltrans District 1 spokesman Myles Cochrane said the department and its "partners" are looking into ways to enhance efficiency during the summer.
"This includes potential schedule changes to work operations, though we have not yet finalized hours," he told the Wild Rivers Outpost. "We will conduct a lot of outreach if and when a new closure schedule is finalized. All that said, safety remains our No. 1 priority."
---
SHARE →