---
Jessica Cejnar / Friday, July 23 @ 5:32 p.m. / Crime
DNSO Says Tamera Sanders Died of Smoke Inhalation in May 2 Fire, Manner of Death Still Under Investigation
---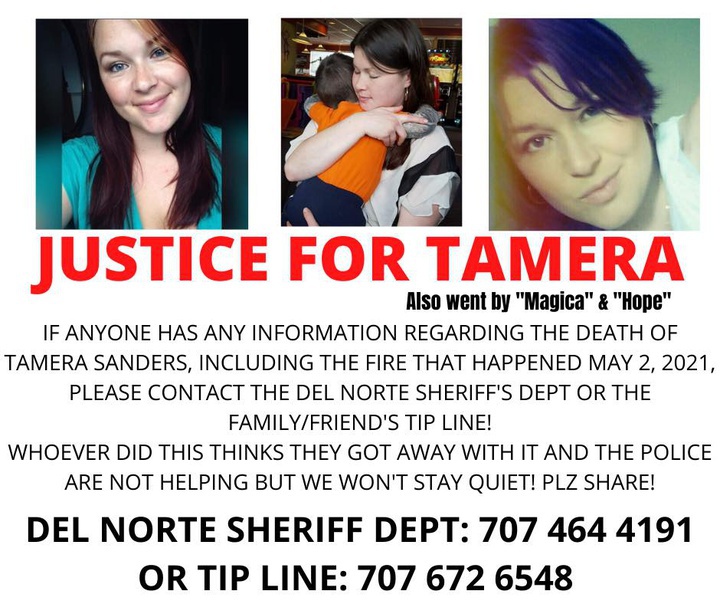 Previously:
• Body Found After Barn Fire Identified As Tamera Sanders, Known Crescent City Area Transient
###
Though a Del Norte County Sheriff's Office investigation determined that Tamera Sanders died of smoke inhalation, DNSO says it's still seeking information in connection with her death.
From a DNSO Facebook post Friday:
The DNSO is seeking any information you may have regarding the following active investigation:

On May 2nd, 2021, just before midnight, multiple public safety agencies were dispatched to a structure fire near 100 Bertsch Avenue. The large building was fully involved and took responding fire companies several hours to extinguish it. Sadly, a woman that was later identified as Tamera Sanders was located deceased inside the remains of the building.

Her cause of death was medically conclusive and determined to be carbon monoxide poisoning due to smoke inhalation. The manner of death remains undetermined as this investigation is currently active.

Information has already been released detailing that evidence of arson was not located but it's important we remember that arson has not been ruled out. We are investigating this incident as a suspicious death. Evidence is often destroyed in fires.

Tamera Sanders was not a resident at the address and it is believed that nobody was residing in the building. The reason she was inside the building or how she came to be there is unknown.

Tamera may have been experiencing challenges towards the end of her life but it is important to remember that she was a mother, daughter, loved-one and friend.

If you have any information that may help conclude this investigation and bring closure to her family, please contact the Del Norte County Sheriff's Office at 707-464-4191.

It should also be mentioned that if this case is determined to be a homicide, family and friends are offering a reward for information leading to a conviction.
---
SHARE →