---
Jessica Cejnar / Friday, July 23 @ 12:03 p.m. / Arts, Community
Drum Away Negative Feelings on Saturday
---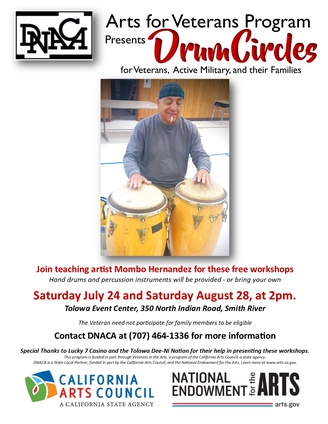 Mombo Hernandez will lead the first drum circle of the year on Saturday at Lucky 7 Casino.
From the Del Norte Association for Cultural Awareness:
Just a quick reminder that our first Drum Circle of the year is being held THIS SATURDAY, July 24, at 2pm. The location is the Tolowa Event Center, 350 North Indian Rd, Smith River (inside the Lucky 7 Casino complex). As always, these events are free for Veterans, active military, and their family members. Some hand drums and percussion instruments will be provided, or bring your own. More information is on the attached flyer, or at

dnaca.net

.

And did you know that drumming is healthy for you physically and mentally?

It makes you happy.

Participate in a drum circle and you will see how happy it makes you. Part of that reason is because drumming releases endorphins, which are the feel-good hormones in your body.

Plus, it helps you release negative feelings.

You can literally drum out your feelings. The physical movement of hitting the drums can help remove negative feelings and drumming has even been used therapeutically to help people with PTSD.

Of course, drumming is a great form of creative expression

. When you drum in a group, you get to express yourself, and create music with those who are in the circle with you.

And here's one everyone could use now, drumming boosts your immune system.

Studies show that drumming circles boost the immune system and lowers stress hormones.
---
SHARE →