---
Jessica Cejnar / Tuesday, Jan. 5 @ 6:14 p.m.
Crescent City Harbor Commissioners Discuss Refinancing USDA Loan, EV Fueling Station Idea
---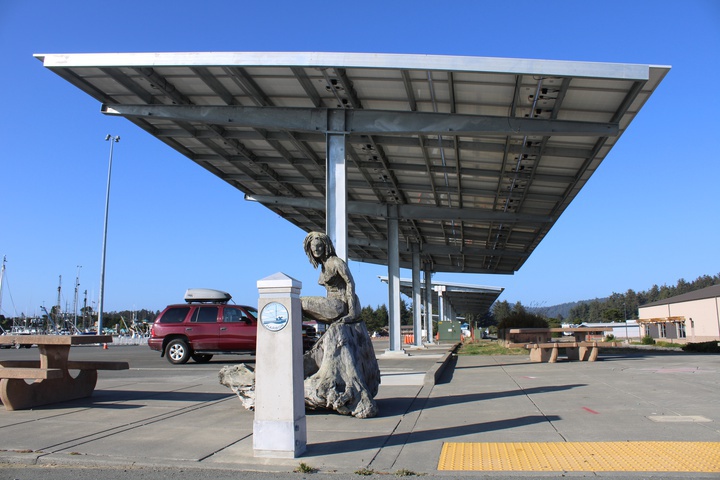 A proposal to refinance the Crescent City Harbor District's loan with the U.S. Department of Agriculture took on new urgency Tuesday when commissioners were told their annual payments would increase from $262,000 to $1.2 million in four years.
Renewable Energy Capital CEO Alex Lemus, who is working with a harbor district committee to revitalize the port, put forward the option of bundling the debt with a larger financing option to push out that debt service. Of the $5.4 billion USDA loan, the principle payment in 2025 would be $514,723, while the interest would be $786,792, Lemus said.
"Each year the principle payment goes up and the interest goes down, but the dollar amount stays the same," he said. "There's an opportunity to bundle it with a lot of the development you're doing."
Renewable Energy Capital is the company behind the rooftop and carport solar energy system that went online at the harbor last autumn.
The Crescent City Harbor District took out the $5.4 million loan with the USDA to rebuild the inner boat basin following tsunamis in 2006 and 2011. The loan repayment, along with facilities, including Citizens Dock, in need of repairs and an ongoing deficit was the impetus for Measure C, a proposed 2 percent transient occupancy tax increase on county lodging facilities. Voters approved Measure C in the November 2018 election.
On Tuesday, Harbor District Board President Brian Stone said of the $262,000 annual payment to the USDA, only about $60,000 consisted of the principle. The remaining $200,000 is in interest, he said.
Refinancing the loan could lower that interest by a percentage point or more, Stone said.
"We could drop anywhere from $30,000 or $40,000 up to as much as $60,000 or $70,000 a year on our interest," he said. "And that is not doing any structural financial changes to basically lower our interest rate."
According to Crescent City Harbormaster Charlie Helms, since the harbor's loan is with the USDA, the harbor district would need to work on refinancing it.
Stone proposed creating an ad-hoc committee of two commissioners to work on refinancing the loan.
Commissioner Carol White initially expressed interest, but then suggested bundling that issue into the overall discussion about revitalizing the port.
"Let us try to exhaust one avenue at a time," she said.
Before the discussion about the USDA loan, Stone reported that the revitalization committee has discussed turning Spotty's Car Wash on U.S. 101 into a fueling station for electrical vehicles complete with a country store offering groceries and other supplies.
Stone said Lemus envisions solar canopies, similar to those near the inner boat basin that, along with electricity from a storage panel, would feed the charging stations. There would be space for fast, medium and slow chargers, he said, and people could shop while their cars are being refueled.
Stone also pointed out that California Governor Gavin Newsom wants to phase out the sale of combustion engine vehicles by 2035.
"If you look at European and Japanese manufacturers, they're all in the business of transforming themselves into electric cars," Stone said. "The same thing's going on with Detroit… The idea here was to start tapping into something that's going to happen in the future where we could have something like a gas station but instead it would be a charging station."
Stone's colleague, Wes White, who is also on the revitalization ad-hoc committee, also asked commissioners to think about an integrated theme for the port. He threw out a New England-style theme or a red and white theme to make buildings look similar to a Coast Guard station as examples.
"I think at some point we need to have a discussion, but I wanted to get that seed planted in your head so you guys can start thinking about, 'OK I'd like to start seeing a New England theme or a Coast (Guard) theme," Wes White said.
There are currently Tesla charging stations near the Del Norte County Library at Front and K streets as well as at Walmart. The port's clerk, Mike Rademaker, who works near the Front Street charging stations, said about six cars use them on any given day.
Noting that electrical vehicles are an up and coming trend, Lemus said if done right there's "some decent money to be made." Electric vehicle owners pay 30 cents per kilowatt hours to as high as 45 to 55 cents, Lemus said, which is higher than he thinks it should be.
"We would like to see the target price be in the low 20s," he said, referring to cents per kilowatt hour. "Low 20s equals to approximately $2-plus per gallon of gasoline, that's the conversion we use. It depends on what kind of vehicle, but we would love to start designing and start solar for Phase 2."
---
SHARE →