---
Jessica Cejnar Andrews / Friday, Dec. 17, 2021 @ 5:42 p.m. / Community, Homelessness
The Legacy: A Year Following Its Purchase, Del Norte County Will Begin Physical Transition to a Permanent Supportive Housing Program
---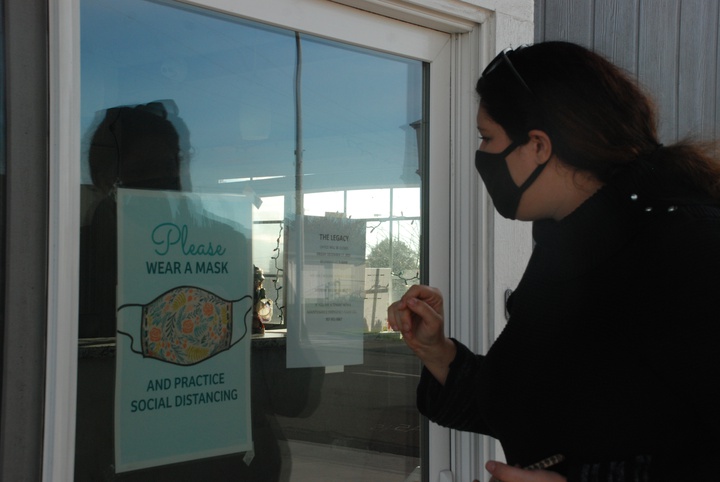 Previously:
• Supervisors Approve Motel Purchase For Supportive Housing; Coastal Inn & Suites Already Houses 27 Percent of Del Norte's Homeless, DHHS Director Says
• County Plans to Use $2.4 Million Grant To Purchase Local Motel, Convert It Into Permanent Housing for the Homeless
###
More than a year ago, Nate S. told Del Norte County supervisors that if it wasn't for The Legacy, he would still be homeless.
Nate S., who asked that his first name and last initial be used, had been without shelter for about a week and had been sleeping on a friend's couch when he moved into what was then the Coastal Inn & Suites at 665 L Street in Crescent City in June 2020.
Nate S. had been living at the former motel, now called The Legacy, for about four months by the time the Del Norte County Board of Supervisors approved its purchase using $1.9 million in state Project HomeKey dollars. He was the first of a parade of clients living at The Legacy to put a face to the homelessness issue for county supervisors back in October 2020.
Since then, Nate said he had a job at Grocery Outlet, though he had to leave due to a fractured hand, and he's working on paying down his back child support.
"This program here gave me the opportunity to not be stuck on the street with nowhere to go and unable to fend for myself," Nate S. told the Wild Rivers Outpost on Friday. "I feel a lot more capable, aside from the hand, being able to walk around and do stuff, play with my children and have a normal life again."
Nate S. is one of 37 residents who currently live at The Legacy. Of the facility's 30 units, about 23 are occupied. According to Heather Snow, director of the Del Norte County Department of Health and Human Services, the rooms will stay vacant as the county begins renovating The Legacy so it meets the criteria for permanent supportive housing.
Starting after the beginning of the new year, the "physical construction process" includes adding kitchenettes to each of The Legacy's rooms, Snow said. There will be a laundry room for the tenants and a community kitchen, she said.
And though she's not yet sure what will happen with the former motel's pool, Snow said she hopes to be able to turn it into a garden for the tenants.
"Part of the requirement for HomeKey is it has to be leading to permanent housing or be permanent housing," Snow told the Outpost. "And with there being such a shortage of housing stock in Del Norte County, we thought we want to make more housing if we can."
Once The Legacy meets the criteria for permanent supportive housing — kitchenettes in each room is a requirement to achieve this goal — Snow said its tenants will be eligible for U.S. Department of Housing and Urban Development vouchers through the Crescent City Housing Authority.
At that point, The Legacy will also have to charge rent, Snow said. Those leases will be charged on a sliding scale based on the tenant's situation, which most support, she said.
"People want to contribute," Snow told the Outpost.
Del Norte County began housing those experiencing homeless at the Coastal Inn & Suites at the start of the COVID-19 pandemic. It was one of the only motel to agree to house the homeless during the pandemic, Snow told supervisors in October 2020.
"We started with a smaller number of rooms because we were not sure how long this would last and it quickly expanded to us taking full capacity," she said. "We brought two amendments to the county administrative officer to increase the number of rooms."
When she brought the motel's proposed purchase to supervisors for consideration, Snow said one of the stipulations with the state's Project HomeKey program was that it must house at least 5 percent of the county's homeless.
On Friday, Snow said, The Legacy was housing 16 percent of Del Norte County's homeless when supervisors OKed its purchase. She said she based that number on the county's 2019 Point in Time Count, a HUD-required snapshot of homelessness in the community.
When asked about the current picture of homelessness in Del Norte, Snow said that was difficult to answer.
"I don't really think we're going to know what that landscape looks like until the pandemic ends, if it ever ends," she told the Outpost. "It's just so hard to know what's going to happen and, honestly, no one's really been bringing up homelessness politically for awhile I've noticed."
Since the county purchased The Legacy, it has hired a housing services manager and a behavioral health specialist to work with clients, Snow said.
That housing manager is trained in the use of Narcan and has actually used Narcan to stop a drug overdose, Snow said.
Addressing previous concerns about drug activity and emergency responses to The Legacy, Snow said as it continues its transition to a permanent supportive housing program, there will be a more "thoughtful composition of tenants."
New clients seeking housing at The Legacy are currently screened through the Homeless Management Information System's vulnerability index assessment, Snow said.
"We're still dealing with a group of people who were put here as an emergency with the pandemic, and we thought it could end any day," she said.
Nate S. also addressed previous concerns from former supervisor Roger Gitlin and other members of the public about The Legacy's location on U.S. 101 in the middle of Crescent City. Nate S., said its location enabled him to walk to work at Grocery Outlet and will likely be close to any future job he gets.
Nate S. also pointed out that while some may take advantage of the opportunity at The Legacy, most are just trying to get by.
"This is an unreal opportunity you guys gave me," he told Snow. "I'm really lucky to be one of the ones that were given that."
---
SHARE →