---
Jessica Cejnar / Thursday, April 22 @ 1:13 p.m. / Community
Visitors Bureau Shows How Del Norte Tourism Fared During Pandemic
---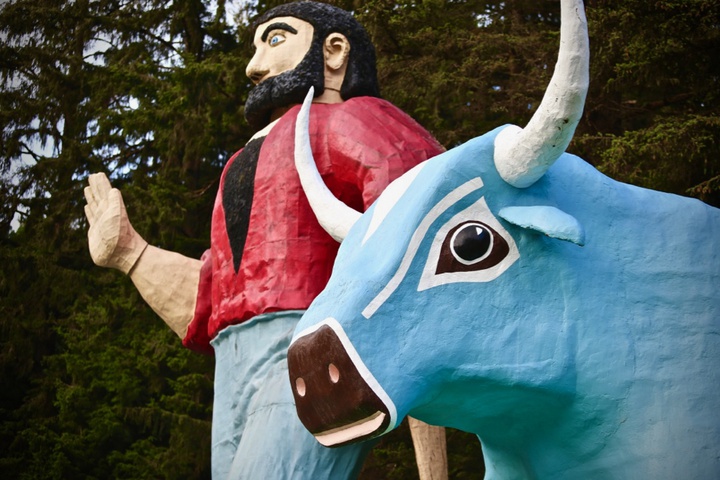 Previously:
• John Mayer Goes Outside — In Del Norte; Artist's Land Rover Promotion Example of 'Earned Media' Promoting Region
###
John Mayer's sojourn down Howland Hill Road for Land Rover may have been one of the more significant plugs for Del Norte County last year, but it was one of many.
The advertorial exposed Del Norte to a different audience and continues to have an impact with posts on Instagram and Facebook, said Lynette Braillard, founder of LuLish Design, the agent of record for the Crescent City-Del Norte County Chamber of Commerce and Visitors Bureau. But that ad was part of an overall increase to the Visit Del Norte website through promotions in Visit California, Google, the North Coast Tourism Council and other outlets, she told the Crescent City Council on Monday.
Traffic to the Visit Del Norte website grew from 8,421 in the 2018-19 fiscal year — the website launched April 1, 2019 — to 84,325 in the 2019-20 fiscal year. In the 2020-21 fiscal year, as of April 14, website traffic grew to 143,691, Braillard said.
Visit Del Norte paige views grew by 901 percent from 2018-19 to 2019-20, she said. So far, this fiscal year, website traffic grew from 70 percent from last year, Braillard
"During a COVID year, a pandemic year, we are still seeing huge growth in traffic," she said. "And this is only through April 14. We expect this to be a triple digit number by the end of the year."
During their year-in-review presentation, Braillard and Chamber Executive Director Cindy Vosburg gave some of the highlights of a year that was impacted by the COVID-19 pandemic. According to Braillard, they measure success by looking at the collection of transient occupancy, or lodging, taxes as well as sales taxes within Crescent City and Del Norte County.
Braillard said she also looks at the amount of traffic Visit Del Norte garners, noting that the bureau's paid ad campaigns, social media impressions and engagements are designed to steer people to the website.
Braillard said they also weigh traffic into the chamber's visitor center as well as the number of clicks links on the Visit Del Norte website receive.
In addition to building a connection with Visit California — the state's tourism marketing organization — Visit Del Norte also works with the North Coast Tourism Council, the Humboldt-Del Norte Film Commission and the 101 Things To Do guide, Braillard said.
Visit California now publishes Del Norte content on a regular basis, Braillard said.
According to Vosburg, much of the traffic to Visit Del Norte comes from people who saw content on Visit California.
"The leads we get from Visit California from ads is where somebody actually has to take an action," Vosburg told Councilors. "They have to sit down and order a visitor guide, they send it to Visit California through a return card and Visit California sends us the information and we send our visitor packs to that person."
Examples of Visit California promotions include an article on Enderts Beach, a California art feature that included Trees of Mystery, Klamath's golden bears and Crescent City's murals as well as a photo from Jedediah Smith Redwoods State Park leading the North Coast section in the 2020 Visit California visitor guide, Braillard said.
Visit California coverage of Enderts Beach also led to an article about it in American Airlines' inflight magazine, Braillard said. Journey, Washington State's AAA magazine, featured Jedediah Smith Redwoods State Park in a January 2021 issue, the San Francisco Chronicle featured Del Norte County's redwoods in a top-10 of the giant trees and SF Gate had a feature on Maitreya Village's hobbit hole vacation rental.
"We're always trying to push out local businesses, what they're doing (as well as) new and exciting things," Braillard said. "Overall, over 75 percent of the pitches we've given Visit California have been published. We're hoping that will increase — hopefully it'll be 100 percent."
Despite the pandemic, Braillard reported that in the quarter ending Dec. 31, 2020, lodging tax in the county was up 44 percent. She said local tourism representatives thought that was a mistake, but then realized that the county houses a lot of vacation rentals, which were faring better than hotels and motels.
In Crescent City, where most of those hotels and motels are, the quarter ending Dec. 31, 2020 was flat from the year before, according to Braillard.
Sales tax increased as well over the course of the year, Braillard added.
"Over the course of the year, sales tax increased collectively by 10 percent, and then room tax really was only down 19 percent," she said, adding those numbers weren't bad taking into account the pandemic's overall impact on the travel industry.
Councilors praised their work, with Mayor Pro Tem Blake Inscore noting that Braillard is also the agent of record for the North Coast Tourism Council, which has since been rebranded as North of Ordinary. According to Inscore, Del Norte County's relationship with the North Coast Tourism Council had been strained in previous years.
"The investment we're making because of having that relationship with Lynette, being able to provide a broad spectrum pitch to Visit California and representing all of the North Coast, bringing it to Del Norte County and bringing it into Crescent City is nothing short of amazing from where I started with the visitors bureau," he said.
Crescent City Mayor Jason Greenough also noted that hotel parking lots in Crescent City seem to be full.
"I'm almost certain quite a few of those people wouldn't have visited here if they hadn't had the impressions put in their lap to look at," he said.
---
SHARE →