---
Jessica Cejnar / Thursday, Sept. 24 @ 5:35 p.m. / Local Government
Crescent City Resumes Community Outreach For Beachfront Park Master Plan
---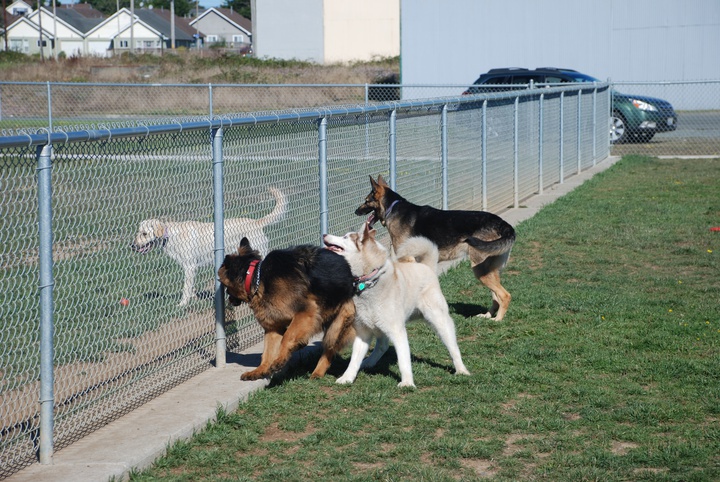 Previously:
• From Pump Tracks To Labyrinths, Del Norters Share Their Vision For Beachfront Park
• City Council Approves Resolution For $200K Prop 68 Grant, Additional $27,000 For Cultural Center Repairs
###
A year after Del Norters first shouted out visions for a future Beachfront Park, Crescent City staff will resume pursuit of state grant dollars that could help make those goals reality.
Staff hope to obtain a portion of $395 million in Proposition 68 dollars available for park projects statewide, City Manager Eric Wier told Councilors on Monday. Those dollars could be used to expand KidTown, construct a bike pump track and maybe build an amphitheater — park amenities Del Norters came up with at a handful of meetings last year.
To obtain that money, the city must finish updating its Beachfront Park master plan — a project cut short by the COVID-19 pandemic.
"We were set and primed to have this Beachfront Park master plan update starting in March of this year," Wier told Councilors on Monday. "Unfortunately this year didn't go as planned. COVID hit right about the same time and turned everything upside down for the city including a lot of projects we had underway at that point."
Last September, Crescent City staff asked residents to come up with potential projects for which it could obtain a non-competitive $200,000 Proposition 68 grant. At several public meetings, Del Norters proposed a bike pump track, labyrinths, a Bankshot Basketball course and expanding Kidtown.
City staff had also urged residents to propose potential amenities it could use to pursue a competitive Proposition 68 grant. Those dollars ranged from $200,000 to $8.5 million, recreation director Holly Wendt told Councilors in October 2019.
Proposition 68, the Park, Environment and Water Bond, was approved by California voters in June 2018. It authorized $4 billion in general obligation bonds for state and local parks as well as environmental, water infrastructure and flood protection projects.
During its initial community outreach campaign, Crescent City had used grants of $20,000 from the California Endowment and $90,000 from the California Coastal Conservancy.
In late 2019, the city hired Bay Area landscape architect PGAdesign to take the public's ideas and develop a finalized master plan.
According to Wier, the consultant had planned to present three proposed designs to the Crescent City Council in May 2020 and Councilors were to adopt a finalized master plan in July for submittal to the state.
Now, those three alternatives will be laminated and posted on large boards in Beachfront Park, Wier said. They could be near Stamp's Way and KidTown.
"The community will be able to go, view key concepts while having the atmosphere and ambiance in the park to envision what that might look like," Wier said. "There will be a Google survey on the city's website with the master plan's concepts and we've scheduled a public meeting, Zoom style, on Oct. 7."
Crescent City Mayor Blake Inscore asked Wier to place one of the information boards in the gazebo out of the elements.
The survey will close on Oct. 12, Wier said.
"We'll take all the comments, put them all together and come up with a preferred design," he said. "The preferred design will go before the Planning Commission and Council a few times. The Planning Commission will review a draft presentation somewhere around mid-November, a week before Thanksgiving. The Council will have an opportunity to weigh in on those and it'll be an opportunity for the public to weigh in again."
The Crescent City Council will approve the Beachfront Park master plan concept at a special meeting Dec. 1., Wier said. The grant application and completed master plan will be due to the state on Dec. 14, he said.
According to Wier, the state is looking to award $395 million for park projects in the current grant round. Communities can apply for up to $8.5 million, Wier said.
"We could easily have an application that would max $8.5 million," he said. "That could include expansion to Kidtown, a bike park — which itself is several million dollars."
Responding to a question from Councilor Alex Fallman, who asked if the community should "come in dreaming big," Wier said those ideas could represent a variety of components, including Del Norte County's relationship with Rikuzentakata as well as activities that promote healthy recreation.
Inscore went back to community discussions held in 2019 that included input from Sheryl Steinruck, a member of the Tolowa Dee-ni' Nation, who pointed out that Beachfront Park was once the site of Taa-'at-dvn.
"We need to maximize that opportunity to tell that historical story of our region," Inscore said. "I think the better job we do with that, the more competitive we're going to be with a grant that identifies the importance of recognizing the historical significance of our area."
---
SHARE →