---
Jessica Cejnar / Wednesday, Sept. 23 @ 4:47 p.m. / Fire, Local Government
'We're Going to Be Southern California Before We Know It'; Mayor Pro Tem Balks At Extending Beach Fire Ban Area
---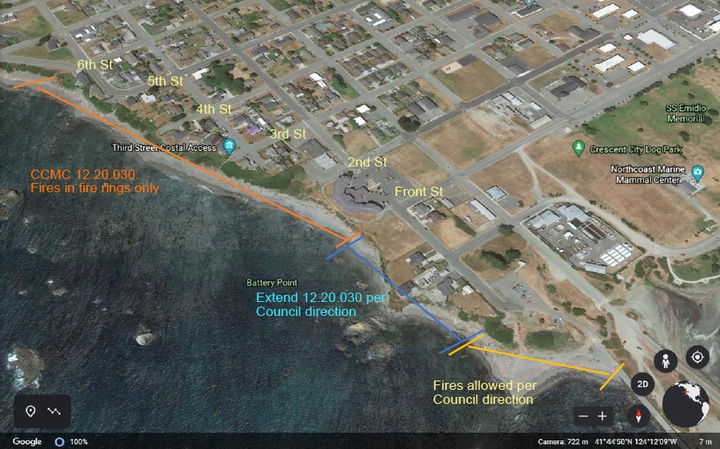 Previously:
• Crescent City Council Gets Heated Over Beach Fires, Call For Revamping 40-Year-Old Ordinance
###
Most Councilors agreed with setting limits on size, distance from vegetation and location when it comes to fires on the beach. But not Heidi Kime.
Crescent City's mayor pro tem balked at a proposal to extend a prohibition on fires to the end of private property on Lighthouse Way just before the Battery Point vista area.
Kime, whose home is across Pebble Beach Drive from the water, argued that the coastal access points are public property that shouldn't fall under a fire ban.
Including those areas in the prohibition, which primarily covers private property, is taking away her opportunity to walk across the street form her house to have a fire, she said.
"If we start regulating the magical things about this community and the opportunities for wonderful things for people to enjoy, we're going to be Southern California before we know it," Kime told her colleagues Monday.
Despite Kime's objections, the City Council on Monday went along with most changes staff proposed for the 40-year-old ordinance governing beach fires. The ordinance, section 12.20.030 of the Crescent City Municipal Code, prohibits fires on the public beach between Front and Sixth streets except in city-owned fire rings, which don't exist.
Staff are expected to return to the City Council next month with a changed ordinance that removes the fire ring reference in the area that's prohibited. The proposed changes would limit a fire's size to 4-feet by 4-feet, require they be built at least 20 feet away from vegetation on public property and prohibit the burning of non-organic material such as mattresses, according to City Attorney Martha Rice.
Crescent City Fire Chief Bill Gillespie, who broached the Council with changing the beach fire law at its Sept. 8 meeting, said a 4-by-4 foot fire is perfect for roasting marshmallows or hot dog and is easy to maintain and put out. He proposed the 20-foot set back from vegetation, saying that clearance would help keep a fire from getting out of control, especially due to an onshore breeze.
The ordinance's proposed changes allows people to have a fire safely, Gillespie said. At the Council's Sept. 8 meeting, Gillespie said Crescent City Fire & Rescue responded to 32 calls for beach fires that had gotten out of control between June 1 and Sept. 7. Roughly 10 of those occurred during the Independence Day holiday, he told Councilors
On Monday, Gillespie said since Sept. 8, his firefighters responded to two fire-related calls in the area between Front and Sixth streets.
"One was a report of a fire that had been abandoned on the beach," he said. "Folks had tried to put it out by covering it up and when we uncovered it, took the light layer of sand off, it flared up and away it went, so we put it out."
During the second "event," Gillespie said his firefighters contacted individuals at the end of Third Street who hadn't seen the sign notifying people that fires weren't allowed. He said they weren't aware Crescent City had an ordinance banning fires in that section of coast.
"They were very cooperative," he said. "They started to extinguish and we helped them extinguish and everybody parted ways. It was a good exchange."
During the discussion, Crescent City Manager Eric Wier discussed private property and where those boundaries are. He said he pulled several deeds belonging to homeowners between Sixth Street and the Battery Point vista, all of which stated the property ends at the high water mark of the Pacific Ocean.
Crescent City Councilor Jason Greenough said it makes more sense to have a prohibition of fires in that area because determining where public property starts and ends is difficult. But he said he didn't want to limit what's private property owners are able to do.
"Maybe we put an exception to make it known that it's illegal to start fires on private property without the permission of the property owner," Greenough suggested. "Maybe the limitation of the bonfire would be good — about the size and because of the vegetation that's there — but they need to be able to do what they want on their property."
Crescent City Mayor Blake Inscore said he too didn't want to include language in the rewritten ordinance that makes it illegal for homeowners to have a warming fire on their property.
As for Kime's objections, Inscore said he felt trying to manage fires within the small public access points, enforcing and educating the public on where they can build fires would be confusing.
"(If) they move 5 feet too far are we going to go down and cite them?" Inscore asked, pointing out that those public access points to the beach are only about 20 or 30-feet wide. "We're not going to put fences up that represent those areas. There's no way to identify for the general public where those areas would be. It would be impossible to really show them where that space would be. I don't know how we'd do that."
During public comment, both Tamera Leighton and Natalie Fahning, who have homes in the area, urged Councilors to accept staffs' recommendations. Leighton noted that after two hours of conversation at the Council's Sept. 8 meeting, they unanimously supported changing the beach fire ordinance.
"I further encourage you to install more fire rings to protect residents and pets," Leighton said. "To keep them from walking through burning hot sand in areas where you're choosing to allow fires."
Crescent City Council candidate Herman Rinkel noted that even though he doesn't have property on the bluff above the ocean, he's still impacted by smoke from fires on the beach.
"If you were to put fire right there on 3rd or 4th street, that smoke would come straight into my house and I really don't appreciate that," he said. "I don't want to see any kind of fire in those areas. It's just too small. We're in an area with dense housing. If you want an area with fire, put them outside dense areas."
In addition to coming back with a re-written ordinance, Inscore asked staff to investigate the possibility of installing more fire rings.
---
SHARE →