---
Jessica Cejnar / Thursday, Sept. 10, 2020 @ 6:43 p.m.
Crescent City Council Gets Heated Over Beach Fires, Call For Revamping 40-Year-Old Ordinance
---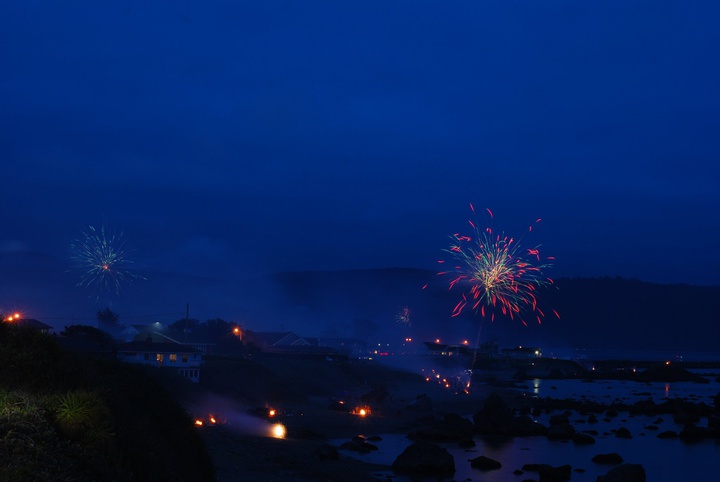 As emergency personnel battle wildfires to the east, Crescent City Councilors engaged in an incendiary debate on Tuesday over fires on the beach.
The two-hour discussion addressed a 40-year-old ordinance that prohibits beach fires between Front and 6th streets.
Crescent City Mayor Blake Inscore and Councilor Alex Fallman called for extending the ban to include the area south of Front Street to the end of Lighthouse Way and north of 6th Street to Preston Island along Pebble Beach Drive.
Fallman made a motion extending that south boundary from Front Street to the last home on Lighthouse Way. Inscore seconding the motion, though he said staff should look at whether the ordinance needs to be changed in a more "comprehensive way."
Councilor Isaiah Wright also called for installing fire rings near the access trail to Battery Point.
"If we give them a safe spot to do the fires, I got to believe that the vast majority of people are going to pick a safe spot to do it," he said.
Though the vote was unanimous, Mayor Pro Tem Heidi Kime and Councilor Jason Greenough argued that signs informing people of the rules and better enforcement of those rules would be a better way of addressing the issue.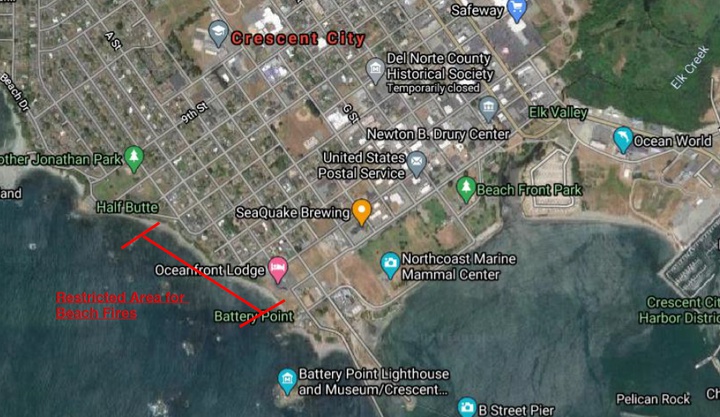 "We're not enforcing an ordinance that's been in effect since 1980," Kime told her colleagues. "Why don't we start enforcing it and see how things roll out?"
Greenough also echoed a statement Crescent Fire & Rescue Chief Bill Gillespie said that people often build fires on private property in the brush to escape the wind closer to the waterline. Greenough called for additional notices making the rules plainer to the public.
"People should be making their fires on the beach, they shouldn't be making it in the vegetation," he said. "I hate to just spell this out 'cause it should be commonsense to people. Maybe commonsense isn't that common anymore."
Though Councilors unanimously agreed with Greenough's argument regarding better notices, they were unable to reach an agreement on whether the prohibition of fires should be extended.
Crescent City Municipal Code 12.20.030 states that individuals may only start fires in city-provided rings on the beach between Front and 6th streets. However there are no fire rings between Front and 6th Street, City Manager Eric Wier said.
The city maintains four fire rings along Howe Drive near Beachfront Park, he said.
The municipal code prohibits abandoning fires on public beaches until it's completely out. It also establishes a penalty of at least $300 per offense for individuals who have ignited or are tending a beach fire outside a fire ring or who have abandoned a beach fire.
Between June 1 through the end of Labor Day, Crescent City Fire & Rescue responded to 32 calls for beach fires that had gotten out of control, Gillespie said. About 10 of those were during the July 4 holiday, he said.
Though he couldn't determine how many calls his firefighters responded to during the Independence Day holiday, Gillespie said eight calls occurred within the area of Front and 6th streets and 14 were in other parts of the city. Many of those calls occur between Front Street and Battery Point Lighthouse, he said.
"They are a concern because typically people build them next to the brush — typically in the logs because the firewood's handy there," he said, adding that those building fires are actually on private property. "It is a unique opportunity to be able to go to the beach to have a campfire, but at the same time, we can't have beach fires going on where they're going to cause problems. It's going to be dangerous."
Not only is it dangerous if the fire gets out of control, Gillespie said his agency has responded to injury reports from people stepping into a fire that's been abandoned and is still smoldering.
"Two years ago we even had one of our firefighters step in a spot and didn't realize that it had been burning under the sand," he told Councilors. "It had been a burn fire somebody had buried and he sustained injuries that had to be treated by a physician."
To inform people of the beach fire ban between Front and 6th streets, staff have placed temporary signs at beach access points in that area, Wier said. Those signs will be replaced by permanent notices soon, he said.
Inscore, though he agreed with better public notices and better enforcement of the ordinance, said he was concerned with the public's ability to distinguish between a public right-of-way and private property.
He pointed out that several homes exist along the bluff south of Front Street and argued that those structures need protecting as well as the residences in the area that already has the fire ban.
"To simply say we're going to do a better job of enforcement is not an acceptable solution from my standpoint," Inscore said. "If we simply extend (the ordinance) to that point and we do nothing else, and work on enforcement, that is at least consistency for the public. One thing we don't want to do is give mixed messages to the public and expect compliance."
Crescent City resident Natalie Fahning also argued for extending the prohibited fire area, noting that she called in four blazes south of Front Street that were unattended. Both visitors and locals set these fires and leave them unattended, she said.
"When high tide comes, these fires are set not only closer to our vegetation, but sometimes within our vegetation," Fahning said.
Tamera Leighton, who lives on Lighthouse Way, said she has never called a fire that was "small and safe." She suggested establishing a permit for fires so they can keep track of who to hold accountable should they leave them unattended or if the blaze gets out of control.
Leighton also called for establishing more fire rings, stating that Preston Island would be a safe spot.
"To try to explain to people that our property line goes to mean high tide is virtually impossible," she said. "I strongly encourage you to find a solution that respects private property, keeps our community safe and puts the resources in where they need. A fire ring is not expensive, addressing fires out of control is expensive."
Kime pointed out that one of her favorite things as a homeowner living near the beach is the ability to have a bonfire. But, she said, she notified the fire department of a blaze out of control on June 28.
"I don't want to put anyone in peril," Kime said. "But I just want to be very careful before we take away this beautiful opportunity of people gathering at the beach, having a bonfire, bringing their guitar and roasting s'mores — whatever it is. That is a quintessential California activity they can't do in Southern California because things are too restrictive."
However, according to Linda Perry, whose home also fronts the coast, said in addition to visitors wanting to build bonfires, people burn mattresses, trash and other debris in the area. She asked the City Council to consider extending the prohibited fire zone from Front Street to 8th Street.
"I've watched the fire department come with big trucks and have to, as the chief said, figure out how to put people down the bank and how to get there safely," Perry said. "They've had to run the hose out over the top of their big tall ladder to get water in that area to put out the fires and have fought fires for numerous hours."
The discussion drew on, Inscore said he couldn't understand why his colleagues wouldn't want the ordinance to be extended south of Front Street.
"What we're saying is we don't want to enforce anything south of Front Street?" Inscore asked. "I'm not sure how much more effective you have to be than stating (the fire) has to be in a ring. If there's no ring, there's no fire. That's about as straight forward as you can get to me."
Greenough continued to argue for more informative signs as well as "revamping the ordinance."
"I don't think it's adequate enough as it is," he said.
---
SHARE →