---
Jessica Cejnar / Friday, Jan. 3, 2020 @ 5:32 p.m. / Education
DNUSD States Teachers Pay Also Increases Annually; DNTA Says Career Progress Requires Advanced Degrees, Training
---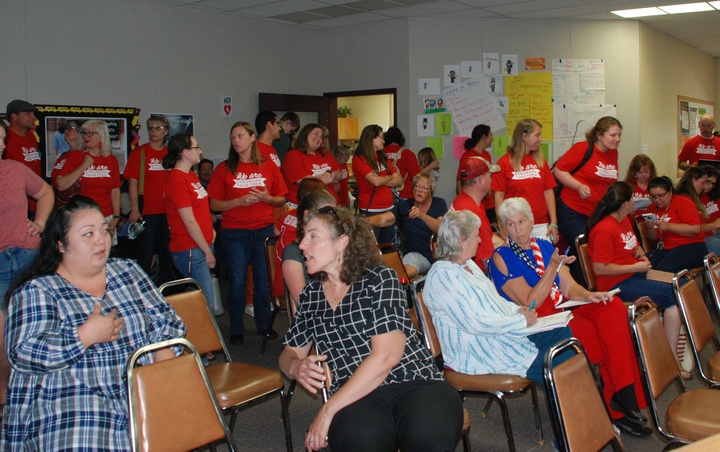 Students are slated to return to school Monday, but the conflict between many of their teachers and Del Norte Unified School District administrators has deepened.
Del Norte Teachers Association representatives dispute information contained in a list of Frequently Asked Questions the district released last weekend. While the district's FAQs state that teachers working in the district for 12 years receive up to a 61 percent increase in compensation, DNTA representatives say DNUSD fails to take the amount of money teachers pay to further their education and make them eligible for those pay raises.
They also say that due to increases in health care costs, even though DNUSD is offering a 2 percent pay increase to teachers and other certificated staff, some employees could see their take-home pay decrease.
A first-year teacher with a credential would make about $290 less than the previous year even with the 2 percent increase the district is offering, DNTA lead negotiator Paige Thompson, a fifth-grade teacher at Mary Peacock Elementary School, told the Wild Rivers Outpost on Friday.
"That's huge," she said. "I feel like we're being made out that we're being greedy."
School district and DNTA negotiators have been at an impasse over contract negotiations for the 2019-2020 school year since June 28. The district is currently offering certificated staff a 2 percent salary increase with 1 percent being retroactive and the other 1 percent contingent on enrollment staying static.
DNUSD Human Resources Director Coleen Parker has told the Outpost, under the district's current offer, teachers would get a 2 percent increase no matter what. One percent of that could be taken away from the salary schedule during the 2020-21 fiscal year if enrollment doesn't either stay static or decline significantly, according to Parker.
DNTA negotiators are pressing for a 3.5 percent salary increase and are asking for an increase in the amount of money the district contributes to certificated staff's health and welfare benefits, Thompson told the Outpost.
Last month, after meeting with a neutral third party hired by the state Public Employees Relations Board, more than 90 percent of DNTA members voted in favor of authorizing the union's leaders to call a strike if a settlement with the district can't be reached. The fact finder is expected to release a report on Jan. 14, following roughly 11 months of negotiations, according to DNTA President Marshall Jones.
The fact finder's report is confidential by law until Jan. 14, according to DNUSD. The earliest teachers can strike is Jan. 15, according to the district.
The district is expected to receive a 3.26 percent cost of living adjustment from the state. According to DNUSD, a COLA increases are revenue that can be used for employee health and retirement benefits, salary schedule increases, facilities and equipment costs and maintenance, student programs, transportation and liabilities.
The district argues that a 3.26 percent COLA equates to a 2.4 percent increase in its overall revenue for the 2019-2020 school year. To maintain the current payroll, student services, transportation and other expenses, the district would have needed a 4 percent COLA, according to its FAQs.
DNUSD also argues that certificated staff — including teachers, special education teachers, speech therapists, counselors, psychologists and nurses — have received 15.6 percent in non-compounded salary increases since the 2014-15 school year. Most teachers have received 16 percent additional compensation on top of that 15.6 percent by accumulating five years of service and progressing through the salary schedule.
"This means that many of our teachers received over a 30 percent in compensation from the 2014-15 school year to the 2018-19 school year," DNUSD states. "The 15.6 percent negotiated increases to the salary schedules over those 5 years have significantly outpaced the 7.13 percent cost of living adjustment the district has received in that same period of time."
Thompson pointed out, however, that for a teacher to move forward in the salary schedule, he or she not only has to work in the school district a specified number of years, they're also required to further their education.
Interns and other instructors still working to earn a credential are at the low end of the salary schedule at Step 1, under Column C, Thompson said. This accounts for a huge percentage of staff currently since the district is having difficulty recruiting credentialed teachers, she said. Interns are valuable to DNUSD, Thompson said.
"They're in the trenches," she said. "They're doing their job without the training. They have to show they're working toward their credential."
In addition to obtaining a teaching credential, staff at the lowest end of the DNUSD salary schedule must also earn 30 semester units of education beyond their bachelor's degree, Thompson said.
Once teachers in Column C have worked for the district for five years, their earnings are frozen at $54,545 a year. Once they've either obtained a Master's degree or earned 45 graduate units plus their bachelor's and credential can they progress to the next column, Thompson said.
"We're paying or accruing debt to move over," Thompson said of a teacher's progress on the salary schedule.
Thompson said she came to Del Norte Unified School District from Fort Bragg and started at Column F of the salary schedule because she had a master's degree plus 30 more educational units. She estimated that she put in more than two years of extra schooling beyond her bachelor's degree and credential.
"I had to pay $40,000 for my master's program," Thompson said. "Moving over in columns is not a raise. That's me becoming a more qualified educator."
In its FAQs, the district states that administrators do progress on a salary schedule, "receiving steps like teachers, but for a much shorter time."
"While teacher can receive annual step increases for 12 years and then steps every three years through their 30th year of service, administrators only have five steps in their salary schedule," DNUSD states.
The district's assistant superintendent of business, Jeff Napier, for example, is at the highest level of his position's salary schedule, earning a base salary of $154,880, according to his latest contract.
In 2018, Napier received a total of $136,842.53, according to Transparent California.
Retired Del Norte High School math teacher, Dave Bokor, who is still on DNTA's negotiating team, told the Outpost that Napier was at the highest level of his position's salary schedule in 2018.
Meanwhile, the district continues to struggle to recruit teachers. According to Parker, this is an issue school districts statewide are having, particularly for special education and math teachers.
"A whole bubble of them are retiring statewide," she told the Outpost on Tuesday.
Looking up the statistics on EdJoin.org, Parker said there were 550 job postings for special education teachers and 330 job postings and 1,198 vacancies for math teachers in California. The vacancies are the jobs districts anticipate having to fill for the 2020-2021 school year, Parker said.
"People are already posting for next year," she said. "I will be posting for math positions shortly and special ed and our job fairs start in February."
Speech language pathologists, psychologists and nurses are also in high demand by school districts and private firms, Parker said. They require additional schooling above and beyond a bachelor's degree, she said.
Meanwhile, for new teachers, in addition to promoting Del Norte's natural beauty, Parker said she also notes that district recruits will find support through its instructional coaches, certificated staff that provides additional professional development to their colleagues.
Teachers are also required to go through an induction program, a state-requirement that offers mentoring and supporting teachers during their first and second years. Parker said the district pays the mentors working with its new recruits.
Mentors get $2,000 extra plus their regular salary, Parker said.
"It's about $5-grand per year for teachers that we pay for," she said.
Despite Del Norte County's beauty, it's an isolated area, Jones noted. He said the district was once able to rely on Humboldt State University for teachers. HSU also provided credentials for many teachers who grew up in Del Norte County, Jones said.
But, now, the demand for teachers in Humboldt County is also great, Jones noted. The current conflict between DNTA and DNUSD has not gone unnoticed by potential teaching recruits either, he added.
"The word has gone out that this is a district that will not look out for their best interests," he said. "I honestly don't see an end game here. They're not budging, and they're preparing. We'll be preparing too."
According to a district statement on Facebook, the fact finder takes the local cost of living and the current salaries teachers are receiving before releasing his or her report.
###
Documents
• DNUSD 2018-19 Certificated Salary Schedule
• DNUSD 2018-19 Certificated Administrator Salary Schedule
• DNUSD 2018-19 Classified Management Salary Schedule
• DNUSD 2018-19 Classified Employee Salary Schedule
---
SHARE →