---
Jessica Cejnar / Tuesday, Dec. 31, 2019 @ 6:31 p.m. / Education
DNTA Takes Issue With Annual Increases to Assistant Superintendent Salaries
---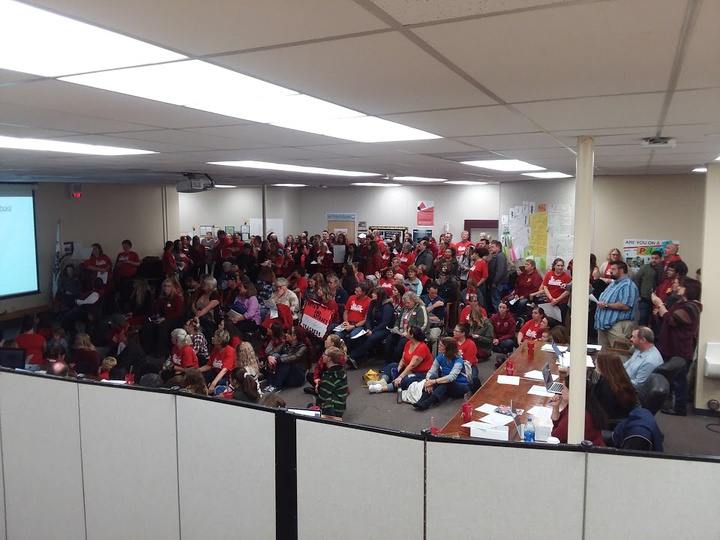 With the potential for a teachers' strike looming, union members are taking issue with salary increases they say Del Norte Unified School District's assistant superintendents have received annually since the 2016-17 school year.
Del Norte Teachers Association members also cry foul over a reimbursement for "one-time moving expenses not to exceed $10,000" that was included in the contract for the district's new assistant superintendent of curriculum and instruction, Tom Kissinger, who started in July.
"The priorities in the district are quite different depending on who you talk to," Dave Bokor, the former chair of the Del Norte High School math department and member of DNTA's negotiating team, told the Wild Rivers Outpost on Tuesday.
"I've always felt a business or organization determines their priorities on where they put their monies. They have no problem putting 10 percent on superintendent raises and $1.7 million on technology, but they're not willing to spend as much on teachers that are in the classroom."
Bokor was DNTA's lead negotiator until he retired in June and turned that role over to Mary Peacock Elementary School 5th-grade teacher Paige Thompson. He said he's still on the union's negotiating team because he promised to "see it through to the end of the contract."
Teachers have been working without a signed contract between the district and DNTA for roughly 11 months.
Bokor told the Outpost that he's followed the contracts for Assistant Superintendent of Business Jeff Napier and retired Assistant Superintendent of Curriculum and Instruction Steve Godla since the 2016-17 school year.
In 2016-17, the salary in both administrators' contracts was $132,137, Bokor said. Their salary increased by 2 percent during the 2017-18 school year to $144,780, according to Bokor. In 2018-19, Napier and Godla received a 3.75 percent salary increase to $139,938, Bokor told the Outpost.
"They got the same salary raise the teachers got — we got 4 (percent raise) but we had to work extra days — that gave them a 3.75 percent increase," Bokor said.
For the 2019-2020 year, Napier and Kissinger are receiving base salaries of $154,880, according to their contracts. The Board of Trustees approved both contracts in March 2019.
"If Steve Godla's contract was $139,938, and so is Jeff Napier's, and they're (now) making $154,880, that's an increase of about 10.6 (percent) and some change," Bokor told the Outpost.
After unsuccessfully lobbying the district for a 3.26 percent raise that reflects a state cost of living adjustment, 90.1 percent of DNTA members voted on Dec. 20 authorizing their executive board to call a strike if a settlement can't be reached.
The district is currently offering teachers a 2 percent salary increase with 1 percent being offered retroactively and the other 1 percent contingent upon enrollment staying static in future years, according to Human Resources Director Coleen Parker.
Administrators have argued at previous school board meetings that the district can't afford extending a cost of living adjustment to teachers this year.
On the district website a list of "popular FAQ Submitted by the Community" states that the COLA needs to be spread out to avoid canceling "critical student services." The district argues that administrators receive raises only after negotiations with certificated and classified staff are finished and the assistant superintendent of business services was "moved to the final step of his 5-step salary schedule."
According to the district's FAQ page, teachers have received 15.6 percent in non-compounded increases to their base salaries since the 2014-15 school year. By progressing through the salary schedule for certificated staff, most teachers have received an additional 16 percent salary increase, according to DNUSD.
"The 15.6 percent negotiated increases to the salary schedules over those five years have significantly outpaced the combined 7.13 percent cost of living adjustment (COLA) the district has received in that same period of time," the district states.
"In compounded terms, the base salaries for teachers have increased by 16.6 percent since 2014 and a total of 18.9 percent with the district's current offer. (Not including years of service compensation increase from step and column)."

According to Napier's contract, the salary schedule starts at $143,265 for "Step 1A" and increases to $154,880 for "Step 1E."
On Tuesday, Parker told the Outpost that Kissinger's salary starts at 1E because of his previous experience as assistant superintendent of curriculum and instruction at Burbank Unified School District in Southern California.
"That's something they can negotiate with the Board," Parker said, adding that the $10,000 in reimbursed moving expenses for Kissinger was also a negotiated part of his contract.
According to Transparent California, an online database of salaries for public employees in California, Kissinger's total pay not including benefits at Burbank Unified School District for 2018 was $173,337.87.
Godla, Kissinger's predecessor, received $145,059.43 in total pay not including benefits in 2018, according to Transparent California.
In 2018, Napier received a total of $136,842.53 in total pay not including benefits, according to Transparent California.
Under the current contracts for both Napier and Kissinger, their salary schedules will be adjusted annually "by the same total compensation percentage increases" district management receives. The Board of Trustees may also add steps to the salary schedule "at any time at its sole discretion," according to the contract.
On Tuesday, Parker told the Outpost that the Board of Trustees has not approved additional steps to the salary schedule for the assistant superintendent positions or the superintendent position. She noted those decisions are voted on by the Board of Trustees during a public meeting.
The contracts for the assistant superintendent and superintendent positions also allows the Board of Trustees to negotiate salaries downward to coincide with a reduction in pay for certificated and classified staff.
Parker said the assistant superintendent of business position was one that had a reduction in salary and a change in title.
DNUSD's former deputy superintendent, Rodney Jahn, had overseen the district's business side until his death June 21, 2013. Jahn, who was slated to retire on June 30, 2013, received a daily compensation of $621.63, Parker told the Outpost.
The position changed to assistant superintendent of business when Napier took on the role in the middle of the 2013-14 year, Parker said. At the end of his first full year as assistant superintendent of business in 2014-15, Napier's daily rate was $544.86, according to Parker.
"It was a reduction in pay, but also a title change," Parker told the Outpost.
Administrators also took a pay cut at the start of the recession in 2008, Parker said. At the time, the district had to lay off classified staff and issued layoff notices to teachers, Parker said.
However, the district were able to keep its teachers by making cuts elsewhere, according to Parker, who was principal at Del Norte High School at the time.
When Harris was hired in 2015, though it wasn't a requirement, Parker said, he insisted that management shouldn't receive a greater salary increase than the bargaining units that coincide with their positions.
For Harris and Kissinger, this refers to certificated administrative staff members such as school principals, whose salary increases have coincided with those DNTA members receive, according to Parker.
For Napier, this coincides with any salary increases the local chapter of the California School Employees Association, which represents classified employees, negotiates for, Parker said.
Meanwhile, according to Harris's contract, which was renewed in March and extends to June 30, 2023, he receives a base salary of $179,778 — which is Step 1E on the salary schedule for the DNUSD superintendent. Since he is also the Del Norte County Superintendent of Schools, an elected position, Harris receives an extra $1,000, according to Parker.
Under his contract, in addition to readjusting Harris's salary annually and being able to add steps to the salary schedule, the Board of Trustees can grant extra compensation to Harris "subject to evaluation."
"Such additional compensation shall be based on the Board's assessment of the superintendent's performance related to the District's strategic plan, annual goals and other accomplishments during the preceding term and increases shall be treated as base salary for any future increases," Harris's contract states.
On Tuesday, Parker said the Board of Trustees hasn't approved additional compensation for Harris beyond his base salary.
Harris's total pay not including benefits in 2016 was $152,492.38, according to Transparent California. In 2017, his total pay not including benefits was $160,924.86, according to the database. In 2018, Harris's total pay not including benefits was $177,320.97, according to Transparent California.
Earlier in December, DNUSD and DNTA negotiators met with a neutral third party to negotiate a resolution. The neutral third party is expected to draft a report that will be made public on Jan. 14, Parker told the Outpost.
DNTA members will be able to strike if a resolution hasn't been agreed upon once the fact finder's report is released, according to DNTA President Marshall Jones.
###
DOCUMENT:
• DNUSD Employement Agreement For District Superintendent
• DNUSD Employment Agreement For Assistant Superintendent Of Educational Services
• DNUSD Employment Agreement For Assistant Superintendent of Business Services
---
SHARE →