---
Jessica Cejnar / Thursday, Jan. 2, 2020 @ 4:47 p.m. / Ocean
Two Days Into Commercial Dungeness Season, Seafood Buyers Say Crab Are Big, But Abundance Is Down
---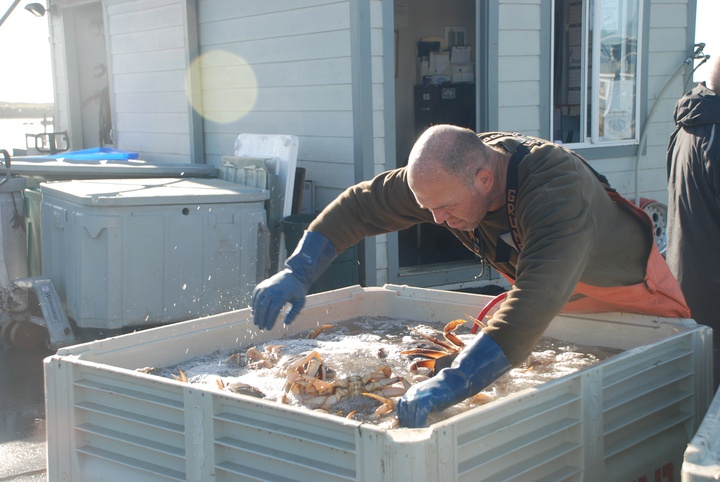 Brian Benson and Kevin Wilson were happy with the crustaceans they pulled off Bodega Bay fishing vessel, the Cape Ommaney, on Thursday.
But though they were pleased with the size, Benson and Wilson, dock workers with LCZ Unloaders, said the amount of Dungeness crab fishermen have brought into Citizens Dock since the season began Tuesday was "definitely not great."
"But it could get better," Wilson told the Wild Rivers Outpost. "Guys are constantly moving pots around."
After quality issues twice stymied the commercial Dungeness season north of the Mendocino-Sonoma county line, Crescent City crab fishermen were able to drop their gear Saturday and bring in their catch at midnight on Tuesday.
According to a seafood buyer at Citizens Dock, commercial crab fishing representatives and seafood buyers agreed to pay fishermen $3 per pound for their catch.
On Thursday, Wilson told the Outpost that crab began hitting Citizens Dock between about noon and 1 p.m. Tuesday, though he and his fellow dockworkers didn't begin unloading crab from boats until about 4 p.m. to 5 p.m., later than usual.
Wilson estimated that the individual crustaceans weighed an average of 2-3 pounds. He, Benson and other LCZ Unloaders employees hoisted in the Cape Ommaney's catch, poured it into totes and used forklifts to load them onto semi trucks bound for Los Angeles, the Bay Area, Seattle and Portland.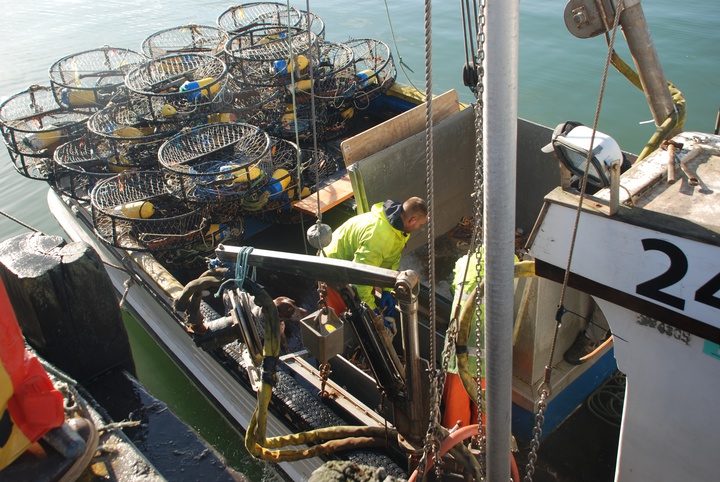 "The consensus is there's not much crab," Benson said, adding that fishermen had to work harder. "But the crab they're getting is good crab."
After the season was delayed a month, Kris Spaulding, a buyer from Caito Fisheries, told the Outpost that things have been slow going. The first few days to the season also "weren't that great," he said, estimating that amount of crab he has received from fishermen is roughly half what it was last year.
Caito Fisheries is a wholesale seafood dealer that operates facilities in Fort Bragg, San Francisco, Half Moon Bay, Eureka and Crescent City. According to Spaulding, crab is cooked in Eureka.
"We're hoping for slow and steady and it doesn't drop off too quick," he said. "There are about half as many boats as last year, so it'll give the boats here right now (a good chance)."
Though he couldn't comment on the catch being brought to Citizens Dock yet, Crescent City Harbormaster Charlie Helms said there were two instances of the U.S. Coast Guard chipping in to help two vessels that had broken down.
In one instance, the Coast Guard Cutter Barracuda came to Crescent City from Humboldt County to tow a boat that had broken down back into the harbor, Helms said. That vessel had drifted for about 12 hours before the Coast Guard towed it back to Crescent City, Helms told the Outpost.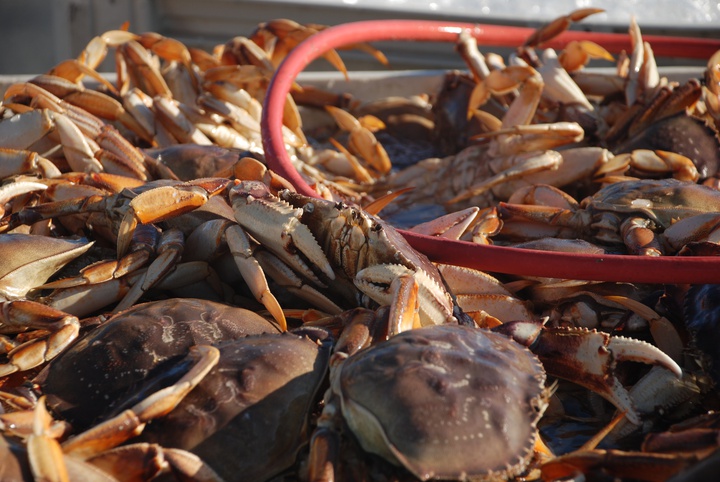 The Coast Guard was also currently helping the crew of the Fishing Vessel Miss Heidi that had lost its steering, Helms said.
"They're working their way here," Helms said of the Miss Heidi. "It's a dangerous business."
---
SHARE →