---
Jessica Cejnar Andrews / Tuesday, Oct. 31 @ 10:49 a.m.
Brace Yourselves... Christmas Tree Permits Are Available; 4th-Graders Get Theirs Free
---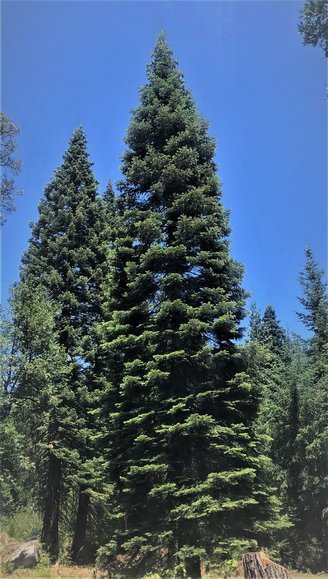 From the Six Rivers National Forest:
Eureka, Calif., October 31, 2023—Cutting a holiday tree is a special tradition to share with family and friends while helping to maintain a healthy forest. For every tree that is found, cut and carried home as a holiday fixture, you're also contributing to the overall forest health. Christmas tree permits are a unique opportunity for citizens to help thin densely populated stands of small-diameter trees – the perfect size for a Christmas tree.

Purchase your Christmas tree permit before your visit to Six Rivers National Forest. Permits can be purchased in-person at your local ranger district office or online through December 23, 2023. Use this site to purchase your permit online, follow tips and guidelines for the cutting area, and ensure you are prepared for a safe and fun forest adventure.

Fourth graders, who participate in the Every Kid Outdoors program, are eligible for a free Christmas tree permit. The Every Kid Outdoors program is a White House initiative that introduces 4th graders to the public lands in their own backyards and beyond. To receive a free permit, 4th graders or their teachers can sign up HERE. Parents and guardians, don't forget to bring the pass with you for in-person purchases!

Permits are $10 each, with a limit of two permits per household. Maps of cutting areas will be provided. Individuals must be 18 or older to purchase a permit. The Forest Service accepts cash, check, or credit/debit cards as payment. All sales are final with no refunds.

For a safe and enjoyable experience, please follow these important tips:
• Let someone know your location and estimated return time.
• Bring cold weather clothing, even if the day is nice when you start out.
• Bring emergency food and water, first-aid kit, tire chains, and shovel.
• Have a full tank of gas in your vehicle.
• Bring your tree tag and a map with you.

For a list of U.S. Forest Service offices on the Six Rivers National Forest visit fs.usda.gov/detail/srnf/about-forest/offices.


---
SHARE →