---
Jessica Cejnar Andrews / Monday, Oct. 30 @ 3:59 p.m.
'My Kid's Getting Screwed'; DNUSD Special Ed Students Losing Out On Education Due To Staffing Shortage
---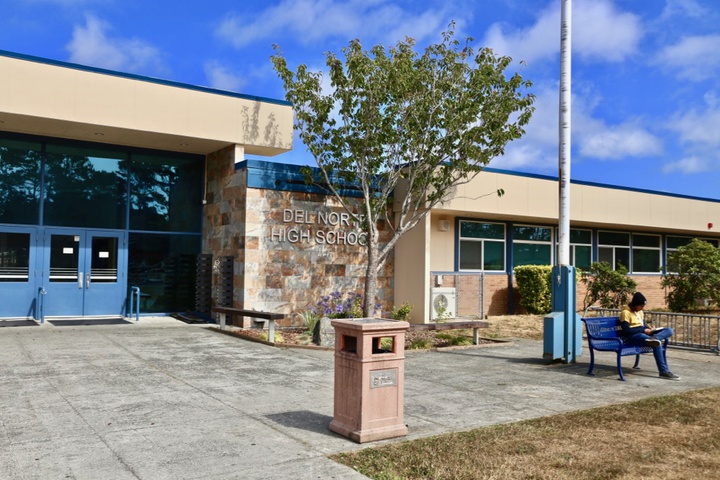 Linda Vang says her son hasn't attended a full day of school since the year began on Sept. 5.
Vang's oldest, Andrew Deen, is a junior at Del Norte High School, has autism and is non-verbal and requires support from two behavioral intervention assistants. Andrew lost about two months of education last year following a negative encounter with a substitute for the person who normally worked with him.
This year, so far, Andrew has been dismissed as early as 11:30 a.m., though Del Norte High gets out at 3:10 p.m., Vang said. As of Oct. 19, Vang says she has been picking Andrew up at 2:15 p.m.
"At the beginning of the school year, for the first week, they had dismissed him," Vang said. "They didn't have any staff for him so he missed the first day of school. He missed a week of school because they didn't have the staff."
Vang submitted a complaint to the California Department of Education about her son's lost education hours. The CDE conducted an interview and completed a report stating that DNUSD shall show evidence by March 1 that it has provided 94 hours of compensatory services to Andrew.
But he isn't the only one Del Norte Unified School District special needs student losing out on their education, Del Norte Teachers Association President Sarah Elston says.
"I have one student who is owed damn near 1,000 hours of compensatory services because she has not had the staff," said Elston, who teaches special education at Del Norte High School. "This is the second school year."
Superintendent Jeff Harris acknowledges that the district owes compensatory education "to every student who was not able to access their education." As of about two weeks ago, district has had more than 110 vacant classified positions overall. About 10 to 20 of those are special education positions, Harris said.
"For the safety of the students — of themselves and other students — they were notified by the principal or their teacher that we were not able to meet their needs at school at that time," he told the Outpost. "So they did not get the education they were required to through their IEP."
Of the roughly 4,000 students enrolled at DNUSD schools, between 18-21 percent have IEPs. According to Elston, this is higher than the state average of between 10-20 percent.
While he didn't know the percentage off the top of his head, Harris said DNUSD has always been higher than the state average. Del Norte has some of the highest levels of neglect and child abuse as well as drug addiction, he said. Prenatal care may not be readily available to some families. As a result, Harris said, "you end up with students who have difficulties as they progress through the educational system."
For some students, twice-monthly check-ins with a speech or language therapist will meet the requirements of their IEPs. Others receive daily behavioral support, including speech and language therapy and possibly even specialized nursing through the DNUSD Special Education Department, Harris said.
As for funding, last year, Del Norte Unified School District received about $5.3 million in state and federal special education dollars, including preschool special education money, according to Assistant Superintendent of Business Jeff Napier. The district also received one-time federal money for special education that Napier said was tied to COVID, "but goes away."
DNUSD spent about $11.1 million in special education last year, Napier said. About $5.78 million came from the district's general fund, he said.
DNUSD's overall budget is about $60 million, Harris said.
Due to the staffing shortage — which, Harris said, school districts statewide are feeling — DNUSD has had to fill those vacant positions with contracted personnel. There are currently 20 working with the school district. Harris said.
But DNUSD has reached out to every agency locally that offers contracted personnel who can work with its special needs students, Harris said. Now, the district is looking to national agencies. One of the companies it's working with is based in Florida, he said.
"The last thing we want to do is contract out, we would rather hire our own," Harris told the Outpost. "We would rather be able to have our employees, who are working with our students, who are working in our community, who are fully benefited under the state retirement system and who are local people who are invested in the community. We're just not having the ability to hire them."
Elston doesn't buy that. According to her, even though DNUSD has more than 100 open classified positions available, it's only advertising 10 currently.
Elston said DNTA has brought its concerns to the Board of Trustees. The local California School Employees Association chapter has also voiced its concerns, she said.
"I personally have offered the assistance of DNTA in any way we can to help get those positions filled," she said. "I have offered to create a training program for classified staff. We have been updating them monthly since May about the shortages — what positions are open."
According to Elston, the situation has become so dire that DNTA has reached out to the California Teachers Association, Congressman Jared Huffman and State Sen. Mike McGuire.
According to Harris, there are several barriers that make it difficult for the district to staff its classified positions, including those in special education. One of those hurdles is the merit system, a decades-old model overseen by the Personnel Commission that operates independent of DNUSD.
The merit system was established for the federal government to avoid nepotism and favoritism, Harris said, but out of about 1,000 school districts in California, only 100 use it.
Under this system, when the district advertises a classified position for hire, the personnel commission creates a list of candidates based on written and verbal tests and an oral interview. The district would have to hire from that list, Harris said.
"If you were one of the top three candidates, then they would set up a formal interview with the hiring manager — the principal or director — and at that point you may be offered a job," he said. "Part of the problem is, we look at our community. We know we have community members who would consider coming to work for schools, but we also know that when somebody needs a job, they need a job today. The hiring process currently in existence under the merit system can take six weeks."
Some people working with the contractors DNUSD currently uses to work with special education students are those who either couldn't pass the tests the merit system requires or didn't want to wait six weeks to complete the district's hiring process, Harris said.
The superintendent acknowledged that in the short term these contractors are paid more than district employees. But, Harris said, if you have to provide a service and you can't find the staff, contracting out is the "right thing to do."
"That contractor can charge that private market rate," he said. "And I hate to use to use the name 'market' when we're talking about kids, but they look at that when we're developing contracts, and different levels of support cost different amounts of money."
Even finding those contractors is difficult now, Harris said.
"We have already gone through local services and hired everyone we're able. Now we're working (with) state and national services trying to fill in the gaps," he said.
One of those contracted employees is supposed to work with 16-year-old Emma Lenover, according to her mother, Melony Lenover.
Emma, who has mitochondrial disease, a compromised immune system and is non-ambulatory and non=-verbal, went roughly six weeks without an aide, though she's required to have one, Lenover said.
Under her IEP, Emma is also entitled to an occupational therapist, a speech therapist and a physical therapist. She was still waiting on the physical therapist as of Oct. 18, Lenover told the Outpost.
Emma takes art and dance classes at Del Norte High via Zoom to work on her social skills, Lenover said. She also works one on one with Elston on reading. But because of the staffing shortage, there are days when Elston can't leave her classroom and has to cancel her reading lessons with Emma, Lenover said.
"Her class is short staffed just in that aspect because I know when it affects my kid," Lenover said. "(Emma's) freshman year was the same thing where we didn't have an aide for a long time. Last year after Elston started at the high school, even last year we pieced it together, but we didn't even have everything they were supposed to."
Lenover said she's emailed district administration, including Harris, Assistant Superintendent of Educational Services Tom Kissinger and the new special education director, Craig Kimble, but the response has been slow. She said she's also reached out to the Board of Trustees.
"I got one response that said, 'I'm sorry you're going through this.' It was a long and drawn-out email but it didn't say much. But only one person from even the School Board has reached out," Lenover said. "My kid's getting screwed. I'm sympathetic to the short staff, but my kid shouldn't suffer because of that."
According to Harris, the district is supposed to work out a plan with the parents for providing that compensatory education to their student. That could include providing services outside of school, including during the summer or beyond the end of high school, he said.
"I've never been in this situation where the district hasn't been able to meet the compensatory education district they've had with the family," Harris said.
Harris added that there are plenty of jobs available at DNUSD.
"We are desperately looking, and we're hiring every week," he said.
---
SHARE →