---
Jessica Cejnar Andrews / Tuesday, Oct. 24 @ 5:37 p.m.
'A Woman With A Heart of Gold'; Del Norte Bids Deanna Esmaeel Farewell
---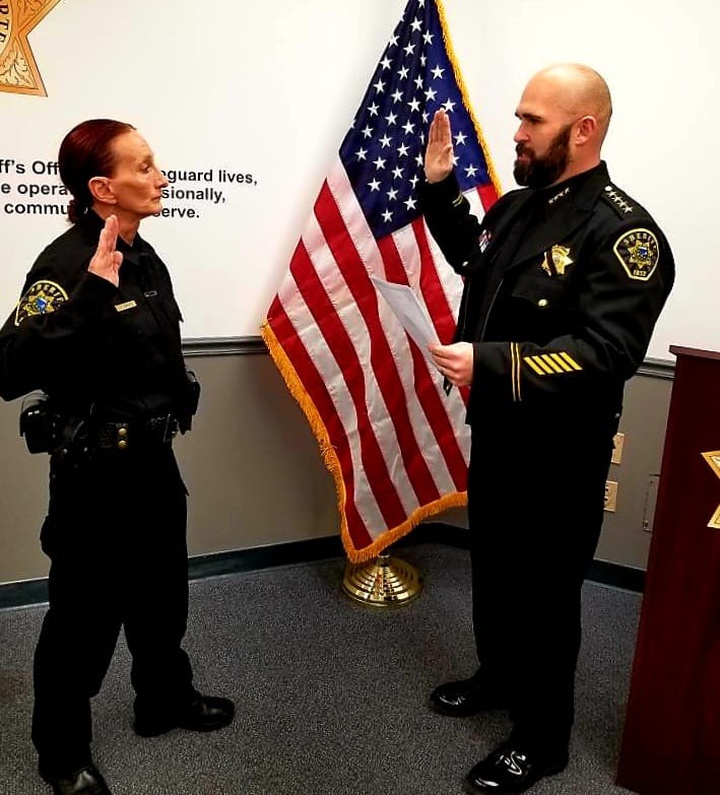 Deanna Esmaeel may have been small, but her determination knew no limits.
At only 5 feet 2 inches tall with bright red hair, Esmaeel's drive took her from the small Northern California town of Grass Valley to Los Angeles's movie studios. It led to her career as an animal wrangler and a cinematographer. And, after losing her youngest daughter, Nadia, to drug addiction in 2017, that determination led Esmaeel to joining the police academy at age 63.
"When she told me she was going to the police academy, three words came out of my mouth, 'Are you nuts?'" Marty York said of his mother. "But I realized that was my mom and she was nuts."
York — who credits his mom for helping him land the role of Alan "Yeah-Yeah" McClennon on The Sandlot — spoke to elected officials, emergency responders and law enforcement officers at a memorial service for Esmaeel on Tuesday.
Attendees also included a busload of cadets from Esmaeel's former alma mater, the College of the Siskiyous Law Enforcement Academy. Esmaeel graduated from the police academy in 2020 and took the oath of office as a Del Norte County Sheriff's deputy in March 2021.
"With the sheriff's office, Deanna was able to experience all aspects of the department including patrol, corrections and finding her spot at the courthouse," Sgt. Jessica Corona said of her colleague. "Deanna was a woman who had a heart of gold and wanted to help everyone and anyone she could. Deanna had a beautiful mind and a pure love for her family and community. I am thankful to have been able to work with her as I did."
Nearly two weeks ago, Esmaeel was found dead at her home on North Bank Road. Her fiancee, Daniel James Walter, also known as Edward Patrick Davies, 54, has pleaded not guilty to her murder.
Esmaeel was working in the Del Norte County Jail when Garrett Scott became the county's interim sheriff in 2022. The sheriff said he remembers Esmaeel's smile, the different colors she'd paint her fingernails and the conversations they had about horses.
"God bless her for coming into this career so late in life to accomplish a mission — something that was dear to her heart," Scott said. "We're going to truly miss her."
Scott also reminded Esmaeel's children that they're part of the "thin blue line" that's law enforcement and fire and other emergency responders.
"There's a good representation of that right here and in that procession that you saw, and your mother was a huge part of that," Scott told Esmaeel's family. "Remember that thin blue line and know that Deanna supported that and was a part of that and now you are too."
According to York, before she decided to become a peace officer, Esmaeel trained animals for about 70 different movies, TV shows and commercials. She then set her sights on filming movies and learning how to use a camera, becoming the director of photography on many productions.
"She also loved people and travel," York said, adding that his mother was a foreign exchange student when she was young. "I can't remember a time in my life when we didn't have a foreign exchange student living in our house. I would wake up in the morning and there was a new surprise that a Chinese guy was making breakfast or a Dutch guy was helping me clean the horse bins."
When his sister died of a drug overdose in 2017, York said his mother vowed to "clean up the streets" and tackle the opioid addiction that's killing children all over the United States. That's what led Esmaeel to join the police academy, York said.
"For years she learned how to fight, got sprayed in the face with Mace, learned how to use weapons, beat cadets in their 30s at obstacle courses, passed out, got back up, failed again and got back up," York said. "On March 19, 2021, she beat the odds and joined the Del Norte County Sheriff's department."
Though neither he nor his sister, Laila Esmaeel, mentioned the criminal case against Walter during their mother's service, York was asked to speak about domestic violence. On the GoFundMe Account they established to raise money for Deanna's memorial service, they refer to her death as a "horrific act of domestic violence."
"The manner in which she left this earth is something that no family should ever have to endure," Laila Esmaeel wrote.
On Oct. 19, Laila Esmaeel said her mother's funeral costs would be about $20,000, which includes transportation and burial costs for Deanna to be laid to rest near their sister Nadia.
"Any amount raised above this amount will be donated to FUTURES and Urban Resource Institute — two domestic abuse survivor charities," Laila Esmaeel wrote.
At the service, Laila Esmaeel said her mother gave her some of her best traits and talents — something she vowed not to take for granted.
"You defied the odds time and time again," Laila Esmaeel said. "You did everything you set out to do in life and that's a really beautiful thing. I'm so sorry that your life has been short (but) I find comfort knowing your soul is at ease with our sister, Nadia, and I promise to make you proud."
The suspect in Esmaeel's homicide is currently being housed at the Humboldt County Sheriff's Office, Scott told reporters following the memorial service.
Walter is expected to be back in court on Nov. 8, Del Norte County District Attorney Katherine Micks told the Outpost on Oct. 19.
---
SHARE →