---
Jessica Cejnar Andrews / Tuesday, Oct. 24 @ 3:09 p.m. / Local Government
Crescent City Harbor, Developer Reach Settlement Agreement; Port to Regain Control Over RV Parks
---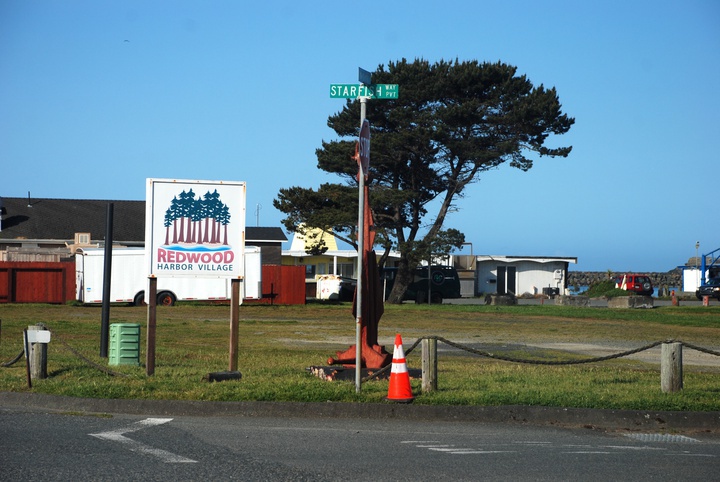 Previously:
• RV Park Development Project at Crescent City Harbor In 'Weird Limbo' As Relationship Between Alex Lemus and Harbor District Sours
###
Months after communications between the two parties broke down, developer Alex Lemus and the Crescent City Harbor District agreed to terminate ground leases at two of the port's RV parks.
The Harbor District will regain possession of Bayside and Redwood Harbor Village RV parks immediately, Assistant Harbormaster Mike Rademaker told the Wild Rivers Outpost after commissioners met in a closed session meeting Monday.
Lemus's company, Renewable Energy Capital, will also pay the Harbor District $100,000, Rademaker said.
Lemus has 30 days to decide if he will terminate the ground lease with the Harbor District for a third RV park, South Beach RV Resorts, according to the settlement agreement.
"I think the nicest way, the simplest way to put it is there's now a difference of opinion on the direction of the harbor and the development of the harbor," Lemus said in a phone interview following Monday's meeting.
South Beach RV Resorts is different. Unlike Bayside and Redwood Harbor Village, there were no residents to relocate at the 1-acre lot.
According to the settlement agreement, it does not affect the power purchase agreement the Harbor District entered into with Lemus in 2020.
Lemus's history with the Crescent City Harbor District dates back to 2016 when the Board of Commissioners was trying to get a solar project underway to save on energy costs.
In December 2020 Lemus answered a request for proposals from the Harbor District to redevelop its on-land properties. In August 2021, Lemus unveiled a redevelopment project at Bayside RV Park, which included upgrading the landscaping and infrastructure and purchasing Airstream travel trailers and cabins for short-term overnight stays.
Lemus entered into ground lease agreements with the Harbor District to operate Redwood Harbor Village and Bayside in April 2022. In September 2022, Lemus told commissioners he wanted to finalize REC's takeover of the RV parks beginning in 2023 and promised not to evict or raise rents on tenants who were in good standing for 12 months after the leases went into effect.
In December, Harbor Commissioners gave Lemus the green light to begin renovating Redwood Harbor Village, which involved him moving the park's current residents to Bayside.
In June, however, Lemus told the Outpost that his company had uncovered issues with both Redwood Harbor Village and Bayside and were uncomfortable with taking on the liability for them. Those issues included black mold at Bayside that the port didn't disclose and allegations of prostitution and drug use.
Lemus also pointed out that Bayside RV Park's operation permit had still been listed with the California Department of Housing and Community Development as belonging to the previous owners, Dwelley & Frazier, not the Crescent City Harbor District.
In June, Petrick told the Outpost that Lemus was "trying to shop commissioners to get a deal" and he put a stop to it. Petrick said he was going to send REC a five-day demand letter to "pay or quit," giving the developer a chance to reopen negotiations.
On Monday, Lemus said because REC and the Harbor District "had a lot of disagreements" concerning the ground leases for both RV parks, they decided to terminate the leases.
---
SHARE →