---
Jessica Cejnar Andrews / Thursday, Jan. 5 @ 12:16 p.m. / Weather
Storm-Driven Waves, High Tides Flood U.S. 101, B Street and Anchor Way at Crescent City Harbor
---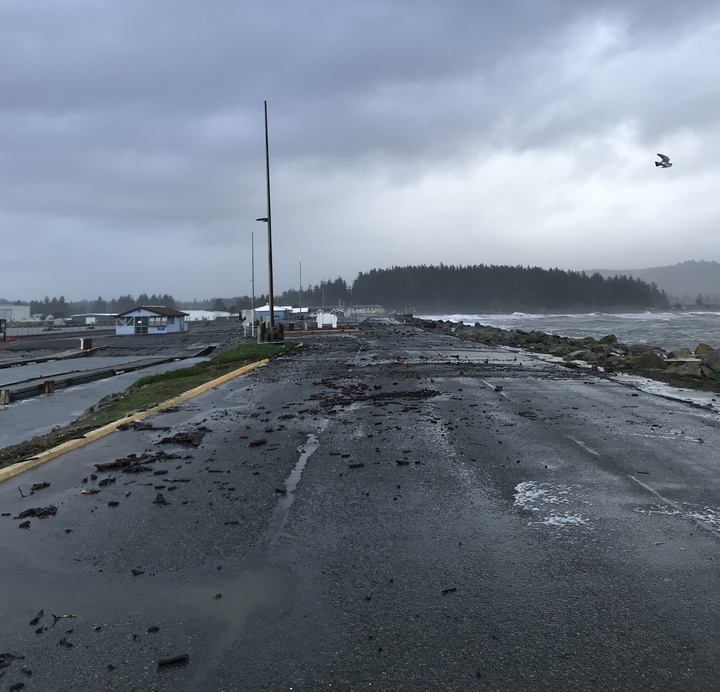 An astronomical high tide combined with storm-driven waves washed water and debris over Crescent City's B Street, U.S. 101 near South Beach and Anchor Way in the Crescent City Harbor on Thursday.
Crescent City Police Chief Richard Griffin ordered his officers to close B Street at about 11 a.m. until further notice. Griffin said his officers also drove through the waves to get the cars and people at the end of B Street to safety.
"Waves were coming, not only over the jetty, but they were starting to crash over B Street itself," Griffin told the Wild Rivers Outpost. "It's clear now. If anybody's out there now they traversed the blockade, which they can get arrested for."
U.S. 101 between Hamilton Road and Citizens Dock Road south of Crescent City is closed due the high tide and debris, Del Norte County Sheriff Garrett Scott told the Outpost. Anchor Way is also closed as well. Water was flowing over the road at the south end of the harbor, he said.
"There are large rocks and debris — this is pretty intense, so we're just keeping people out of there," Scott said. "Search and Rescue is down there keeping the roads blocked. We're helping the Harbor District."
Griffin said his officers have also assess Beachfront Park, and though there were some fallen trees from Wednesday, there was currently "no apparent hazard."
"Waves weren't coming up Howe Drive or close to it yet and high tide's past now, so it seems like it's going to go down a bit," he said.
The National Weather Service on Wednesday issued a coastal flood warning through Thursday morning, predicting one half foot of salt water inundation as well as flooding over low-lying roads, including U.S. 101 near South Beach.
Though the coastal flood warning was expected to lift at 11 a.m. Thursday, a high surf warning will be in effect until 6 a.m. Friday with 30-foot waves predicted along the Del Norte, Humboldt and Mendocino coasts.
There was also a high wind advisory that was lifted at 10 a.m. Thursday.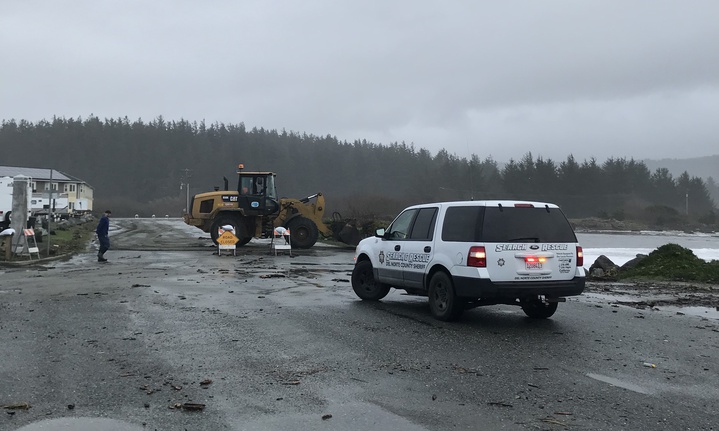 Other than minor flooding "but nothing major to report" in Crescent City, Griffin said his officers responded for a 5th wheel trailer that had flipped over due to the high wind at Lighthouse Shores RV Park. There were two occupants inside, but they got out safely, Griffin said.
Scott said flooding's also not bad within the county, though he did warn motorists to be cautious while driving, particularly up U.S. 199.
"There's been a lot of new cleanup through there and so there could be debris blown into the roadway," Scott said, referring to the stretch of highway through Jedediah Smith Redwoods State Park and the tree work Caltrans has been conducting.
Scott also warned people of rocks and potential slide activity on U.S. 199 toward Patrick Creek Lodge north of Gasquet.
"We definitely want to encourage people to use extreme caution if they're going that way," he said.
---
SHARE →