---
Jessica Cejnar Andrews / Wednesday, Jan. 4 @ 4:40 p.m. / Oregon
With More Bad Weather Looming, Curry County Commissioners Declare Emergencies For Last Month's Storms
---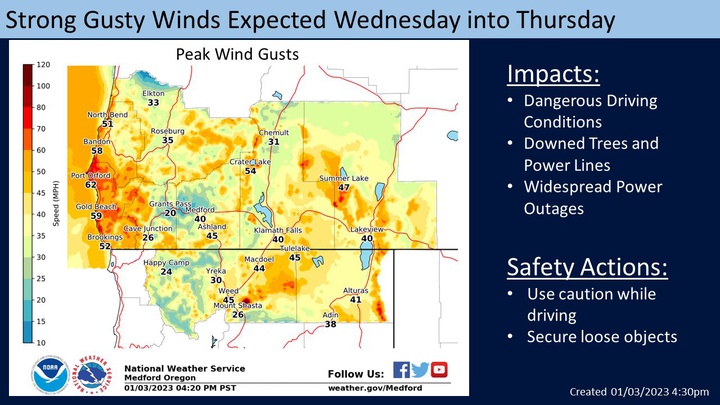 With yet another atmospheric river bearing down on the region, Curry County commissioners declared a local emergency for storms that occurred on Dec. 9 and over Christmas.
The storm on Dec. 9 led to extended power outages as well as debris throughout the county, Emergency Management Director Monica Ward told commissioners on Wednesday. Over the Christmas weekend, storms led to landslides on North Bank Rogue River Road near Gold Beach and on Sixes River Road north of Port Orford. Ward said her office had reports of damages exceeding $3 million.
"During and following the storms, the residents and businesses of Curry County experienced widespread and extended power outages, damages to structures due to wind and debris, significant flooding and continuous debris clearance," Ward wrote in her staff report. "The bank collapsed on North Bank Rogue River Road resulting in lane closures and the potential for further damage to the road."
Since the storms occurred during the holidays, Ward said she expected additional damage reports when residents return to their homes.
The Board of Commissioners' unanimous declaration will be forwarded to the Oregon governor along with a request that she declare a state of emergency for Curry County.
Ward also pointed out that the first of two storms are expected to hit Curry County, potentially posing a risk to its harbors, especially in Port Orford. The second storm is expected this weekend, she said.
Forecasters at the National Weather Service have issued a high wind warning for the South Central Oregon Coast including Port Orford, Brookings and Gold Beach. The warning will remain in effect until 4 p.m. Thursday and predicts 35-45 mph winds with gusts up to 80 mph.
A high surf warning is also in effect for Curry County with the most extreme conditions expected at and south of Cape Blanco. NWS meteorologists warn of breaking waves peaking at 30-35 feet that could inundate beaches and surge into normally dry areas. The high wave warning is expected to last through 10 a.m. Friday.
Before commissioners agreed to make the emergency declaration, Ward brought up the need for her department to be notified in the event of any hazards or emergencies so she could get the word out to the public and start the process of bringing state and federal resources into Curry County.
"It's important that my department be notified immediately of any hazards or emergencies when they're discovered," she told commissioners. "For example, any landslides — if I had been notified right away I could have gotten notifications out to the public. I actually had to learn through Facebook. And Facebook is big in this county, but just improving the communication and collaboration between all the departments in the county, it's just going to benefit the community and improve safety."
Once notified of an emergency, Ward said she communicates with her liaison on the Board of Commissioners who takes it to his colleagues and, if appropriate, activates the emergency operations center.
If Ward or other county officials are only able to reach one county commissioner, that one commissioner would be able to declare a local emergency to get state and federal resources moving into Curry County.
On Dec. 9, Ward said she notified her liaison, Commissioner Court Boice, of the damages that were occurring because of the storm before getting on the phone with state emergency officials.
Boice said he was able to get in touch with Board Chairman John Herzog but couldn't reach former commissioner Chris Paasch.
The Board's newest member, Brad Alcorn, told Ward that he was going to be her liaison to the Board of Commissioners.
"I anticipate and expect calls at 3 in the morning and 2 in the morning," Alcorn told Ward. "I just want to be really clear. If you're called about an emergency, I definitely want to be notified about that emergency and become immediately involved."
High wind and surf warnings are also in effect for Del Norte County, according to the National Weather Service. A coastal flood warning is also in effect through Thursday morning with NWS meteorologists warning of high astronomical tides and high surf leading up to one one half foot of salt water inundation.
The National Weather Service also warned of flooding over U.S. 101 near South Beach south of Crescent City.
---
SHARE →